The Best Martingale Collars On Amazon
To help keep your escape artist safe.
We independently pick all the products we recommend because we love them and think you will too. If you buy a product from a link on our site, we may earn a commission.
If you've been considering swapping out your dog's standard flat collar for a martingale collar, you've probably been doing a bit of research into how they work and why you might want to pick one up. If and when you decide to pull the trigger, The Dodo found the best martingale collars on Amazon.
What are martingale collars and how are they used?
Martingale collars were originally designed to be worn by dogs with wider necks or smaller heads — think greyhounds or whippets — to avoid them slipping or backing out of a standard collar.
And although martingale collars work by tightening around a dog's neck when tension is applied, they are not the same as choke collars. When adjusted to the correct length, martingales do not tighten to a degree where they can become dangerous to your dog's health.
These collars shouldn't be used as a fix for pups who pull while on a leash — proper training and working with a professional can help with that. Instead, martingales are best used to make sure your dog won't get loose while out on walks, and if you have questions about how and when to use one, ask your vet or consult your dog trainer.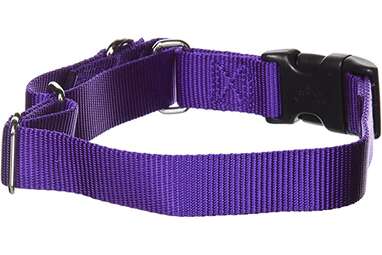 This soft nylon martingale collar on Amazon from PetSafe comes in a variety of bold colors and is available in sizes ranging from petite up through large. Over 8,200 pet parents have rated the PetSafe martingale collar five stars, with one writing, "My crazy dog is the love of my life; only problem is she loves squirrels, hates public buses and large trucks, especially 16-wheelers … and she's a part-time escape artist from any harness or normal collar. This collar saves my arms and her life. She still tries to pull, and the collar GENTLY tightens and she relaxes."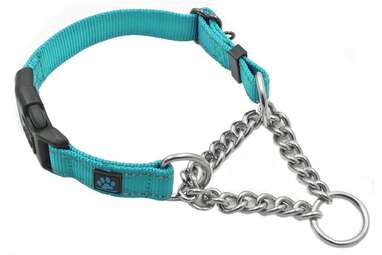 The stainless steel chain portion of the Max and Neo martingale collar will never rust and will tighten and loosen smoothly when hooked up to a collar. This martingale comes in a variety of fun, reflective colors, and with every collar sold, one collar will be donated to a dog in need.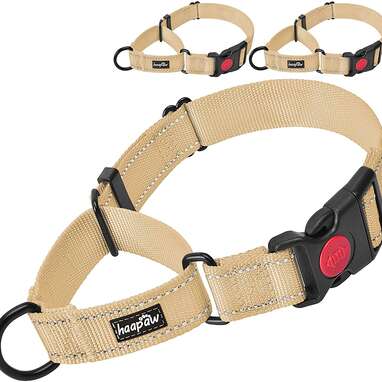 Made for training sessions, these martingale collars from Haapaw are highly reflective, made with durable nylon and plastics, and feature a quick-release button with a safety lock to ensure your dog stays safe while also allowing you to quickly remove the collar when necessary. Over 2,000 pet parents say this is a great training collar.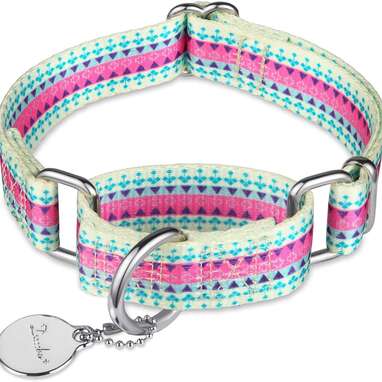 The Dazzber martingale collars come in a wide variety of different bright patterns that put a fashionable twist on the classic martingale. They come in sizes ranging from extra-small up through large, and over 1,900 pet parents say these things are built to last. "I was looking for a collar like this that helps keep my dog from pulling," one pet parent wrote. "It does not choke your dog. It just tightens it a little when they start to pull … This collar worked like a charm [the] first time using it. I use a regular collar for inside or when not training."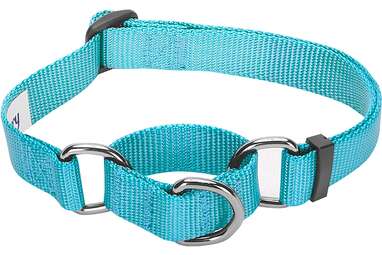 Another great nylon option is the martingale collar from Blueberry Pet. This one comes in so many fun, bright colors and is designed without a buckle, so make sure you grab the right measurements so the collar will slip easily over your pup's head. This buckleless design was originally made for sighthounds but has become popular with other breeds, as well.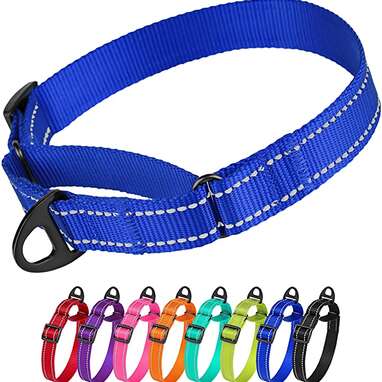 The martingale collar on Amazon from CollarDirect is also a buckleless design made out of nylon straps that have a reflective stitch running on either side of the collar. "Collar has not stretched out, is very sturdy and is holding up very well to all she's putting it through," one pet parent wrote. "I especially like that it is reflective … Overall I'm very happy with the collar. I probably will buy another one in the future."