11 Highly Rated Leather Dog Collars From Amazon
These collars are built to last.
We independently pick all the products we recommend because we love them and think you will too. If you buy a product from a link on our site, we may earn a commission.
There are many different reasons why you may be searching for a genuine leather dog collar — be it a need for a solution to your dog's skin issues; a desire to find a high-quality, long-lasting accessory; or a want for a collar that fits your aesthetic. And if you've been searching for any length of time, you've probably realized that leather comes with a fairly big price tag.
Thankfully, there are a bunch of really great low-priced leather dog collars on Amazon, and The Dodo found the best ones on the site after reading the reviews of pet parents who have tried them out.
So, if you've decided you're going the leather route, check out these affordable leather dog collars before going anywhere else.
Available in sizes from small to extra-large, the soft and pliable Mighty Paw leather dog collar arrives feeling like it's already been broken in, which means your dog will be comfortable as soon as he puts it on. The Mighty Paws collar comes in black, brown and light speckled brown finishes.
DAIHAQIKO's leather dog collar on Amazon comes in four sizes and features two attached D-rings, which are great for training purposes. These collars come in both single- and dual-stitch designs, and over 2,100 pet parents say that these collars are durable and built to last.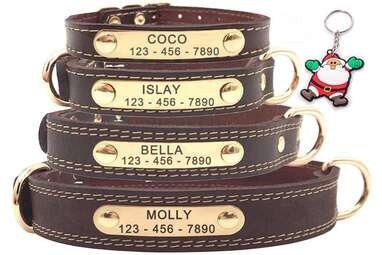 Each SLZZ customizable leather dog collar comes with an etched nameplate for your dog's name and your phone number should he ever get lost. "The quality of craftsmanship and materials was superb, especially at this price point," one five-star reviewer wrote. "Additionally, it [was] delivered in less than two weeks (not months) at holiday time with COVID shipping delays. This was absolutely outstanding considering the circumstances outside of this vendor's control."
The Soft Touch Collars padded leather dog collars come in a handful of fun two-tone colorways and a variety of different sizes that each feature a cushy padded interior that adds extra comfort while your dog wears it. These collars even come with an additional small D-ring next to the buckle that houses your pup's tags.
Another great padded option is the Riparo leather dog collar that features sheepskin padding on the interior for added comfort. The heavy-duty design comes with a built-in dog tag ring and is equipped with medical-grade stainless steel hardware, so you know there won't be any rust to deal with down the road.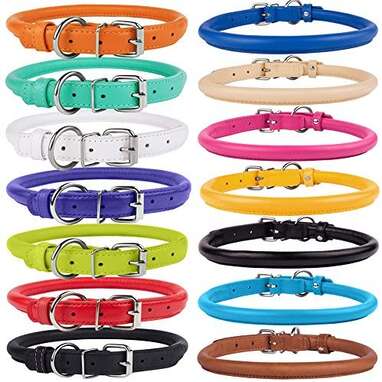 Looking for something a bit more vibrant and less bulky than traditional leather dog collars? CollarDirect's rolled leather dog collar on Amazon has a thinner profile, thanks to the rolled design, and comes in a rainbow of bright colors like orange, pink and lime green. Over 3,500 pet parents have given this collar a five-star rating, with one writing, "Looks GORGEOUS on my dog and has beautiful finishing touches, such as a strap to hold the collar end."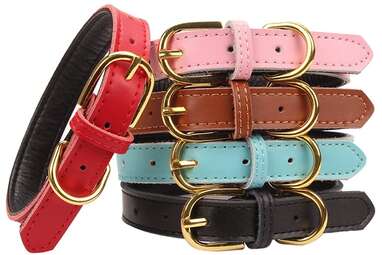 AoLove also makes a colorful leather dog collar that comes in both pastel and bright hues. These collars range in sizes from extra-small through large and feature five adjustment holes so you can get the perfect fit for your pup. Over 3,200 pet parents say these collars are five stars.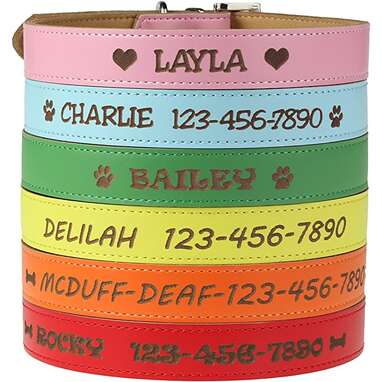 The Custom Catch personalized leather dog collars are engraved directly in the leather and can be personalized using a handful of different fonts and symbols. Add your pet's name, your phone number or even a note alerting those near your dog that he is deaf or blind. One of the 12,500 five-star reviewers wrote, "Both dogs have had these for six months … Both collars show almost no sign of wear despite frequent roughhousing. I was a bit surprised. The quality exceeds the price by a long shot."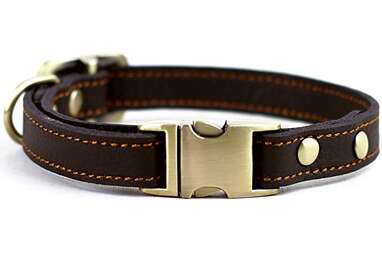 The Chede leather dog collar on Amazon has ditched the traditional buckle and upgraded to the snap-close buckle seen on standard nylon dog collars. This makes for easy removal and size adjusting. The inside of the collar is padded, and the collar comes in three sizes and four colors.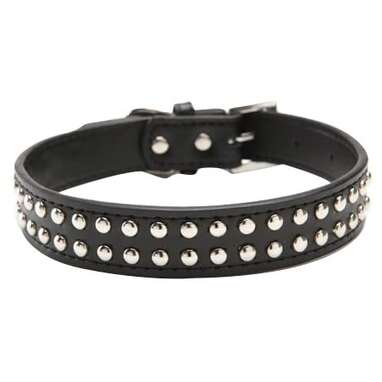 Add a little spice to your pup's style with the studded leather dog collar from BINGPET. It looks as tough as a classic spiked collar without the actual spikes. You can pick one up in either black or pink.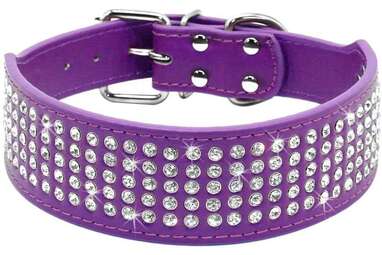 Or, if your pup is a bit more glamorous than tough, check out this rhinestone leather dog collar from Beirui. The thick band of the leather collar is bedecked in glitzy rhinestones that are securely riveted to the base. This collar comes in fun colors like pink, turquoise and purple and has over 1,500 five-star ratings.