These Top-Rated Kitten Scratching Posts Are Beyond Adorable
Save your couch in the cutest way possible 😻
We independently pick all the products we recommend because we love them and think you will too. If you buy a product from a link on our site, we may earn a commission.
It's important to start teaching your new kitten good manners at a young age — and that means teaching her what she can and cannot scratch her little claws on.
The Dodo found a fun selection of kitten scratching posts on Amazon that are so whimsical, and so adorable, and will fit into any home decor scheme. Not only will you love them — but once your kitten has a designated post to scratch on, your couch will be officially saved.
The sunflower scratching post from Catry may just be the cutest kitten scratching post on Amazon. The flower's head can be angled down for better scratching, and the entire stem is wrapped with natural jute cord for a fun, scratchable texture. "I loved this post because it's so cute and matches my sunroom decor," one cat parent wrote. "My cats loved it as soon as I set it up. Assembly was super easy."
The PetnPurr alpaca cat scratching post is beyond adorable. The plush alpaca head sits atop a tall 32-inch scratch post that comes complete with sisal cording and a dangling puff ball toy. "This scratching post is adorable, sturdy and tall enough for my 16-pound cat to stretch as he scratches," one five-star reviewer wrote. "Easy to assemble, too. Great purchase!"
This scratching post from PEEKAB comes with all the fixings: a jute-covered post, a plush hangout spot, a removable three-tiered ball toy and a fluffy feather toy. Your cat will be busy for hours at this cute little scratch station.
Available in brown, pink and white, this set of mushroom-shaped scratching posts from Suvuo looks like it's straight out of a fairytale. The entire post (mushroom cap and stem) is covered with natural sisal fibers and faux grass, and is the perfect small size for your new kitten.
Amazon Basics' premium cat scratching post is super sturdy and is shaped to look like a piece of furniture, making it blend in seamlessly with your home decor. "She loves it. Every morning she uses it to stretch out and climb," one pet parent wrote. "No more carpet or walls getting destroyed by her claws! Very happy!"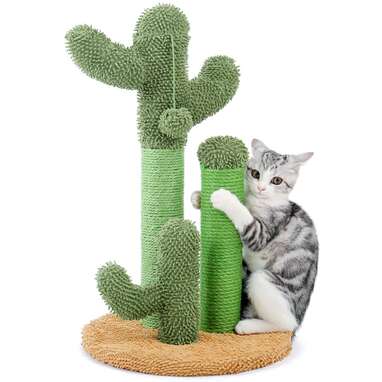 Both you and your kitten will love this grouping of cactus-shaped scratching posts from PAWZ Road. Not only does this set of cacti look like some sort of quirky sculpture, but the jute cord and nubby carpeting will satisfy all of your cat's scratching cravings. This scratch post is available in two sizes — medium (23 inches tall) and large (27 inches tall).
The wall-mounted kitten scratching post from 7 Ruby Road is as stylish as it is useful. It's made with eco-friendly wood and natural woven sisal that will both fit perfectly in lots of home decor schemes. And by mounting the scratcher on the wall, you can encourage your kitten to stretch out and scratch to her heart's content.
If you're looking for something simple, the scratcher post from Dimaka is the one for you. It's a single, sisal-covered post with accent plush carpeting on the base, middle and top. It comes in beige, brown and grey, and also features a cute puff toy for your kitten to play with. "I have a 6-month-old kitten and a 15-year-old cat (who is extra gigantic) and they BOTH really love this scratching post!" one pet parent wrote. "My kitten loves to climb it and jump off the top, which is hilarious!"
The kitten scratching post from MS!MAKE SURE looks like a high-end piece of cane furniture, but it's actually a couch-saver. Place it vertically up against the arm of the couch, or flip it into end-table mode to make it into a flat surface for your kitten to scratch. "This item kind of surprised me with its creativity," one five-star reviewer wrote. "I would [have] definitely never thought of turning a scratching post into a small side table!"
This tropical-looking kitten scratching post on Amazon from LUCKITTY is wrapped in natural jute fiber and comes with a puff ball for her to play with. The leaves on top are made with a stuffed, plush material, and the entire thing is easy to assemble on your own. "Came back and bought the big one," one five-star reviewer wrote. "Our cat loves them!"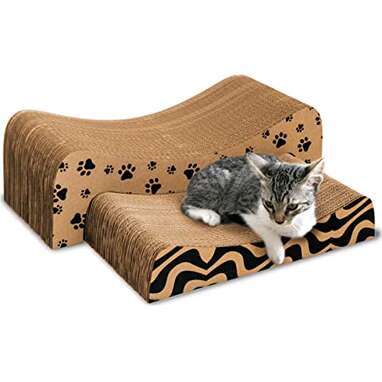 If your cat likes to scratch horizontally, this trundle-bed-inspired duo of scratch mats is perfect for her. Both pads are made from 100 percent recycled corrugated cardboard, cornstarch and pet-safe glue, and they're easy on the eyes thanks to their fun patterns.