The 10 Most Adorable Kitten Bowls You Can Buy On Amazon
*Almost* as cute as your new kitten 😽
We independently pick all the products we recommend because we love them and think you will too. If you buy a product from a link on our site, we may earn a commission.
Your cat is not afraid to remind you that it's your duty as her parent to treat her like the royalty she is — and that includes feeding her from only the fanciest and cutest kitten bowl you can find.
The Dodo found the 10 most adorable kitten bowls on Amazon that will definitely suit your cat's taste for the finer things in life. And these bowls are so cute that you won't mind having them in your kitchen.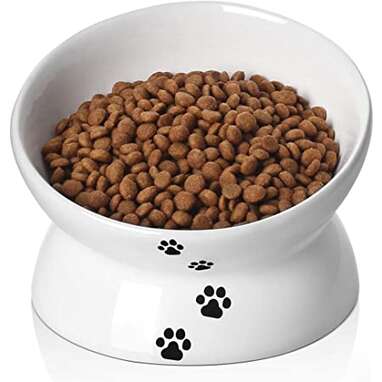 Y YHY makes a raised and tiled kitten bowl to help cats eat more easily, avoid vomiting and reduce neck strain. This paw-print-stamped bowl comes in three colors — white, gray and a sweet robin's egg blue. "Very cute and Stinkers didn't make her usual mess," one five-star reviewer wrote. "I can't find any cons to write about." And that little cat silhouette saying "Yummy!" at the bottom of the bowl? It's just too much.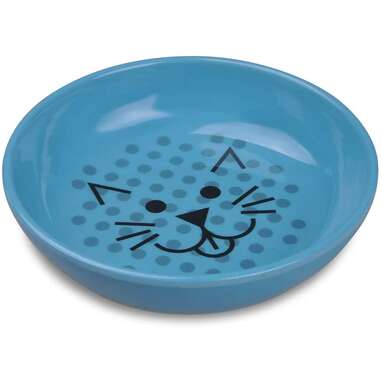 Made from sustainable and renewable bamboo, this eco-friendly cat dish is good for the planet and will definitely put a smile on your face. Its shallow, wide design reduces whisker stress, and your cat will be greeted by that oh-so-cute smiley face when she reaches the bottom of the bowl.
Legendog makes a classic stainless steel, non-skid bowl that's the perfect size for cats and kittens. The kitten head stamp on the outside lets your BFF know it's her bowl (and only hers!), and the rubber ring around the outside of the bowl prevents it from slipping away from her as she eats. "I bought these two bowls for my two new kittens … I chose them because I liked the cat design on the outside, and they are stainless steel," one kitten parent wrote. "They are the perfect size."
Available on Amazon in a variety of different colorways, these super simple kitten dishes feature anti-slip silicone feet and are angled to help your cat have an easier time eating. And each bowl is made from durable melamine, so even if and when it gets pushed off the counter, those adorable ears will stay chip-free.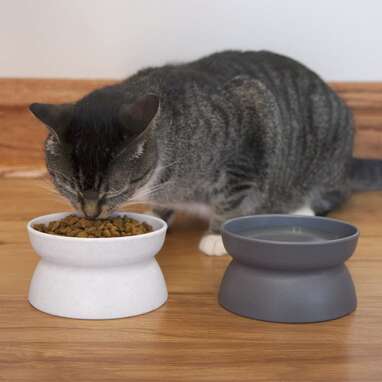 If you're into a more modern, clean aesthetic, this set of raised kitten bowls on Amazon from Kitty City will fit into your decor scheme perfectly. These dishwasher-safe plastic bowls look like they're carved from stone, and are angled in a way that makes eating a more pleasant experience for your BFF. "I was kind of skeptical of the whole 'raised food dishes are better for your pet' logic, but since my cat is 16 years old and having some issues with food, I decided to order this," one pet parent wrote. "Her Highness is happy with her food bowls, and I'm happy that they've actually seemed to make a difference."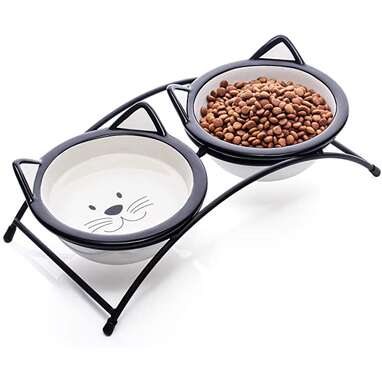 These two smiley face kitten bowls (complete with kitten ears on the rim) from Y YHY sit in a beautiful wire stand, reducing neck strain, and can be easily removed for washing. The bowls themselves are made from high-quality ceramic and have a hand-painted look to them. "Bought this for my daughter when she adopted a kitten," one Amazon shopper wrote. "Smooth finish with cute print. The metal stand is also sturdy and fits the bowls well."
This kitten bowl would also make a great jewelry dish, snack bowl or place to put your keys — it's *that* cute. And according to pet parents, the tilted design makes mealtime so much better for their cats. "The style is so cute," one person wrote. "These look so much better in my living room and keep my snarfer mcsnarf's face elevated at a good height."
Super extra cat parents will love this pink rhinestone-covered cat bowl from SAVORI. This duo actually comes in several different glitzy colors, including gold, silver and red, but the pink just screams "little princess," which is exactly what your cat is. "These are beautiful. The stones are a nice quality, not those cheap 'plastic-y' rhinestones," one pet parent wrote. "They even sent me a little baggie with extra rhinestones!"
This retro-style cat face bowl from PetRageous is handcrafted from stoneware and perfect for kittens and cats of all ages. "I got two of these super adorable black kitty bowls to feed my furry baby Luna, who is also a black kitty," one Amazon reviewer wrote. "It's too cute to see her eat out of the lookalike dish!" Those green eyes, though … How can you not love them?
Anything with little paws is automatically a winner. This set of two titled kitten bowls on Amazon from Pantula not only comes with a footed stand, but each bowl is also decorated with ears on the rim. Plus, that adorable base is non-slip, so your cat can eat without fear her food will run away from her.