These Are The Cutest Kitten Accessories On Amazon
So adorable (and so practical).
We independently pick all the products we recommend because we love them and think you will too. If you buy a product from a link on our site, we may earn a commission.
Congratulations on becoming a proud parent of a brand-new kitten! If you're looking for a few basic items to start with, or looking to bulk up your existing kitten accessory collection, these Amazon picks will help your new BFF's life get off to a great start.
From starter litter boxes to cuddly cat blankets, The Dodo found the best kitten accessories on Amazon that are both cute and useful for new kitten parents. And your kitten will love them too.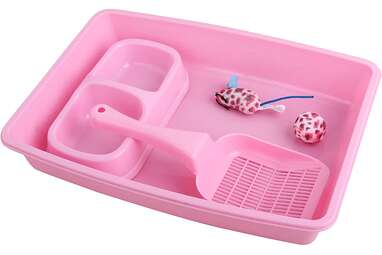 When litter box training your new kitten, start with something simple like this basic box and scoop from PAWISE. This no-frills starter kit also comes with a double-welled food bowl and a couple toys to start your kitten off on the right foot. "I originally got this because I was looking for the shallowest litter box I could find for my 4-week-old bottle baby kittens," one pet parent wrote. "The box is perfect for them and they took to it immediately. It also turned out that the small double-well dish is perfect for teaching them about how to eat solid food … I would recommend for anyone with very young baby cats just learning adult skills."
The Reeple interactive cat toy is a fuzzy, bouncy mouse, a peek-a-boo game and a rollerball all in one! Your kitten will be entertained for hours, and don't worry about breaking it — this toy is built to withstand major kitten action. "This is our kitten's new favorite toy," one pet parent wrote. "The little mouse part comes off and easily gets put back on, which is nice because otherwise they would have broken it off when tumbling with the whole thing."
Make sure your kitten stays safe and sound by giving her this customized stainless steel ID tag from PetANTastic. You can pick one up in several different cat shapes, and the clear engraving is guaranteed to not wear down over time. This ID tag with over 5,300 five-star reviews will stay just like new and keep your kitten safe for years to come.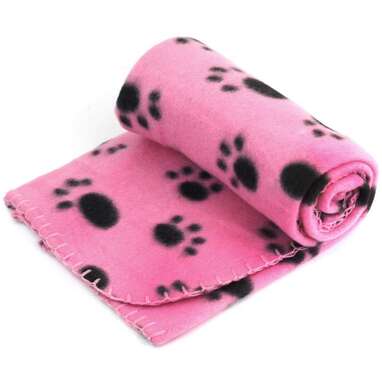 Your new kitten will need a place to curl up and call her own when she arrives home, and this fleece blanket from Younisun on Amazon is the perfect accessory for her sleep spot. It comes in a compact, small size, making it a great addition to any cat bed or to throw on the couch. "I bought [this] for my cat who likes to burrow in sheets and blankets," one pet parent wrote. "This is very soft and light. I love the paw print design. Not a regular size blanket. Perfect for a kitten or elderly cat."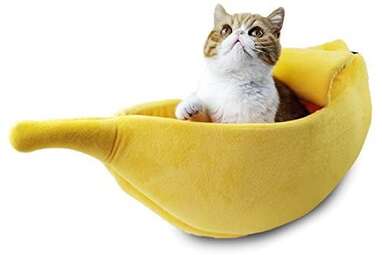 Kittens love to curl up under cover, and this adorable banana bed from Petgrow offers them plenty of space under the peel to get cozy. You can pick up a bed in one of three sizes (medium through extra-large), and each banana comes with a loose peel that can be secured back to let in the fresh air or left floppy for ultimate hiding.
Give your new kitten a bit of extra comfort with the Petstages cat pillow. It's touch-activated and purrs in two-minute intervals, providing your kitten with stress relief and calmness when it's time to wind down. "Introducing a new kitten to two older cats can be stressful," one pet parent wrote. "This purr monster is excellent for soothing all three of them! It also allows the kitten to relax and self-soothe."
If you plan on bringing your kitten into the yard or taking her on short walks, this harness from Rabbitgoo is the perfect size for extra-small cats. It's easy to strap her in with the fast-release buckle and adjust it to her size, and the harness even comes with a nylon leash — you're ready for your first walk!
It's never too early to start a gentle grooming routine with your new kitten, and the small but mighty pet brush from Glendan is a great tool to start working with. It has a smaller head than most pet brushes, making it perfect for tiny cats, and over 10,800 pet parents on Amazon say their cats love getting brushed with it.
This scratching post from VETRESKA is as much a gift for your kitten as it is for you. The adorable cactus design offers ample scratch space for your new friend, teaching her manners when it comes to sharpening her claws. It's sturdy enough for your kitten to climb all over it and will last through years of scratching.