The Best Dog-Friendly Kayaks For The Cutest Boat Trip Ever
Don't forget the life jacket!
Renting kayaks is a great time. But there's really nothing better than going out on the water whenever you want with a kayak of your very own — especially if your dog's coming, too!
If you're planning to take your dog out on the water with you, though, you'll want to make sure your new kayak has pup-friendly features so your dog can be safe and comfortable during the ride.
To find out what makes a kayak perfect for dogs (and you!), The Dodo reached out to Amber Pickren, a certified dog trainer and owner of Gentle Canine in Colorado.
What to look for in kayaks for dogs
When looking for the best kayak for your dog, you'll want to consider size, surface, stability, durability and design.
One of the most important features of a dog-friendly kayak is that it has the space to accommodate both you and your dog.
"The key features of a kayak I would look for would be a big enough open, flat space for your dog to be able to sit, stand and lay down on," Pickren told The Dodo.
You'll want to make sure your dog is super comfortable so he can lay down and relax. If your dog is standing up and restless, it'll make the ride bumpy at best.
"The laying down is key, [so] as to make sure they aren't up and moving all the time, throwing off your balance," Pickren said.
So you'll most likely want to opt for kayaks with at least two seats for a comfortable (and safe) ride with your dog.
The type of surface is also important to consider. You'll want the floor of the kayak to have some sort of traction so your dog won't have a problem staying put.
"Having an appropriate surface area or platform for your dog to hang out on is really important," Pickren said. "If it's just plastic, the slippery, hard surface may make it hard for your dog to lay down and relax."
"If your kayak doesn't come with a foam or rubber surface area, you can purchase a traction pad or deck pad and install that on your kayak," she added.
Try this peel and stick traction pad from Amazon for $18.98
You'll want your kayak to have good balance. Stable kayaks are less likely to flip over, which can be dangerous for your pup (and you).
Imagine if your kayak flips and your dog doesn't know how to swim well or gets caught in a current! (Side note: This is also why your dog should wear a life jacket at all times when out on the water — like this Outward Hound life jacket from Amazon for $27.99.)
To find a stable kayak, you'll want to look for ones that are on the wider side.
The type of hull also has a huge impact on how stable the kayak is. Ideally, kayaks with pontoon (aka tunnel) hulls are the most stable, but flat and rounded hulls also work. Try to avoid v-shaped hulls as these can be a bit more "tippy."
A kayak made from a durable and sturdy material is essential when your dog is involved.
Even if your dog is super laid-back, he could easily scratch or put a hole in the kayak with his nails.
If your dog is a chewer, you'll want to be prepared if he starts gnawing on the kayak (or something in it!) while you're out on the water.
That being said, kayaks made from a sturdy, hard material are definitely ideal for dogs. However, an inflatable kayak could work if it's made from a strong material and your dog's nails are kept short.
One of the most popular kayak designs, sit-on-top kayaks, are also the most ideal for dogs.
Just as the name suggests, these kayaks don't have walled sides and are an open vessel — kind of more like a paddleboard than a traditional boat.
This design makes it easy to get in and out of, and means it's more likely to be able to accommodate dogs of any size — especially compared to kayaks with a traditional design that have high walls and can only fit medium-sized dogs.
Sit-on-top kayaks also have a ton of room for any dog supplies you'll need to bring along.
Like this dog water bottle from Amazon for $22.99, which is perfect for a day on the kayak
Here are some kayaks that would work perfectly for paddling with your dog.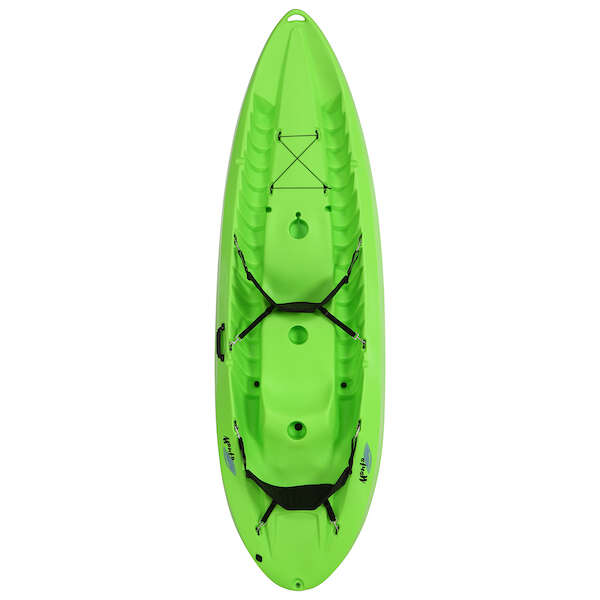 This 10-foot kayak can fit up to three people comfortably. And you don't always need a partner if you want to go out on the water with your dog. Its tiered seating is designed so you can paddle alone or with someone else. What's really great about this vessel is its tunnel hull, which makes it extremely stable on the water and basically impossible to tip over.
Features:
Sit-on-top design

10 feet long, 36 inches wide

Weighs 66 pounds

500-pound weight limit

Holds up to three people

Stable tunnel hull

Designed for solo or tandem paddling

Made of linear low-density polyethylene
The Beacon tandem kayak from Lifetime can move fast and has great tracking, meaning it stays in a straight line during paddling — despite it being a pretty big kayak. Its large size and ultra durable material makes it perfect if you have a large dog. It also has a hidden storage compartment beneath the deck so you can store important items like sunscreen, snacks, water and dog treats!
Features:
Sit-on-top design

12 feet long, 32 inches wide

Weighs 90 pounds

500-pound weight limit

Storage beneath deck

Wheel attached

Made of

high-density polyethylene
This kayak is extremely spacious, making it ideal for social outings. It comes with a middle seat if you want to sit three people, which can easily be removed to accommodate a large dog (or a couple small ones). It's also pretty easy to maneuver in the water if you want to do a solo ride (with just you and your pup).
Features:
Sit-on-top design

617-pound weight limit

13 feet and 1 inch long, 31 inches wide

Weighs 79 pounds

Can hold three people

Can be used for solo paddling

Wheel attached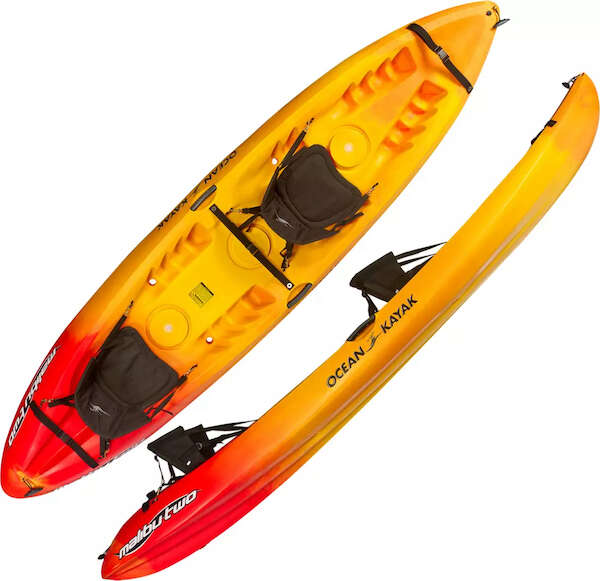 This kayak is a very sturdy option for a family or a solo rider. The flat hull and wide body makes it a very safe, stable option for dogs and kids, and it can also hold three people, so space won't be an issue. Also, it's pretty light for its size, and has carry handles and storage straps, so transporting it won't be so bad.
Features:
Sit-on-top design

425-pound weight limit

12 feet long, 34 inches wide

Weighs 58 pounds

Can hold three people

Can be used for solo paddling

Carry handles and storage straps included

Drain plug (in case water gets in the kayak)
If you really want an inflatable kayak (or you're on a budget), this is the one to buy. It comes with everything you'd expect with a standard tandem kayak, and it's made with puncture-resistant material, so it's pretty dog-friendly.
Features:
Inflates in six minutes

11 feet and 2 inches long, 34 inches wide

Weighs 26 pounds

Designed for solo or tandem paddling

Foot pump, carry bag and repair kit included
Training your dog to kayak
If you got your kayak and you're ready to get paddling with your dog, there's one more step you need to take: training your dog to kayak.
Specifically, you want to teach your dog to stay in a down position when you're out on the water, and you'll want to teach him how to get back into the kayak in case he falls out (or jumps ship).
"As far as training goes, one key thing to work on is practicing a down stay," Pickren said.
Here's how to teach your dog "down stay" for kayaking:
On land, prop the back of your kayak up on a wall slightly so it's stable.

Place a dog treat in the kayak where he'll be sitting so your dog jumps in.

Have your dog sit and then offer him a treat.

Place another treat on the floor (where he'll be during the ride) so he's encouraged to lie down. Pair this with your down stay verbal cue.

Once he's lying down, offer him another treat by placing it on the floor.

Once your dog is doing well with the down stay, add a little movement to the boat. "Move it gently from side to side, trying to mimic water movement," Pickren said. Give your dog a treat "for maintaining the down stay through the movement. We want to make sure they don't take the 'abandon-ship' approach when the waves start happening!"

When you're ready to get on the water, use the same verbal cues and make sure you have high-value treats on hand if you need to reinforce the training.
Once you and your dog have nailed the down stay, you'll want him to practice getting back into the kayak in case he falls out. "Because life is going to happen and your dog is likely going to fall/jump off," Pickren said.
Here's how to teach your dog to get back into the kayak:
With another person helping, start in some shallow, knee-deep water.

Have one person go out on the kayak and the other walk into the water with the dog, holding onto his harness or life jacket (no collar tugging!).

Add a little pressure to the edge of the kayak (where your dog is), so it dips into the water a little, and ask your dog to "load up" (or use another verbal cue you like). "This may be awkward for your dog at first, [so] be patient and let them learn how to move their body in a way that assists you in getting them in the boat," Pickren said.
On the first couple of outings with your dog, make sure to keep them short and as stress-free as possible — "that way, your dog can learn to love the water just like you do," Pickren said.
We independently pick all the products we recommend because we love them and think you will too. If you buy a product from a link on our site, we may earn a commission.