The 11 Best Interactive Dog Toys, According To Trainers
Keep her busy for hours 🐶
We independently pick all the products we recommend because we love them and think you will too. If you buy a product from a link on our site, we may earn a commission.
Dogs can easily get bored with their toys, so you're probably looking for a few that will keep your pup interested for as long as possible.
While you could go for the usual plush toy or dog bone, you might want a trainer favorite: interactive dog toys.
Interactive dog toys are designed to keep your pup engaged for longer periods of time compared to your standard dog toy, which can come with a ton of mental benefits for her.
"Dogs need to be fulfilled daily (just as you and I); interactive toys and food games help fulfill a dog and meet their needs," Russell Hartstein, a certified dog behaviorist, trainer and founder of Fun Paw Care in Los Angeles, told The Dodo.
The Dodo broke down the different types of interactive dog toys, and reached out to certified trainers for their top recommendations, so you can find your dog her next favorite toy.
What are interactive dog toys?
Interactive dog toys reward your dog when she plays with the toy, usually in the form of a treat, sound or movement, which keeps her coming back for more.
There are several types of interactive dog toys, including:
Treat dispensers:

When your dog plays with these toys, the toys will slowly release treats for her — which is definitely a reason for her to keep playing.

Puzzle toys:

These toys require your little Einstein to solve a puzzle in order for her to get to her treats or food.

Hide-and-seek toys:

These toys typically come with several smaller toys that fit into the larger toy, so once your dog finds a way to get them out, she'll have some new toys to play with.

Slow feeders:

Slow feeders have some sort of obstacle that prevents your dog from inhaling her food.

Snuffle mats:

A type of slow feeder, these mats have strips of fabric that mimic grass in the wild, and you put your dog's kibble or treats in between the fabric so your dog has to sniff them out. "Snuffle mats are a great way to enrich a dog throughout the day in addition to training with them," Hartstein said.

Responsive toys:

These dog toys respond with a movement or sound whenever your dog plays with them, which helps keep your dog engaged.
Best treat dispenser interactive dog toys
KONGs are known as the gold standard of interactive dog toys. They're super durable for tough chewers, and you can stuff a KONG with so many different treats, like dog biscuits, a frozen banana, dog-safe peanut butter or a mix of all three! "I always have several food extracting toys, especially ones that double as chew toys, such as KONGs," Hartstein said.
This interactive dog toy is like the normal KONG except it stands upright for your dog to knock around. The toy's unpredictable movements and treat dispensing abilities will keep your dog engaged for quite a while.
This Buster Cube is super quiet on hardwood floors, and your dog will love pawing at it to get to her kibble or treats.
This interactive dog toy has a fun design that features a few durable knobs for your dog to gnaw on. When your dog moves it just right, a treat will fall out.
Best puzzle interactive dog toys
This toy is a bit tougher to solve than the Dog Brick, so it's perfect for dogs who have some experience with puzzle toys already.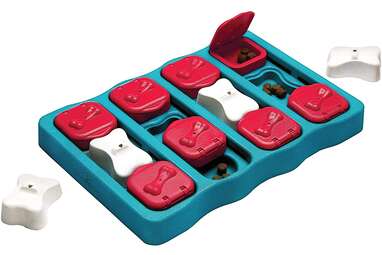 Nina Ottosson knows what she's doing when it comes to designing dog puzzle toys. This particular puzzle comes with three types of compartments that challenge your dog to figure out how to get to the treats. This toy will test your dog without being too difficult, so it's a good option if your dog is just getting started with puzzle toys.
Best hide and seek interactive dog toy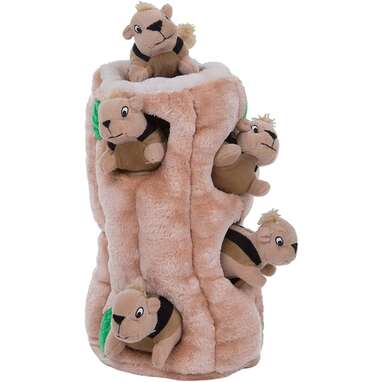 Your dog gets to hunt for squirrels from the comfort of her own home with this toy. The best part is that the plush squirrel toys have squeakers, making the game even more fun.
Best responsive interactive dog toy
Whenever your dog moves this toy around, the tennis ball inside gives the toy an extra little jiggle. It comes with a handle, too, so your dog will have no problem carrying the toy around in her mouth and won't be able to resist giving it a shake.
Best slow feeder interactive dog toy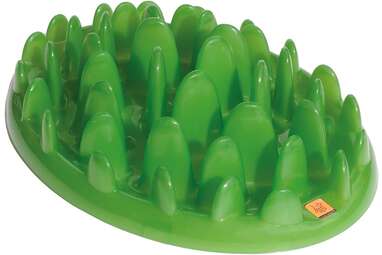 You're supposed to place your dog's kibble or treats between the long, dull spikes coming out of this interactive feeder, so your dog has to spend time either pawing them out or trying to reach them with her tongue or snout. It'll slow down your dog's eating tremendously, which can do wonders for her digestive system.
Best snuffle mat interactive dog toys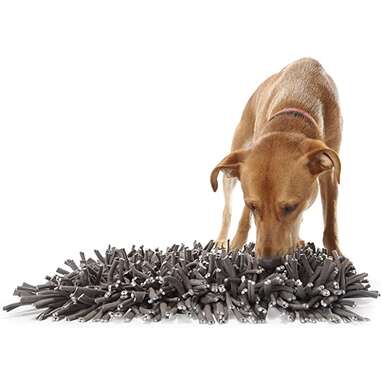 Snuffle mats require your dog to use her sense of smell to find the treats or kibble hidden in the long pieces of fabric. Not only does this slow your dog's feeding, but it can even make her happier.
This snuffle mat has a ton of detachable dog puzzles to make the feeder a bit more challenging and interesting for your dog.
No matter what you choose, make sure you give your dog time to warm up to it, and try to show her how to use it if possible. "The most important part is to TEACH a dog how to play with their toys," Hartstein said.
And even though interactive dog toys will allow your dog to play independently, she still needs her human to engage with her often throughout the day. "Always remember that your social interaction will always trump a toy," Hartstein added. "It's you, the parent, who makes the toy fun, not the toy itself."