The Best Warming Dog Beds On Amazon
So snuggly.
We independently pick all the products we recommend because we love them and think you will too. If you buy a product from a link on our site, we may earn a commission.
Although dog parents would love to be able to cuddle their chilly dogs all day, the more practical thing to do is to set your pup up with a warm and cuddly heated dog bed.
There are a variety of different heating pads, self-warming beds and heated dog beds available on Amazon, and after reading through the thousands of five-star reviews from pet parents who've tried them, The Dodo found the 10 best options.
So, if you're looking to keep your dog cozy, one of these beds is definitely going to be a win.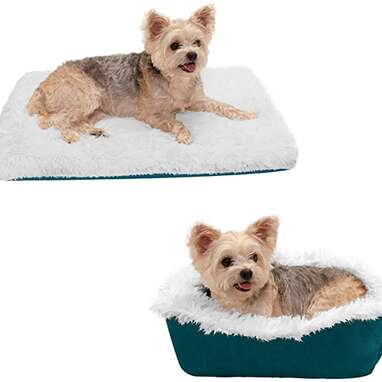 The ThermaNAP cuddle bed from Furhaven captures and returns your pet's heat with its self-warming mylar core. It can be buttoned up into a bed or couch or unwrapped and used as a snuggly pad. The cuddle bed comes in both small and large sizes and is completely machine-washable thanks to it being electricity-free.
The Amazon Basics warming bed is made using the same technology that is used in crafting mylar space blankets that capture and return body heat. The donut-shaped bed is lined with a faux sherpa material that adds a cuddly feel to the interior.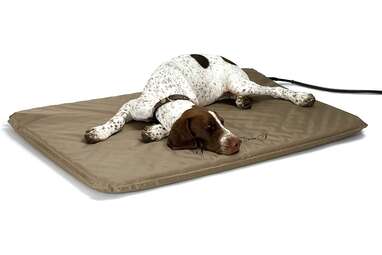 Made with a soft, orthopedic foam and covered with faux fleece, the K&H Pet Products Lectro-Soft bed begins warming as soon as it senses your dog is lying on it. Plus, the pad is built to be used in outdoor environments, meaning your outdoorsy dog can heat up while hanging out in the backyard.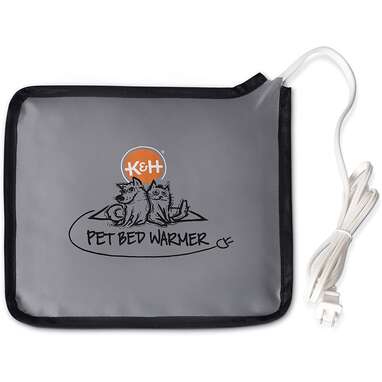 If your dog already has a favorite bed, then add the K&H Pet Products bed warmer to it to cozy things up. Simply unzip the cover of your dog's bed, slip the bed warmer inside, plug it in and let your dog get nice and toasty. You can grab one in sizes small through XL.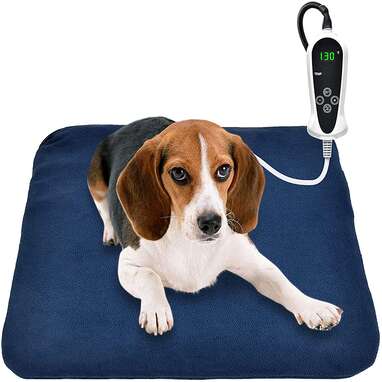 The RIOGOO heating pad comes with seven layers of comfort and protection and features an automatic turn-off feature if you forget to switch the heating pad off. Plus, the control panel allows you to set your own temperature between 80 and 130 degrees.
"The bad news: My cat doesn't like this bed," one pet parent who originally bought the bed for their cat wrote about the Aspen self-warming bed. "The good news: My 60-pound pit bull loves it and sleeps in it every night LOL." Great for both cats and dogs, the Aspen bed is lined with faux sherpa and made with that heat-retaining mylar material. You can grab this bed in a rectangular or circle shape, and it comes in several different sizes up to 35 inches long.
We use microwavable heating pads when we have aching joints, and now your pets can also reap the benefits of a microwavable heating pad thanks to the Snuggle Safe pad. The small size is great for cuddling, and a single round in the microwave can keep your dog warm for up to 10 hours.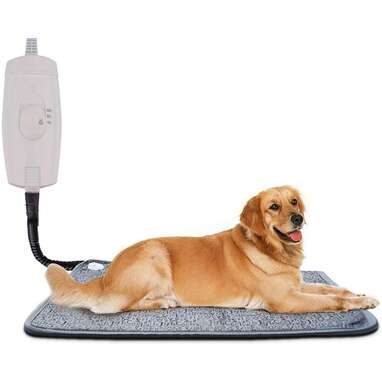 The Homellow heating pad on Amazon is waterproof, scratch resistant and safe for both pets and humans, thanks to its multi-layered construction. Use the power-off protection feature to make sure the pad turns off even if you forget about it, and set the perfect temperature for your pup up to 104 degrees.
Featuring soft foam walls and an interior heating pad, the K&H Pet Products Thermo-Snuggly Sleeper bed automatically responds to temperature changes when it senses the heat from your dog. And you can even remove the interior 6-watt heating pad so your dog can enjoy the bed during the warmer months, too.
This futuristic warming pod from K&H Pet Products is an awesome warming bed for both cats and small dogs. The dome shape keeps the entire pod insulated, but can also be removed if your pet gets overheated or doesn't require so much warmth to stay cozy.