The Best Heated Cat Beds For Cuddling Up In
Oh-so-toasty.
We independently pick all the products we recommend because we love them and think you will too. If you buy a product from a link on our site, we may earn a commission.
If your cat loves nothing more than a good cuddle on your lap or with her favorite blanket in her snuggly bed, then she'll probably go wild for an even cozier heated cat bed.
Though cats of all ages will likely love a heated bed, older cats with aches and pains or kittens who are used to sleeping with brothers and sisters will benefit greatly from the added comfort of heat. And depending on your situation, you can pick up a heated cat bed that's either plug-powered or warms without electricity.
Here are the best of both options that are available online.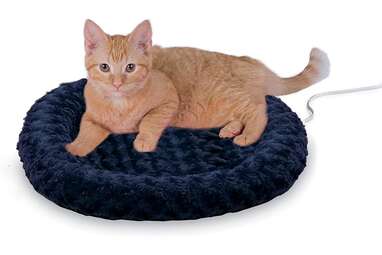 Available in both small and large, the K&H PET PRODUCTS heated cat bed on Amazon is sensitive to your pet's weight and will heat up only when she comes back to snuggle. "We have a 14-year-old cat that is moving a little slower as he ages," one pet parent wrote. "We plugged this bed in and heated it up and now are having problems getting him OUT of the bed … A great product for an elderly cat. I just wish that I had known about it sooner!"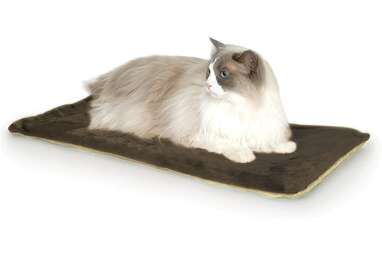 Looking for a heated cushion without any bells and whistles? The heated cat pad from K&H PET PRODUCTS is the perfect partner for chilly cats or older cats with aches and pains. The lack of sides makes it awesome for stretching out, and the soft foam padding is comfy but not too cushy.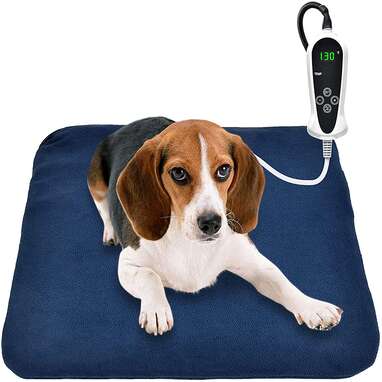 The RIOGOO pet heating pad comes in four sizes and features an attached remote that lets you control the heat setting up to 130 degrees. It's waterproof and comes with a sensor that makes sure your cat won't get overheated. Use as is or place your cat's bed on top.
With over 3,300 five-star reviews on Amazon, cat parents say this bowl-shaped K&H PET PRODUCTS cat bed is their BFFs' new favorite thing. It comes in both small and large and heats up to your pet's body temperature only when she's in the bed, so it's safe to keep plugged in.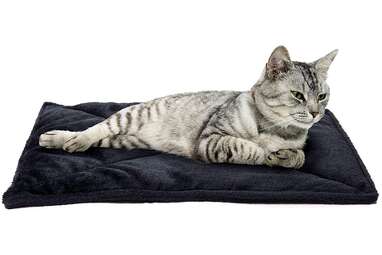 If you're on the hunt for an electricity-free heated cat bed, this Furhaven cat pad on Amazon is a great solution. It comes with a layer of material that reflects your pet's body heat back to her, creating a warm sleeping surface. And because there's no cord to worry about, you can add it to any existing cat bed — just choose the right size for you.
Another great non-electric heated cat bed option is the warming bed from Amazon Basics. It comes in five sizes and two different shapes, and it reflects your cat's body heat using the same material used to make space blankets. "I was worried when I ordered the bed as my cats are pretty picky when it comes to beds. But as soon as I took it out of the box, they loved it," one five-star reviewer wrote. "It's cozy and warm, and they will sometimes fight over who gets to use it."