The Best Gentle Leaders On Amazon
Pulling and jumping: solved!
We independently pick all the products we recommend because we love them and think you will too. If you buy a product from a link on our site, we may earn a commission.
If pulling has become a big problem when you and your dog are out for walks — a problem that isn't being solved by a standard non-pull harness — you may need to explore alternatives, like a gentle leader.
A gentle leader is a head harness that goes around your pup's snout and neck and discourages him from pulling or jumping when walking on a leash. Although some gentle leaders do have muzzle-like snout straps, you can easily find ones that don't limit his mouth movement and are comfortably designed in a way to prevent your dog from injuring his neck the way he might while wearing a traditional collar and leash.
So, if you've talked to your trainer and vet about introducing a gentle leader to your dog's walking routine, The Dodo found some of the best gentle leaders on Amazon.
With over 29,600 five-star reviews, pet parents say the PetSafe gentle leader head harness is a safe and simple solution to constant pulling, jumping and lunging. "[My dog] would pull so hard she would be choking, my arm felt like it was going to be pulled out of its socket, my hand would be red from holding the leash and trying to keep her from pulling," one dog parent wrote. "When I got the gentle leader, I followed the instructions and trained her with it. After training her for a week, I took her on a walk. It was like walking a completely different dog. She tried to pull a couple times, but it would just turn her around and make her face me … Now walking her is a dream, stress-free for both of us." The nose strap is padded and loose enough to allow dogs to drink, eat and pant while wearing it.
Available in five different sizes and both black and pink, the Halti Head gentle leader on Amazon from The Company of Animals comes with a neoprene-padded noseband, it has a a safety loop that attaches to the collar in case the Halti Heads comes off, and it also comes with a training guide to help your dog get used to the new accessory. "I love this thing!" one pet parent wrote. "My pup can still open his mouth and lick. So he's not restricted like some people might think … He's very young and likes to jump, [so] this really keeps him in check."
This strong and long-lasting gentle leader from Beaphar comes with a quick-release buckle on the back of the neck and an adjustable clamp under the chin so you can fit the gentle leader perfectly to your dog's head. It's comfortable to wear and won't ride up into your dog's eyes when on walks.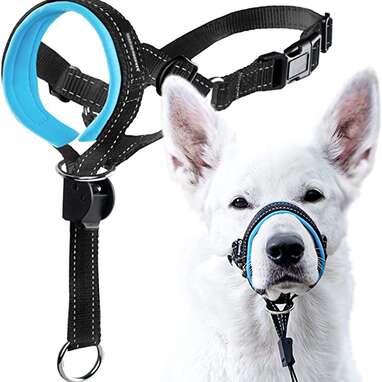 The GoodBoy gentle leader collar comes in four sizes and is padded with neoprene to keep your dog's snout chafe-free. "I have tried many different types of halters, collars, harnesses, gentle leaders and a trainer for my 79-pound rescue. He is the best dog ever until you try to walk him," one pet parent wrote in their five-star review for the GoodBoy head halter. "After my vet recommended the GoodBoy, I decided to try one more time … It has taken a month and a LOT of treats, but he now walks beside me and rarely pulls! He is a much happier dog!"
Available in sizes small through 2XL, the Dogs My Love gentle leader on Amazon has saved pet parents' arms and relieved dogs' discomfort during walks. It's made with super-strong nylon webbing that is soft to the touch, and the snout portion is lined with cushy neoprene for added comfort.