These Are The Best Foods For Dog Allergies, According To A Vet
These should help your dog's allergy symptoms 💕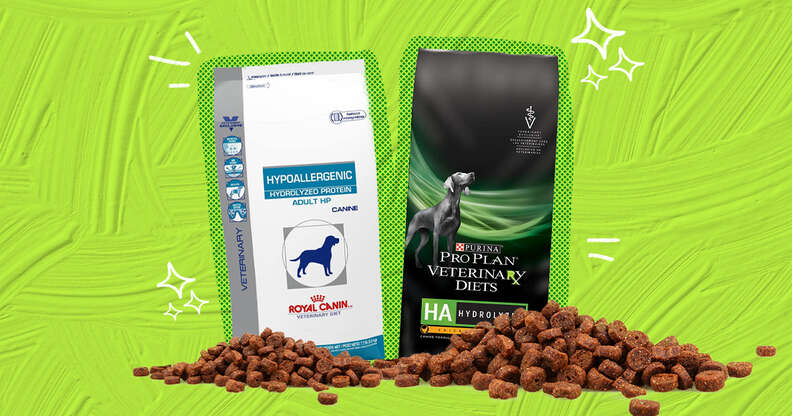 If you're on the hunt for the best food for dog allergies, it can be hard to figure out which option is best for your dog's needs.
We reached out to Dr. Michelle Burch, a veterinarian working with Paramount Pet Health, to learn about the best food for dog allergies and what pet parents should know before choosing one.
What are dog food allergies?
Just like how people can develop food allergies or a sensitivity to a particular food, the same can happen to dogs.
Dogs who develop a food allergy have usually been eating the offending food for a while with no previous trouble. "Food allergy symptoms will typically begin in dogs 5 to 6 years old or less than 6 months," Dr. Burch told The Dodo.
If your dog's allergic to an ingredient, his immune system will try to attack it every time he eats the food, which causes all the annoying allergy symptoms your dog has to deal with.
How to find the right diet for dogs with food allergies
If your dog's diagnosed with a food allergy, your veterinarian will help you determine what kind of diet is best for your pup.
There are two main diets your vet can recommend: limited-ingredient dog food and hydrolyzed dog food.
Limited-ingredient food can usually be purchased over the counter, while hydrolyzed dog food usually has to be prescribed by your veterinarian.
Limited-ingredient dog food
A limited-ingredient diet (LID) is formulated with fewer ingredients than are typically found in your standard dog food and includes exotic proteins and sources of carbs to avoid common allergy triggers.
Limited-ingredient formulas might include the following protein and carb combinations:
Duck and pea
Egg and rice
Fish and potato
Venison and potato
Hydrolyzed dog food
A hydrolyzed protein diet includes a conventional protein, such as beef or chicken, that's been broken down into molecules too small to cause an inflammatory response by the immune system.
Keep in mind that if you purchase a formula with hydrolyzed protein, it'll likely cost a bit more since this style of protein is more expensive (but can be very effective).
Best food for dog allergies
These are the most common diets recommended by Dr. Burch for dogs with food allergies.
Chewy
Main ingredients: Salmon and brown rice
Type: Over-the-counter
What we loved: If salmon or brown rice don't trigger your dog's allergies, this food is a great option. This simple recipe features premium ingredients designed to provide your dog with the essential vitamins and minerals he needs, like whole-grain brown rice to fuel digestion and real salmon to help build strong muscles. There's also a list of other recipes, too, if your dog does have a fish allergy or just doesn't prefer the taste.
Other formulas:
Chewy
Main ingredient: Hydrolyzed soy protein
Type: Prescription
What we loved: Food-sensitive dogs or dogs with food allergies can benefit from Purina Pro Plan Veterinary Diets HA Hydrolyzed Canine Formula, a unique, vegetarian dog food that features hydrolyzed proteins and low-allergen carbohydrates designed to minimize the risk of food allergic reactions (there are also chicken and salmon formulas if your dog prefers those flavors). It offers dietary benefits that provide optimal nutrition while meeting your adult dog's or growing puppy's special needs.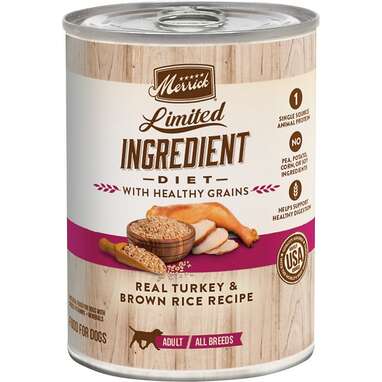 Chewy
Main ingredients: Turkey and brown rice
Type: Over-the-counter
What we loved: If your dog loves wet food, this LID option will keep the allergies at bay while also being super tasty. This is made of a simple recipe with deboned turkey and brown rice and eliminates risky ingredients like pea, potato, corn and soy (these commonly trigger allergies in dogs).
Chewy
Main ingredient: Hydrolyzed soy protein
Type: Prescription
What we loved: Royal Canin Veterinary Diet Hydrolyzed Protein Adult HP Dry Dog Food is a highly palatable diet designed for adult dogs and puppies with food allergies. It's especially beneficial for pups who also have stomach issues, since it has a blend of fibers to help support healthy digestion. It's good for your dog's skin, too. This formula includes B vitamins and amino acids to reinforce your dog's skin barrier and omega-3 fatty acids to help promote healthy skin and coat.
Ollie
Main ingredient: Chicken, beef, turkey or lamb
Type: Over-the-counter
What we loved: This fresh dog food can be delivered right to your door, which definitely makes it the most convenient option on this list. It's considered an LID food since it's made with simple ingredients that won't irritate your pup's stomach. There are four proteins to choose from, and it comes with a scoop and a 'puptainer' so you can easily store your dog's meals.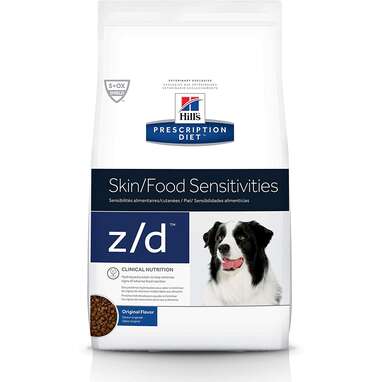 Amazon
Main ingredient: Hydrolyzed chicken
Type: Prescription
What we loved: This food's specially formulated with hydrolyzed protein and a single purified carbohydrate to help your dog's food allergies and resulting skin issues. The product even claims that your dog's coat will have visible improvement in just 30 days after eating the food. And even though the food's chicken flavored, it's perfectly fine for pups who are allergic to chicken (and probably a great option if your allergic pup loves the taste).
Your veterinarian will always be your best resource when deciding which diet is best to treat your dog's food allergies.
We independently pick all the products we recommend because we love them and think you will too. If you buy a product from a link on our site, we may earn a commission.