4 Best Flea Shampoo For Dogs
Peace out, fleas ✌️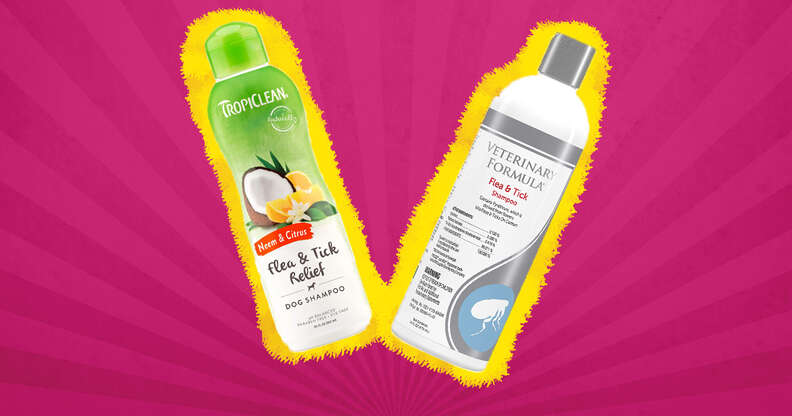 We independently pick all the products we recommend because we love them and think you will too. If you buy a product from a link on our site, we may earn a commission.
There's nothing more annoying than getting home from an awesome adventure and noticing that a bunch of fleas found a home on your dog. So rude!
If your dog is having flea problems, that doesn't mean they have to be a problem for long.
When getting rid of fleas on your dog, flea shampoos can definitely help to kill fleas fast.
The Dodo spoke to Dr. Justin Padgett, medical director and veterinarian at St. Clair Animal Care in Alabama, to find out what his favorite flea shampoos are.
Is flea shampoo safe for dogs?
In general, the majority of flea shampoos are considered safe for use on dogs, if labeled for canines.
"I can't remember treating a case where flea shampoo was designated as the offending agent that caused harm," Dr. Padgett told The Dodo.
Benefits of flea shampoo for dogs
Flea shampoos can remove an infestation of fleas from your pet and clean off grimy flea dirt (aka flea droppings) that's often left behind on dog's skin and fur.
Keep in mind that flea shampoo shouldn't be used for the consistent treatment or prevention of fleas. "Oral and topical flea preventives do a much better job at preventing infestations," Dr. Padgett said. "Flea shampoos should be reserved for heavy infestations or for occasional use on a flea-allergic canine."
For a safe oral preventative, you can try:
Bravecto Chews for Dogs from Chewy for $58.49
For a safe topical preventative, you can try:
Advantage from Amazon for $44.98
How to find safe flea shampoo for dogs
When looking for a flea shampoo for a dog, be sure to shop at a reputable source, such as a veterinary office or an established pet store.
"Be sure to read the label of the flea shampoo, making note that it is appropriate for the age of your pet," Dr. Padgett said. "Note the instructions given on the label and follow them carefully as some shampoos require that the animal soak in the shampoo for a designated time before rinsing."
Best flea shampoos for dogs
According to Dr. Padgett, the best flea shampoos are gentle and effective. Some of his favorites include:
Amazon
This powerhouse shampoo kills fleas, flea eggs, flea larvae, ticks and lice. It's made with soothing aloe and oatmeal, making it perfect for dogs with sensitive skin. "Adams flea shampoo is a standby as an effective treatment of an existing flea infestation," Dr. Padgett said.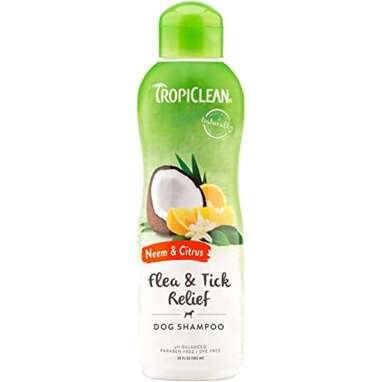 Amazon
This shampoo has a yummy citrus aroma that'll make fighting fleas a surprisingly enjoyable experience. Not only will it help relieve your pet from fleas and ticks, but it has a powerful degreasing formula that works magic on super dirty pups.
Amazon
Love to keep it organic? This shampoo is gentle and safe, with no harsh chemicals anywhere in sight. It's made with five pure essential oils, so it smells great and helps soothe irritated skin.
Amazon
This shampoo is made with a natural insecticide that kills and controls fleas (and ticks!) on contact. It also works on cats, ferrets and horses if you have any of those cuties hanging around.