The Best Elevated Dog Beds On Amazon
Sometimes bigger is better.
We independently pick all the products we recommend because we love them and think you will too. If you buy a product from a link on our site, we may earn a commission.
Elevated dog beds can serve two important purposes — the first is that they can keep your pup much cooler than standard dog beds during the summer or in hot climates, and the second is that some dogs just prefer to sleep higher off the ground like we do.
Depending on your dog's needs, The Dodo found some of the best elevated dog beds on Amazon, each with thousands of five-star reviews. From ultra-cooling pet pads to dog sofas that look like antique chesterfields, there's something for every dog (and every dog parent) below.
The cooling elevated pet bed from Amazon Basics won The Dodo's Paw of Approval because it gives pups a perfect spot to chill out — literally! There are five sizes available to choose from and the sight elevation is great for dogs who hate laying on grass and gravel. It's one of the most popular items in the Amazon Basics pet line for a reason.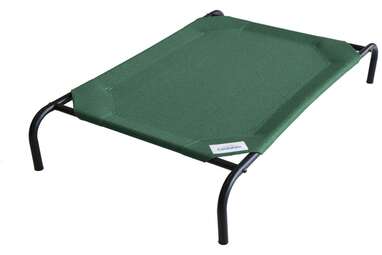 With over 36,300 five-star reviews, the Coolaroo elevated dog bed on Amazon is a fan favorite thanks to its breathability and how it cradles dogs' stiff joints. It can be used indoors or outdoors and will keep your pup cool and happy. "This bed has exceeded my expectations in every way," one five-star reviewer wrote. "So affordable and has shown zero signs of wear after being left out in the California sun and heat for over nine months!"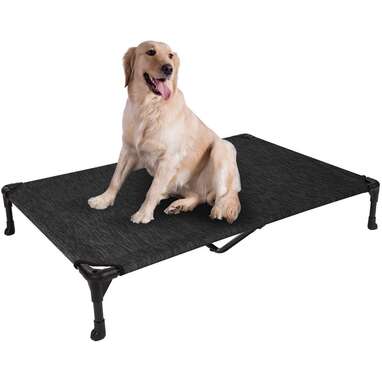 The Veehoo elevated pet bed comes in sizes ranging from small up through extra-large and is much loved for its heavy-duty powder-coated steel frame and legs. It's great for dogs of all sizes and keeps them cool thanks to the heat-resistant mesh bedding. Even in the hottest weather, your pup stays cool.
The K&H Pet Products elevated bed on Amazon features a breathable mesh center that keeps pets cool while they chill out. And the lightweight metal frame is easy to move around yet can hold pups up to 200 pounds. Plus, as one pet parent wrote, it's chew-proof — "Our mastiff has chewed every dog bed we've bought for him," they wrote. "This bed was definitely cost effective and easy to put together. He's been laying on it, which is a good sign, and it doesn't have all the stuffing and cotton, which is his go-to and what he loves to chew for these beds."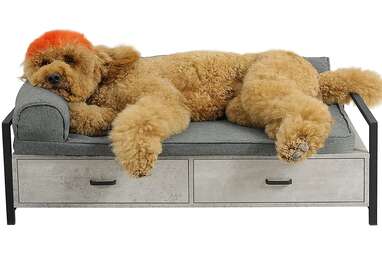 If you're not in need of a cooling bed, but rather one that gives your dog the feeling of being on the couch or on your mattress, then this elevated bed from MSMASK may be the perfect fit. It comes with a sturdy metal frame and two drawers underneath where the bed goes, making it an awesome storage solution, as well. And you can use your dog's favorite existing bed, depending on the frame size you buy.
Another awesome furniture-like elevated bed is this "library sofa" from Enchanted Home. It's basically just a mini version of those high-end Chesterfield sofas (studs around the frame included!). It's upholstered in faux leather and features sturdy wood legs. "Very well made," one pet parent wrote. "Perfect for all three of my Italian greyhounds to cuddle on."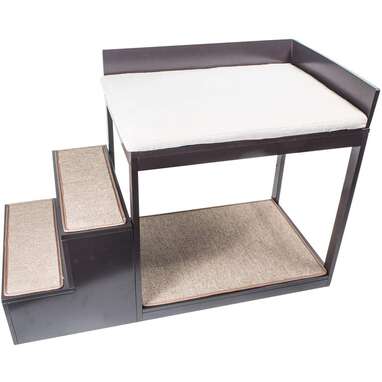 Two beds are sometimes better than one! This bunk bed from Penn-Plex is an elevated dog bed, set of stairs and den-like bed all in one. Two pups can sleep at the same time, or you can push the bunk up against your bed to give your dog a place to curl up next to you at night (without taking up valuable bed space). "My dog loves this bed," one five-star reviewer wrote. "She likes to look out the window and loves to sunbathe on this bed. It's sturdy and has a nice modern finish. Well worth my money."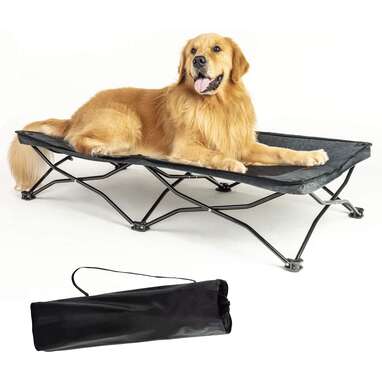 Need to take your dog's bed on the road? This folding elevated pet bed on Amazon from YEP HHO is a lightweight, easy-to-use pet bed that goes with you anywhere. The cool mesh surface is attached, so all you need to do is expand the hinges, and your pup is good to go.