The Best Dryer Sheets For Pet Hair
Pet hair on clean clothes is no longer a problem.
We independently pick all the products we recommend because we love them and think you will too. If you buy a product from a link on our site, we may earn a commission.
Pet parents know that their pets' hair ends up on everything. Even when clothing is washed and dried, pet hair still lingers — but if you add the right dryer sheet to your next load of laundry, you might see that pet hair vanish for good.
Dryer sheets are used to add extra freshness to clean clothes as well as soften and release wrinkles and static from fabric. But some dryer sheets have been upgraded to attract pesky pet hair and trap it, leaving your clothes clean and shed-free.
So if you're sick of washing, drying, washing, drying and still being left with hair-coated clothes, give one of these pet hair dryer sheets a try.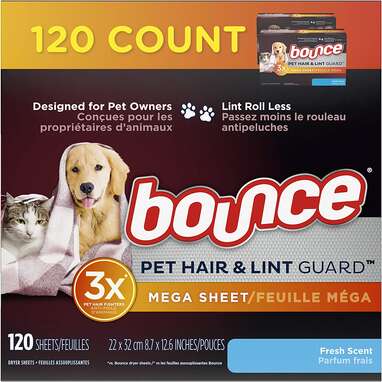 With over 27,000 five-star reviews, pet parents say these dryer sheets from Bounce are a game changer. Not only do these dryer sheets add softness and remove static, but they get rid of stuck-on pet hair from clothes as well as prevent it from sticking again while wearing. "We have two dogs and they shed all the time," one wrote. "These are truly a game changer!! No more dog hair coming out of the dryer stuck in the clothes! Helps keep it off your clothes when wearing it!!"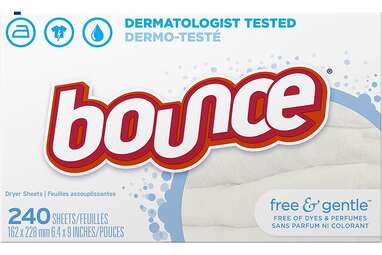 The standard Bounce fabric softener sheets also do a great job at keeping pet hair at bay, pet parents say. One wrote, "I tried other brands and this is the only one that gets dog hair off our clothes." Plus, this version is dermatologist tested and safe for those with sensitive skin to use.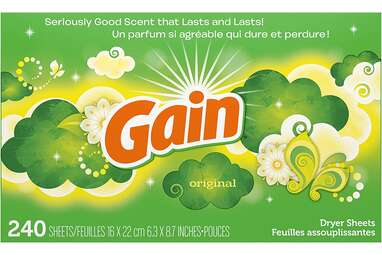 Most people who buy the Gain dryer sheets on Amazon say they do so for the scent — it's fresh and lasts a long time. But others have figured out that Gain dryer sheets also help remove pet hair from laundry. "What can I say? It helps soften my fabrics and aids in releasing the endless dog hair on my blankets," one pet parent wrote. "Has a nice smell without being overpowering or flowery."
These Snuggle dryer sheets tackle static and odor from the body, outdoors and pets while removing pet hair at the same time. "These smell so good and help get all the dog hair out!" one pet parent wrote.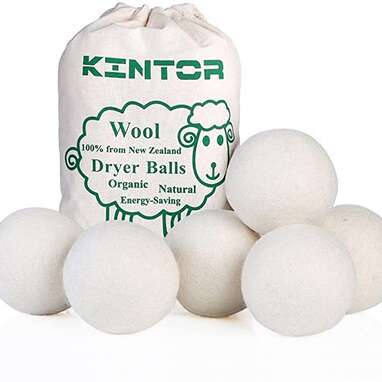 If you're willing to experiment and put your standard dryer sheets to the side, these wool dryer balls from KINTOR on Amazon are eco friendly, cruelty free and energy saving — you won't have to run your dryer as long when these dryer balls are put in with your wet clothes. And they remove pet hair, too. "Primary motivating factor [in ordering these] was to remove pet hair from items I wash/dry, and they work wonders," one reviewer wrote. "I've especially noticed a HUGE difference with my sheets and bedding, which is now officially cat hair free!! Great price and quality."