The Best Dry Dog Food, According To Vets
Here's how to find the best dry dog food 🐶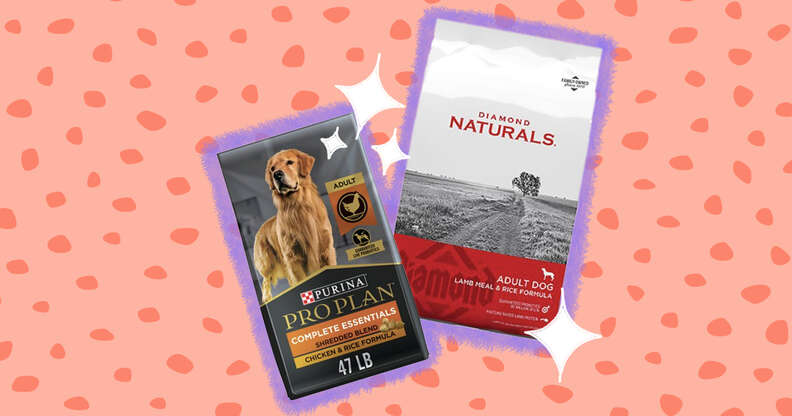 Dog parents know that shopping for dog food can be a chaotic experience. There are so many different dry dog foods to choose from, and it can feel like you're taking a shot in the dark when you finally pick one.
Are all dry dog foods created equal? And how can a pet parent make a more educated decision when it comes to choosing the best dry dog food for their pup?
We talked to the experts about which dry foods reign supreme to help you become more informed and help your dog get the most out of mealtime.
How to find the best dry dog food
Whether you're looking for the best dry or wet food for your dog, you're going to want to take several factors into account before buying.
Dr. Stephanie Sheen, a veterinarian with digital pet health site Fuzzy, told The Dodo that it's a great idea to first consult the World Small Animal Veterinary Association's (WSAVA) guidelines for quality pet food. This list breaks down exactly what to search for when reading the label of a dog or cat food.
And rather than look at the ingredients in each dry dog food, it's much more important to take a look at the nutrients it's packed with. According to Dr. Claudine Sievert, a veterinary consultant for Stayyy, the keywords to look for are:
Amino acids, including valine threonine tryptophan, phenylalanine, lysine, methionine, leucine, isoleucine, arginine and histidine
30 percent lean protein, ideally from organ meats like liver, kidney, gizzard, etc.
Carbohydrates from veggies, fruit and rice
Fiber
Electrolytes like sodium chloride and potassium
Vitamins A, B, D, E, K and chlorine
Fats derived from oils and fish
Minerals
And, of course, you need to make sure your dog actually likes the food and it agrees with him.
"A shiny and silky coat, with no dry skin, is a good sign," Dr. Whitney Miller, chief veterinarian at Petco, told The Dodo. "Also pay attention to what comes out the back end — regular, formed stool is another great sign. If your pet has any regular GI upset, you should talk to your veterinarian about a possible nutrition change."
Dr. Miller notes that there are also virtual tools out there, like Petco's Right Food Finder, that can help pet parents better personalize their dog's diet.
But talking with your vet is probably the easiest way to make sure you're feeding your dog the right stuff.
"Maintaining a relationship with a trusted veterinarian and scheduling regular vet visits are two important ways pet parents can help ensure the vet is familiar with their pets' health and medical history to problem-solve any issues that arise together," Dr. Miller said.
Benefits of dry dog food
One of the main benefits of feeding your dog dry food is better dental health. The kibble pieces in dry food help get rid of plaque and bacteria on your pup's teeth that can lead to dental disease.
Wet food is usually made with fewer preservatives since it comes in a sealed can, so it doesn't last as long. Dry dog food typically lasts longer, and you get more for your money since the bags come in big sizes.
Vet-recommended dry dog food
So, which dry dog foods are the best according to vets? Here are some of their favorites.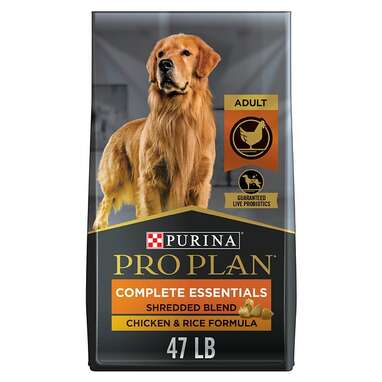 Both Dr. Sheen and small animal veterinarian Dr. Danielle Morosco told The Dodo that their go-to dry dog food recommendation is any kibble from Purina Pro Plan because this formula is not overly processed and fits within the WSAVA guidelines. It's a great basic kibble that not only tastes good, but contains all the nutrients necessary to keep your pup in tip-top shape.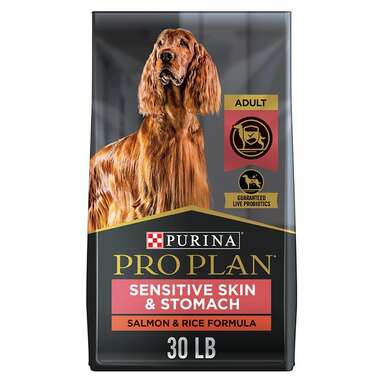 If your pup's struggling with skin or stomach issues, Dr. Sheen recommended checking out the Sensitive Skin & Stomach dry food from Purina Pro Plan. It contains skin-and-coat-calming ingredients like oatmeal, rice and sunflower oil that will nourish your dog both inside and out.
"WholeHearted offers many options at an affordable price, ranging from wet and dry dog food with quality ingredients to healthy, delicious treats in a variety of flavors and textures," Dr. Miller said. And its ingredient and nutrients list works for any dog at any life stage.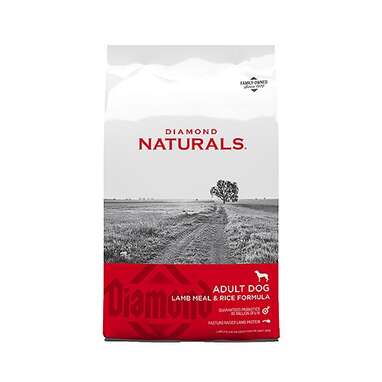 "For dry dog food, I always tell people Diamond dog food is fantastic, and it's what I feed my dogs," Dr. Sievert said.
Royal Canin, recommended by Dr. Sheen and Dr. Miller, has a wide variety of size-specific dry foods for all types of breeds. You can stick with basic small, medium or large dry food, or pick a kibble that suits pugs, German shepherds, golden retrievers, French bulldogs, etc.
Again, Purina Pro Plan comes highly recommended by Dr. Sheen, who suggested the brand's puppy formula for a basic dry puppy food. This kibble is formulated for pups under 1 year. You can check out The Dodo's roundup of vet-recommended puppy foods here.
We independently pick all the products we recommend because we love them and think you will too. If you buy a product from a link on our site, we may earn a commission.