We independently pick all the products we recommend because we love them and think you will too. If you buy a product from a link on our site, we may earn a commission.
You know how important it is to stay hydrated while exercising and adventuring. And if your dog is just as active as you are, it's even more important for him to stay hydrated since dogs can be super susceptible to heat stroke in hot weather.
But if you don't want to struggle with trying to hydrate your dog mid-hike from a human water bottle, it's a great idea to get him his own dog water bottle — which are designed to be easy to drink from and to be super convenient for you.
According to pet parents who are constantly on the go, these are the absolute best dog water bottles on Amazon. From bottles with detachable bowls to squeeze bottles with fold-out drinking cups, there's a water bottle out there to suit your dog no matter what his preferences are.

The Yicostar squeeze bottle comes with a silicone fold-out leaf that acts as a drinking cup. But if your pup prefers, you can also pour the water into the included collapsible dog bowl that can be attached to the bottle with the carabiner. "Our dogs love that you can squeeze water out of the end into their mouth and put it into the bowl part of it as well!" one pet parent wrote. "It's super easy to use and easy to carry!"
This stainless steel dog water bottle on Amazon from Vivaglory holds up to 25 ounces of water, and the screw-on cap doubles as a drinking cup for your pup. Plus, the sealing gasket attached to the inside of the cap ensures that the bottle won't leak when stored inside a backpack or tote.
With over 8,600 five-star reviews, the Lesotc foldable dog water bottle on Amazon is available in both 21-ounce and 18-ounce sizes and in three different colors. It features a foldable silicone cap that flips upward into a bowl. Simply squeeze the bottle to fill the bowl with water, and let your pup drink to his heart's content.
Over 14,100 pet parents say the MalsiPree dog water bottle is a win thanks to its larger attached cup and the release key that allows unused water to go back into the bottle for later. You can pick one up in either a 12-ounce or 19-ounce size, and one pet parent went as far as to say that this bottle is a "godsend" — "I cannot imagine using any other travel water bottle for my pups!"
The PETKIT dog water bottle, available in six different colors, comes with a coconut fiber filter that removes residual chlorine and impurities from the stored 14 ounces of water. The filter only needs to be changed every two to six months or after 100 bottles of water have been served. There are over 5,800 five-star ratings from customers raving about its leak-proof dispenser and filtration system.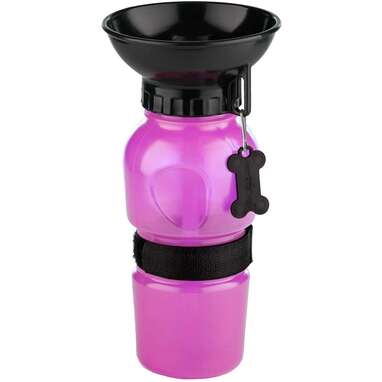 Squeeze the Highwave AutoDogMug to allow the top well to fill with water, and let your pup lap it up. Then, when your dog is done drinking, release your squeeze and let the water return to the basin. "We have four dogs and have wasted a lot of water over the years in collapsible bowls," one pet parent wrote. "Purchased this before taking them all for a week-long beach trip and now wish we had discovered it sooner! So easy to use (especially on the go), no waste, and the dogs love it!"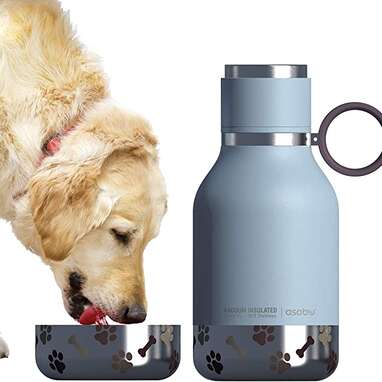 This 33-ounce stainless steel water bottle comes with a screw-off bowl at the bottom, making it a great option for pups who prefer the ease of drinking water out of a bowl. Plus, this water bottle design allows you and your dog to share. "It holds more than enough water for my husband, myself and our two dachshunds," one pet parent wrote. "I loved that you can even use the top as a cup so more people can drink at once."
Dog parents also love this foldable dog water bottle from Amalen. This version is great for quick walks, as it only holds about 10 ounces, but its compact shape and larger bowl size make this bottle easy to carry and even easier to drink from. With an overall 4.5-star rating, pet parents love the pocket-size shape and lighter weight.
This dog water bottle from Amazon even has room for a snack! Screw off the bottom portion of the Misthis dog water bottle and store away a handful of kibble, and then use the attached water cup to help your pup wash down his meal.