These Expert-Approved Dog Walking Gloves Will Keep Your Hands Super Warm
Stay cozy on all those winter potty runs!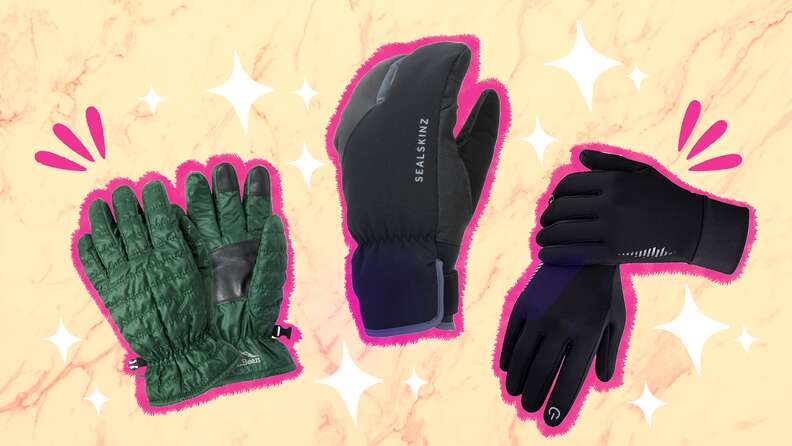 For those of us who live in colder climates, wintertime dog walks can be a bit miserable. Whether you're walking through snow, sleet or chilly temperatures, you want to make sure you have the right gear — and adding a pair of toasty gloves to your wardrobe is a great first step.
But which gloves are the absolute best to add to your dog walking gear collection? We talked to two experts about what to look for when buying dog walking gloves and which features reign supreme.
Outfitted with the right pair of gloves, your wintertime dog walks just got so much more enjoyable.
What to look for when choosing a good dog walking glove
According to Daniel Reitman, CEO and founder of Dan's Pet Care, there are four main shopping considerations to keep in mind when it comes to gloves.
Grip
Grip is the most important part of a good pair of dog walking gloves, according to Reitman. "You always want to make sure whatever gloves you are wearing allow you to have a safe and secure grip on your dog's leash in all weather," he told The Dodo.
"Many gloves have a silicone texture, this works great to help you keep that leash secured in your palm," professional dog trainer Nicole Ellis of Rover's Dog People Panel told us.
Look for gloves with rubberized palms and fingers, and make sure the fit of the glove is slim enough that your hand isn't floating around inside. This will ensure you have the best grip on your dog's leash as possible.
E-tips
"Gloves that have an e-tip that allow you to use your phone are very important as well," Reitman added. "If you are out with your pup on a beautiful snowy walk, you will want to be able to quickly get your phone out to capture those adorable moments without having to fumble with getting your gloves off."
He continued, "It is also very important to be able to have access to your phone in case there is an emergency with your pet and you need to contact your vet or get a ride from wherever you are."
Waterproof and winterproof
Finally, you want your gloves to be able to actually keep your hands warm and dry — they're winter gloves, after all! Gloves that are labeled as being waterproof and insulated are the ones you'll want to be on the lookout for.
The best winter gloves for dog walking
According to expert guidelines, here are the best gloves you can wear while out on your winter dog walks.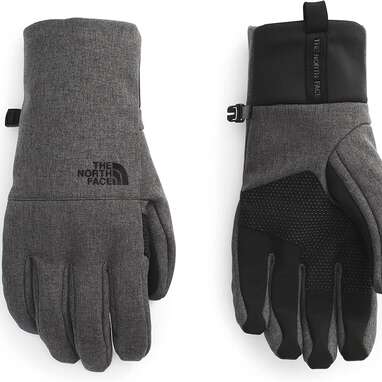 These gloves hit all the marks: They're insulated with windproof Heatseeker Eco material, they have e-tips that allow you to use your phone without removing them, and they have rubberized palms that allow you to keep a firm grasp on your dog's leash. You can even choose your preferred size (from small to 2XL) to get a perfect fit.
The Carhartt C-Touch gloves are another great option for dog walking during the winter. They're insulated with microfiber lining and windproof fleece fabric, and they feature touchscreen-compatible fingertips. These gloves are also rubberized at the palm and come in various sizes.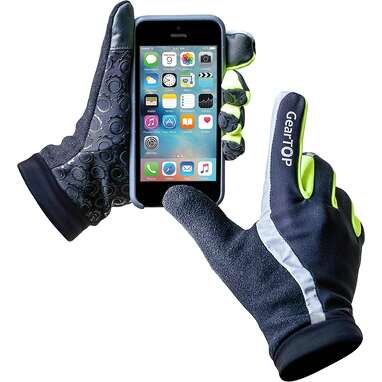 Wintertime is also the dark season, and that means you'll likely be out on walks long after the sun has gone down. Make sure you and your dog stay as safe as possible from oncoming traffic by wearing these super-reflective GearTOP gloves that are touchscreen compatible. These gloves also feature a grippy palm and come with an adjustable strap to keep the cold out around the wrist.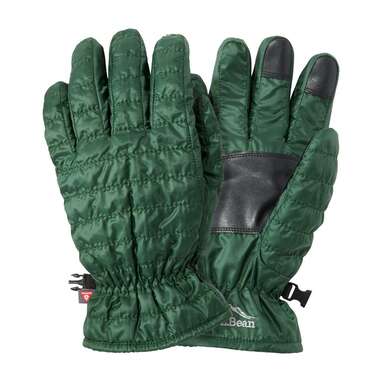 If your dog goes everywhere with you, then you may have to make trips outside while on the go. And these packable, water-resistant winter gloves from L.L.Bean are awesome to keep in your bag or tucked away in your pocket. The ultralight PrimaLoft material folds down to almost nothing and puffs up again when you need them to provide warmth. The palms feature a grip material, and these gloves are smartphone compatible.
If you're looking for a glove that feels like you have nothing on, the smartphone-compatible SIMARI gloves on Amazon may be a great pick. They come in a variety of different sizes and colors and are made with a polyester-spandex blend that keeps the chill out with the help of a comfy fleece lining. The palm of the gloves feature a rubberized cross-hatching motif, and there are even small reflective designs on each glove that will catch headlights, making them great for nighttime walks.
"I always make sure my gloves still allow me to have dexterity, as poops will occur we need to be able to get the poop bag and clean up after our pets," Ellis said. "If this is a concern consider a pair of convertible gloves that you can switch to fingerless when needed."
These convertible gloves from Palmyth are both mittens and fingerless gloves. You can easily pull back the finger portion of the mitten to access your phone, water or poop bags. And the palms and fingers of the Palmyth gloves feature heavy-duty, no-slip grip material, and the entire glove is lined with warm 3M Thinsulate lining and a windproof TPU membrane.
Live in a super cold climate? These Sealskinz split-finger gloves from REI are ideal for freezing temperatures. They have a three-layer waterproof construction, packed with Climashield insulation, and the split-finger design enhances grip. Unfortunately, you won't be able to use your smartphone while wearing these guys, but they're definitely water- and weatherproof.
With the right pair of gloves, winter dog walks are no longer a pain in the neck. Your fingers will stay warm, and you'll be able to enjoy the winter scenery with your BFF. And while you're here, take a look at these winter dog jackets that will keep your dog toasty warm, too!
We independently pick all the products we recommend because we love them and think you will too. If you buy a product from a link on our site, we may earn a commission. Links are updated when possible, but note that deals can expire and all prices are subject to change.
10 Dog Hats That Are As Cute As They Are Cozy
10 Dog Hats That Are As Cute As They Are Cozy