The Yummiest Dog Treats Available On Amazon
Pet parents are raving about them 🐶
We independently pick all the products we recommend because we love them and think you will too. If you buy a product from a link on our site, we may earn a commission.
Rewarding your dog with a yummy treat is as fun for you as it is for her — you can't help but smile seeing her get worked up about a cookie she can't get enough of.
But which treats really make pups wag their tails and impatiently stomp their feet? According to pet parents and real-life reviews, these are the very best dog treats on Amazon — complete with tasty flavors, perfect portions and the ability to make any dog act like a puppy again.
Rich in calcium and perfectly bite-sized for all dogs, these MaroSnacks from Milk-Bone are an easy treat to keep on hand. They come in a resealable canister that keeps treats fresh, and over 36,600 dog parents say these are a win. "Having a large gang of dogs means that I buy a LOT of treats! My gang has some favorites and these are right up there!" one five-star reviewer wrote. "If you have a dog with some dental issues, look no further! Even puny humans can crack or crush these easily."
Treat your dog and clean his teeth at the same time! Greenies treats are shaped specifically to clean teeth down to the gumline and are made with all-natural, easy-to-digest ingredients. Over 16,700 pet parents on Amazon swear by Greenies dog treats, and their dogs do, too. "My dog looks forward to his bedtime Greenie all day," one dog parent wrote. "I grab the bag and shake it and ask, 'Who wants a Greenie?' My dog, who is usually already asleep, jumps up and runs to the back door. I open the door and he runs out to quickly do his business. Then he trots back with a huge smile on his face knowing that he's about to get his Greenie."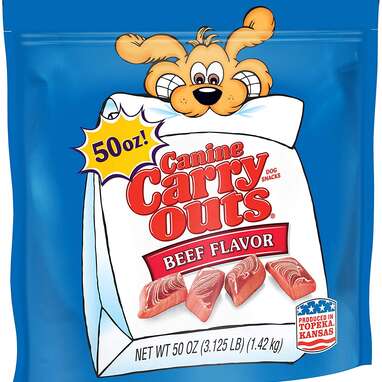 Your pup can reap the benefits of a doggie bag every day thanks to Canine Carry Outs. This USA-made treat comes in a variety of different flavors, and over 18,000 pet parents say their dogs can't get enough of them. "This is the holy grail of treats if you've got a big girl that likes them," one dog parent wrote.
Containing 12 vitamins and minerals, each yummy flavor of these Milk-Bone biscuits is tasty and actually good for your pup. The crunchy texture helps keep his teeth clean, and the 23,600 five-star pet parents say that their dogs are addicted. "I think this may be laced with doggie drugs or something … my dogs can't ever get enough of it and will stop at nothing for a dog treat," one pet parent joked. "Seriously. They almost smothered me to death just today over the possibility of getting a dog treat when I asked the question, 'Whooooo wants a cookie?'"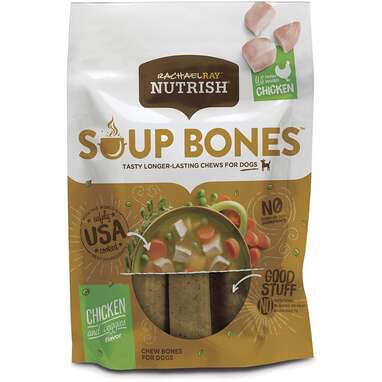 Give your dog something to chew on with these Soup Bones from Rachel Ray Nutrish. Each treat is made to last longer than traditional dog biscuits and is packed with brothy flavor. Plus, there's a special center waiting for him in the middle. "Our dog loves all the flavors of these treats. Rather than give a whole 'bone,' I slice it up," one of the 19,300 five-star reviewers wrote. "It provides multiple treats, you aren't giving too much at one time and can be generous with the slices."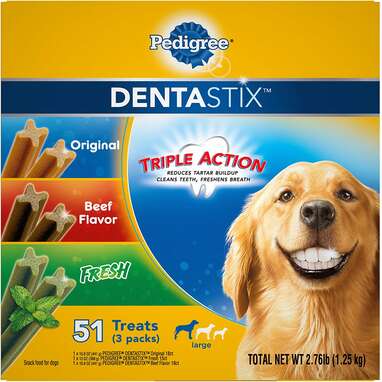 Dogs love Pedigree DENTASTIX, and their teeth do, too. Each treat acts like a doggy breath freshener that also cleans teeth as your pup chews. DENTASTIX is clinically proven to remove plaque and tartar buildup, and dogs can't resist the flavors. "My dog knows exactly what I mean when I say 'It's time to brush your teeth!'" one pet parent wrote. "She loves these things and gets one at lunchtime daily to serve as a quick snack between breakfast and dinner."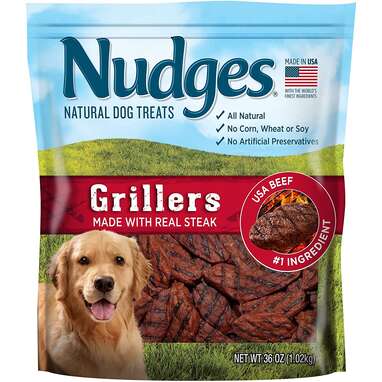 These all-natural treats from Nudges will have your pup's mouth watering. Over 9,400 pet parents have given these treats five stars, with one writing, "This is one of my dog's favorite treats. The product always arrives fresh. It comes in a resealable bag so you can keep it that way. They are made in the USA so you don't have to worry about bad fillers. Get these, your dog will thank you!"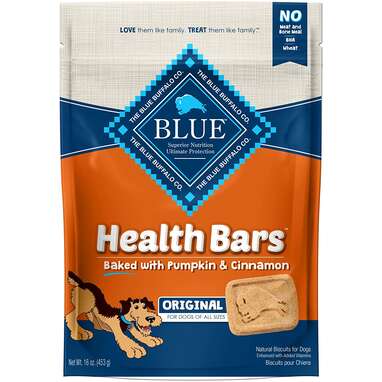 Available on Amazon in yummy flavors like pumpkin and cinnamon, and apple and yogurt, the Blue Buffalo Health Bars are oven-baked and perfectly crunchy. They also contain omega-3 fatty acids and important antioxidants to help your pup maintain a healthy immune system. "I personally can't speak to the flavor of these treats, but my dog gives them two paws way up," one pet parent wrote. "I gave her a treat and went to get my phone to take a picture for this review and boom, it was already gobbled up!"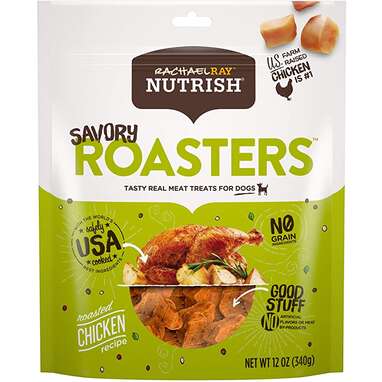 These treats for dogs by Rachel Ray Nutrish are soft, chewy and all-around yummy. You can either serve them to your bigger dog whole, or break them up into bits for smaller breeds. "I've always trusted the Rachael Ray products to be safe for my dogs. They love her treats, and look forward to carrying them to a special place to enjoy them," one pet parent wrote.
Dogs will do anything to avoid swallowing a pill — until now. Greenies pill pockets make taking pills a treat for your pup. Each peanut-butter-flavored treat comes with a pill-sized hole that can disguise any medication. And according to over 12,000 pet parents, dogs love them. "Towards the end of his life, my dog was taking various pills three times a day. Pill Pockets were a lifesaver," one dog parent wrote. "Once we started giving him the Pill Pockets, he never turned his nose up at his medicine again."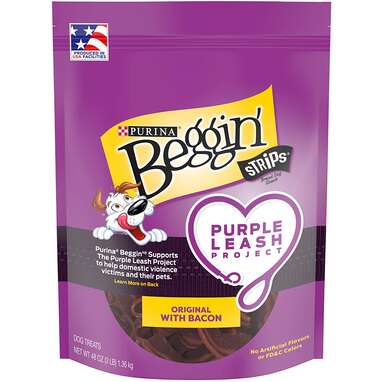 Of course, the classic Purina Beggin' Strips make the list. Purina recently partnered with the Purple Leash Project to help victims of abuse and their pets into safer situations, and supports the Project with every purchase of Beggin' Strips. "My dogs can't stop begging for these things!" one pet parent wrote. "My dogs have now loved them for months."
Made with lots of healthy ingredients, including vegetables, fruits and flax, each square packs a punch, and they're soft enough for puppies with growing teeth or senior dogs to enjoy. Over 24,700 pet parents love these bites, with one writing, "I bought these for my 8-week-old pup and he took to them immediately. I love that their ingredients are meat- and plant-based [and] my puppy seems to love the flavor."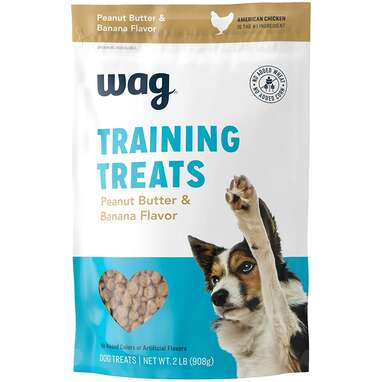 If you're looking for the perfect-sized training treats on Amazon, look no further than Wag. This bag of treats contains kibble-sized peanut butter and banana treats that are great for frequent rewards. Plus, they're packed with glucosamine to help out aching joints. "Our three dogs love these treats!" one five-star reviewer wrote. "They will all do any normal dog command I request without hesitation the moment they hear the bag move."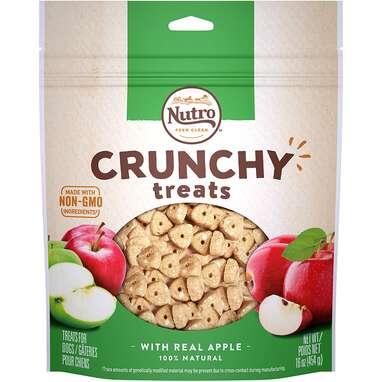 Made with non-GMO ingredients and high in protein, these USA-made dog treats from Amazon look (and smell!) just as tasty to pet parents as they do to their pups. "All five of my dogs LOVE these apple treats," one of the 10,500 five-star reviewers wrote. "They have a pleasant apple scent … Not messy. All of the dogs apparently think they taste amazing, as they are very motivated to do tricks or listen to training commands when enticed with these treats."