11 Of The Highest-Rated Dog Toys On Amazon
Your pup deserves *all* the toys 🦴
It's a universal fact that a dog can never have too many toys. Even if his toy basket is overflowing, the simple solution is buying a bigger basket.
If you're looking to expand your pup's collection of balls, plushies, chew toys and squeakers, The Dodo found the highest-rated and best-reviewed toys currently on Amazon, and chances are there's something listed below that your dog is going to love.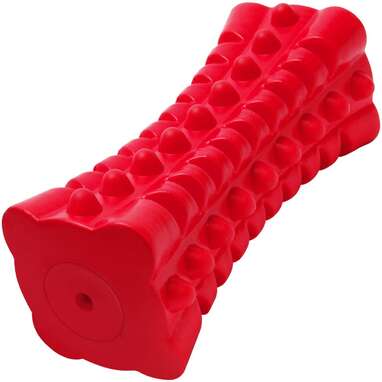 The name says it all — this thing is nearly indestructible. Made with a super-tough rubber in a dog-friendly beef flavor, this chew toy has a fandom of nearly 13,000 dog parents. "This is definitely for the ultimate aggressive chewer," one customer wrote. "My pup also loves the squeaker sound in it … Durable toys for aggressive chewers that don't break the bank are always a win in my book!"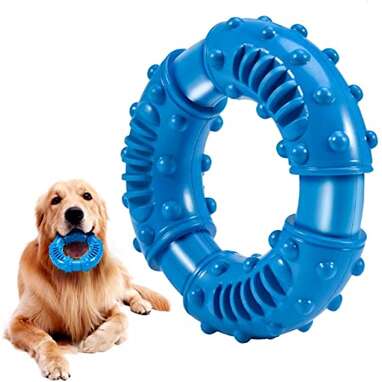 Dogs who love a good game of tug-of-war will love this sturdy ring toy from Feeko. It features ridges and nubs that give your dog a good grip while also cleaning his teeth and gums, and is big enough for his dog park friends to play along with him.
Tennis ball fans will love the Outward Hound Squeaker Ballz set that combines the best of both worlds — tennis balls and squeaky toys. You can grab a four-pack of balls in sizes ranging from XS to XL and have tons of fun both indoors and out.
Your dog will feel tough going at this far-from-average chew toy. It squeaks, has divots for creamy treats and is made from a durable rubber that is quite the match for aggressive chewers. "Nothing lasts with [my dog] til I got this toy," one pet parent wrote. "The squeakers are still working after two weeks … Didn't think much about this toy, but I'm really shocked it still works and hasn't been ripped to pieces."
Dingbert the Dragon doesn't come with just one squeaker, but two. He's cute, he's super-squeaky and he's lined with crazy crinkle filling that dogs love to crunch on. Over 4,000 dog parents say that this plushie has stayed intact and has become a best friend to their pups, rather than an immediate pile of fluff.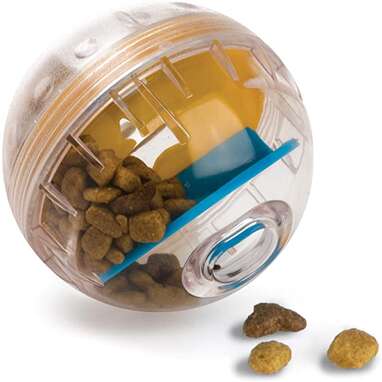 This little puzzle ball filled with treats will keep your dog distracted and curious for an entire afternoon. He'll have to roll, paw and nose this toy to and fro in order to release the treats and reap the reward. There are two different sizes available for you to purchase, depending on the breed of your dog.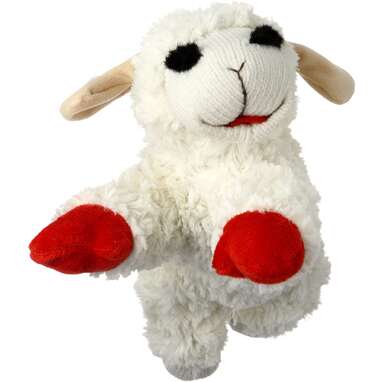 Woah — did you feel that wave of nostalgia, too? This plushie modeled after the iconic '90s Lamb Chop TV character has a big following, with nearly 15,000 five-star reviews. Pet parents continue to buy the Lambchop toy over and over again, with one parent writing, "Lamby has been, hands down, the favorite and most loved by our middle child [sweet terrier mix]. She never eats him, only squeaks him all day … She protects him like a child, going so far as to jump into Daddy's protective arms whenever Lamby is threatened."
Challenge your dog to lift flaps, nose knobs and slide blocks to reveal hidden treats in this intermediate puzzle game. It's a brain buster that builds confidence, keeps your dog busy and actually makes your dog smarter, according to the many pet parents who left five-star reviews.
With its cute shape and hardy rubber material, the Cactus Tough Toy from MewaJump is a favorite among both parents and their dogs. The nubby exterior cleans your dog's teeth, and the milk flavor keeps him coming back for more.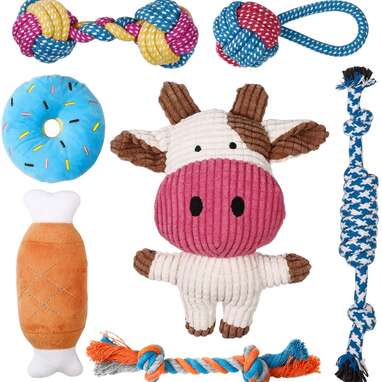 If you've just welcomed a new puppy into your home, or adopted a small dog who doesn't yet have a favorite toy, this set of seven toys — including both washable plush and 100% cotton rope toys — is a great starter pack, according to over 6,800 five-star customers. Just make sure to keep a close eye on your pup when he's gnawing on any rope toy, because shredding is sometimes inevitable.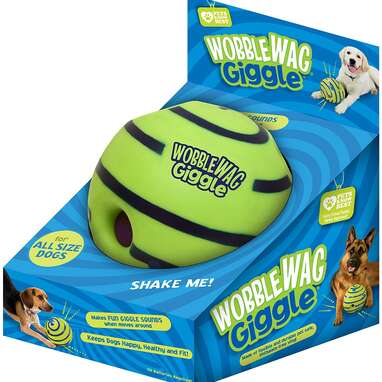 The Wobble Wag Giggle Ball features a secret "internal tube noise maker" that makes a hilarious sound that will leave your dog intrigued and determined to get to the bottom of what's going on inside. The more the ball is rolled, the more it giggles. One of the over 23,000 five-star reviewers wrote, "Best little active toy ever. This is perfect for my little 80-pound 8-month-old Rottweiler. He is so captivated by this ball. Kept him busy and wore him out."