We independently pick all the products we recommend because we love them and think you will too. If you buy a product from a link on our site, we may earn a commission.
Brushing your dog's teeth is an important grooming step you don't want to miss. Just like us, our dogs can suffer from gum problems, tooth decay and other dental issues that can cause a ton of discomfort — and require pricey treatment.
But with so many toothbrushes out there, you might feel overwhelmed trying to figure out which options are best. So The Dodo did the work for you and found some of the best dog toothbrushes on Amazon that will leave your pup's teeth looking great and feeling squeaky clean.
And if you're looking for a great toothpaste to use with your new dog toothbrush, check out The Dodo's list of the best dog toothpastes from Amazon.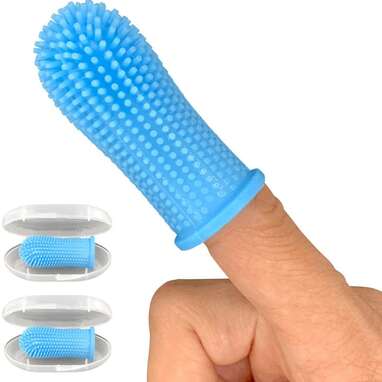 The ergonomic, 360-degree design of the Jasper finger toothbrush allows you to brush away, no matter what angle you're trying to reach your pup's teeth from. The soft silicone bristles are gentle on your pup's gums, yet remove plaque and tartar with ease. They also come with cases to keep them clean and dust free.
Another great finger dog toothbrush option on Amazon is the set of 10 finger brushes from Vet's Best. These silicone brushes feature soft and flexible bristles that gently massage gums and remove pesky plaque.
Looking for an eco-friendly option? These bamboo toothbrushes from Prymal Pets feature two soft-bristled brush heads and a biodegradable bamboo handle. The cardboard packaging is even made with recycled materials.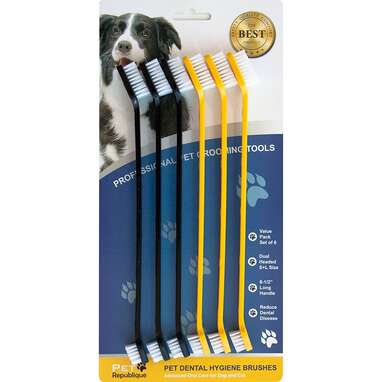 This two-sided, long-handed dog toothbrush from Pet Republique makes it easy to brush your dog's back teeth, especially with the smaller brush head that's included. "These toothbrushes can really stand up to small dogs, aggressive chewing, and not once have they been able to rip out the bristles or break off the plastic, which actually feels more like nylon, so these are not brittle," one pet parent wrote. "This is by far the strongest, best toothbrush I have tried."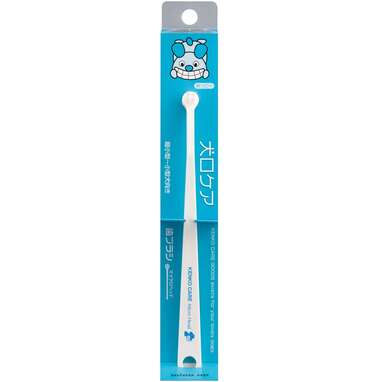 Pet parents of small breeds and puppies can use the micro-head toothbrush from MIND UP to get into the tight spaces in smaller mouths. "Finally, a toothbrush that fits in my 4-pound Chihuahua's mouth!" one five-star reviewer wrote. MIND UP makes four different toothbrush models specifically for smaller dogs, so you can check them all out before deciding which one is best for you and your pup.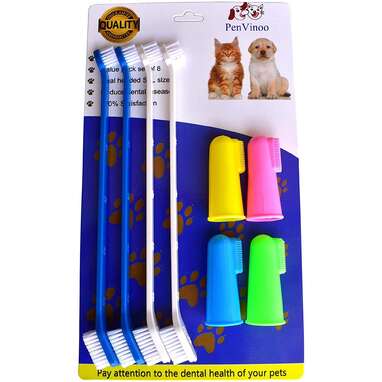 If you're unsure what kind of toothbrush your dog will respond best to, you can test out all the options thanks to PenVinoo's dog toothbrush set. This kit comes with dual-headed toothbrushes and finger brushes so you can try several different methods with one purchase.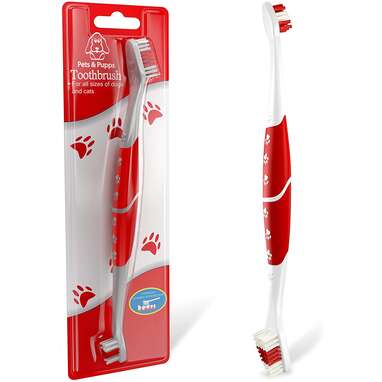 The super soft bristles on the Pets & Pupps dog toothbrush ensure your dog's gums won't get irritated while you brush. And the duo-head design suits both small and large breeds — the smaller head can also be used to reach hard-to-get spots in the back of your dog's mouth.
The angled head of the Nylabone toothbrush paired with the brand's Advanced Oral Care toothpaste makes for a winning combination that will make your dog's teeth sparkle and shine. "All I have to say is, 'Want your teeth brushed?' And he will run full-speed to the bathroom," one pet parent said of their dog's reaction to the Nylabone oral health kit. "He's still a puppy and always tries to chew on the toothbrush, but it has held up very well so far."
Vet's Best sells a dental health kit that includes the brand's best-selling enzymatic toothpaste and three-sided toothbrush that tackles all sides of your dog's teeth at once. The soft bristles remove plaque, and the trio of brush heads ensure no tartar is left behind.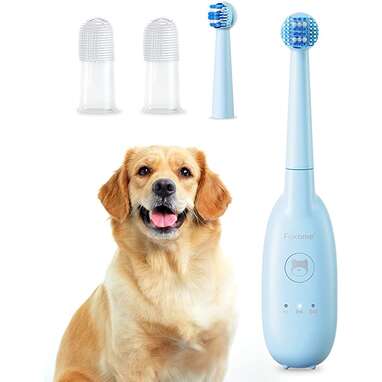 Get the job done quicker with the FOKOME electric dog toothbrush on Amazon. The brand recommends that you get your dog used to teeth brushing with the included finger brushes before advancing to the electric model. Then, choose from three vibration levels and use the timer setting to give your dog a full dental hygiene experience.
Let your dog brush his own teeth with the iBeazhu dog toothbrush chew toy. You can squeeze your dog-friendly toothpaste into the center of the toy, and let the soft silicone brushes do the work as your dog tries to lick the toothpaste. This toy even comes with a bristled tool to help keep it clean.