The 10 Best Dog Strollers On Amazon
They see me strollin' 🐕
We independently pick all the products we recommend because we love them and think you will too. If you buy a product from a link on our site, we may earn a commission.
Some dogs live and breathe for going on walks. Others … not so much. If your pup puts up a fight when it comes to exercising, or isn't as mobile in his old age, a dog stroller may shift his opinion of walks completely.
You don't have to be a super-extra pet parent to see the appeal of dog strollers. Parents who have given their two cents on Amazon say that the below 10 strollers have given both them and their dogs a new lease on life — and daily strolls are now quite literally a walk in the park.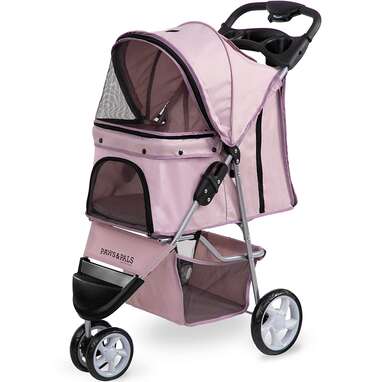 The Paws & Pals trike-style dog stroller was designed with both you and your dog in mind. It features three zip-away access points for easy in and out, as well as cup holders and a bottom storage basket for treats, water, toys and maybe a few of your items, too. "[I] have a schnauzer with a pinched nerve," one five-star reviewer wrote. "My goal was to get her out of the house … let her walk around and smell some new areas for as long as she wants, then I can put her back in and continue walking, myself, while she rests. This is hands down the best money I have ever spent!"
This super simple stroller from Pet Gear folds into an ultra-compact size in mere seconds and its four 6-inch wheels are beefy enough to handle uneven terrain. "It's the most perfect lightweight portable off-road stroller!" one pet parent wrote. "I've taken it all over bumpy torn-up roads, went over potholes and went into sand on the beach, and it's still in great condition!" It's simple, useful and the perfect size for your small pup.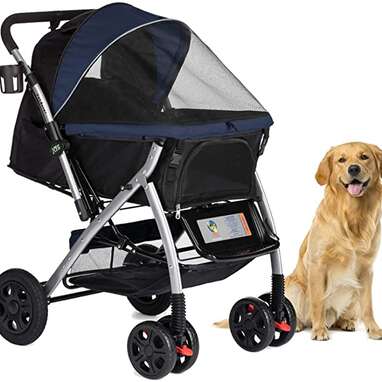 The HPZ Pet Rover is awesome for senior dogs who need a bit of help jumping inside the carriage. It comes with a foot tray to give your dog a leg up, and once he's in, there's plenty of room for him to spread out and get comfortable — in fact, the entire pet compartment expands with a single zip from its initial 13 inches long to 30 inches long.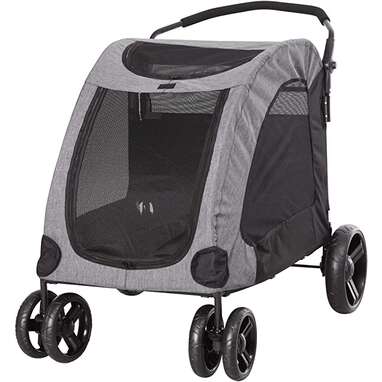 "My fur kids love it," one pup parent said of the PawHut foldable dog stroller. "Both are older and can only walk so far, [so] they walked until they got tired and then rode home the rest of the way!" This stroller can hold up to 120 pounds and is wide enough for your big dog to comfortably curl up. Or, unzip the top flap and let him check out his surroundings while you're out and about.
The Pet Gear Expedition stroller features a push-button entry system that actually allows you to lift the entire canopy off of the platform, making it a breeze for your pup to hop inside. Then, simply lower the canopy back down and click it into place. Or, let him ride with the top down using the harness lock to keep him secured.
Portable and durable, the VIVO pet stroller is great for pets and parents on the go. It weighs only 11 pounds yet can hold up to 30, and the entire system collapses flat when not in use. There are three mesh openings for your dog to enter and exit from, and the canopy can be folded back to give him access to the outside.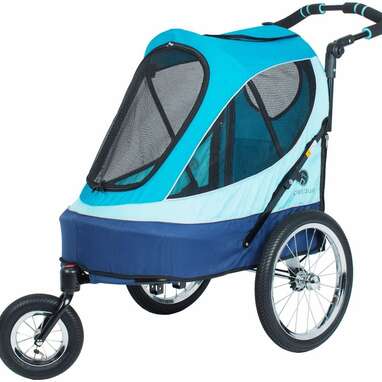 Dogs weighing up to 60 pounds will love riding in the Petique jogger stroller from Amazon. Both the front and back mesh-paneled flaps zip open for your dog to get in and out, and the front tire is removable so you can hook the stoller up to the back of your bike. Plus, the whole thing folds up within seconds.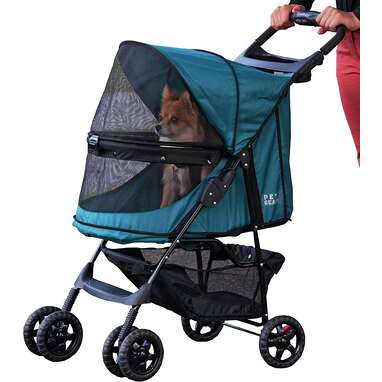 The Happy Trails stroller from Pet Gear is water-resistant and is easy to use with a latching system rather than a standard zipper. Simply unlatch the top dome, fold it back and place your dog inside. You can leave the top open or easily latch it again and let your pup relax in the mesh-enclosed basket.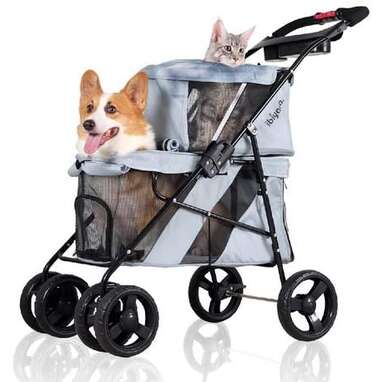 Parents of multiple pets will love the double-decker dog stroller from Ibiyaya. Both compartments can be accessed through zippered mesh doors at the back as well as a roll-away zip top. The back wheels feature a braking system, and the entire stroller folds up with a single press of a button. "The stroller is extremely sturdy and folds down and fits in my trunk with ease," one pet parent wrote. "Not too heavy to pick up and unpack, and extra compartments in the back of the stroller are nice for small personal items."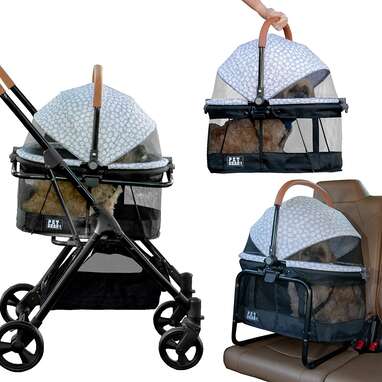 This travel system from Pet Gear on Amazon includes a dog stroller, a "click n go" pet carrier as well as a booster seat for easy travel both on foot and in the car. The domed top to the carrier can be folded down to allow your dog to catch some rays, and you can securely clip him into his seat with the attached harness lock. Trips to the vet and afternoon strolls just became so much easier.