These Dog Strollers Are Perfect For Being Super Extra
Pamper your pup 💅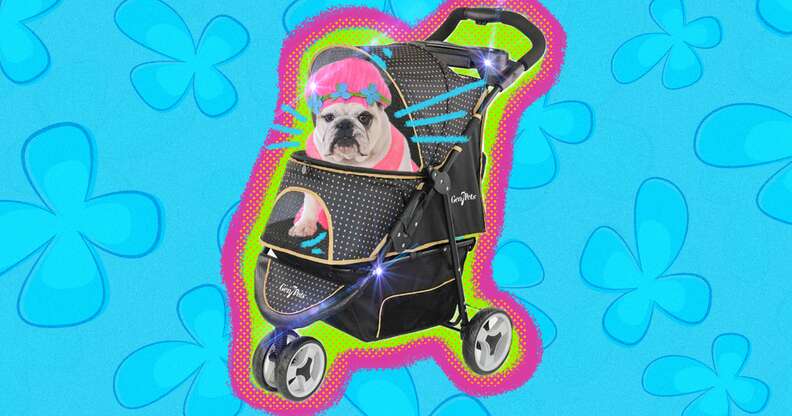 We independently pick all the products we recommend because we love them and think you will too. If you buy a product from a link on our site, we may earn a commission.
Nobody said being extra was easy — but being extra when you have a dog couldn't be more fun!
With tons of extravagant products like tutus, bandanas and — yup — dog strollers on the market, there's no shortage to the amount of sass you can bring to your dog's life.
And one of the best ways to flaunt that *super extra* dog flair is with one of the most stylish kinds of products — strollers.
So whether you're looking to give your pup a ride in style — or, more practically, if you have a dog who can't walk long distances — there's a stroller for you.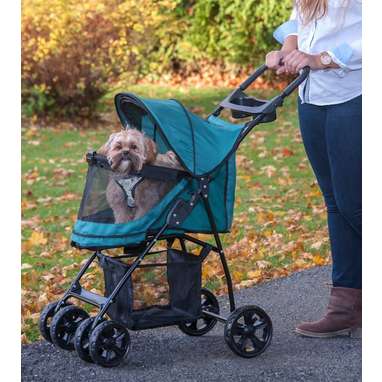 Chewy
This lightweight and comfy stroller holds pups up to 50 pounds and is perfect for giving your pup a place to rest during outings. It's sturdy, easy to assemble — and easier on your wallet. Since many dog strollers can run you a pretty penny, it's nice to find one that won't break the bank — but is still super cute. 😍
Wayfair
If you have a larger dog who can't get around as well as he used to, this stroller is perfect. While it's more expensive, its size means it can hold dogs up to 150 pounds (or multiple smaller dogs!). It also has two entrances, so your dog can be easily loaded in and he won't have to turn around to get out (a dream for a dog with joint pain).
Wayfair
This lightweight and comfy stroller holds pups up to 50 pounds and is perfect for giving your pup a place to rest during outings. It's sturdy, has storage space, folds flat — and reviewers agree: Dogs LOVE it! "I bought this because my older dog (weighs 30 lbs) wasn't able to walk the 2 miles a day we are used to and he loves the ride!"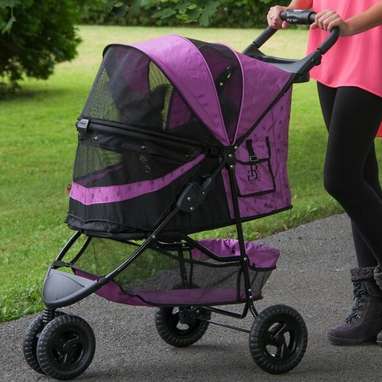 Wayfair
This stroller is great for busy pet parents and holds dogs up to 45 pounds. It folds down quickly for easy storage, and its adjustable zippered cover makes sure your pup is safe from direct sunlight if you're out for a long day. But what reviewers really love? It has a great storage space that makes it easy for your dog to join you running errands or on a coffee run. "Also love the area under to put a purse or purchases," one reviewer said. "The two cup holders were a great surprise. We love our Starbucks."