These Dog Steps And Stairs Are A Must-Have For Older Pups
So he can always join you on the couch for cuddles ❤️
We independently pick all the products we recommend because we love them and think you will too. If you buy a product from a link on our site, we may earn a commission.
It's hard to see your dog slow down from old age or joint issues — especially if that means he can no longer join you on the couch in his favorite cuddle spot.
But mobility problems don't have to mean an end to independence. There are a ton of pet stairs on the market, and buying a set can help your pup feel like himself again and regain access to his favorite piece of furniture — whether that means TV time in an armchair or sleeping in your bed at night.
(They're also great for tiny dogs who are just too small to reach their favorite areas!)
The Dodo read the reviews from pet parents and found the best dog steps on Amazon to help you help your pup get a leg up. Here are a few of pet parents' favorites.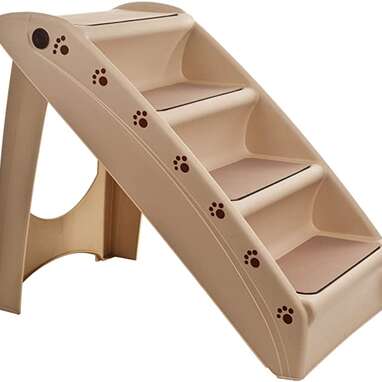 Made from a durable plastic, the pet steps from PETMAKER are lightweight enough to take with you in the car, and fold up nearly flat for easy transport. Or keep them under your bed and fold them out when your dog needs a lift. They feature non-slip foam pads on each step and raised sides for extra safety.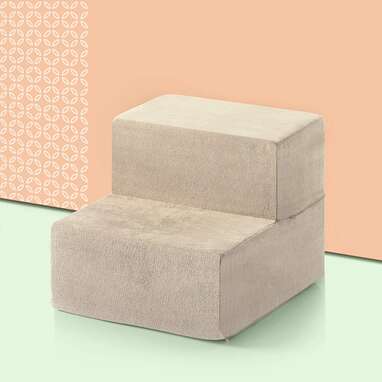 Available in five different sizes, the Zinus dog steps on Amazon are ideal for smaller pets in need of a boost. They're made with a high-density foam interior and covered in a removable, washable plush fabric. They have over 7,500 five-star reviews, with one parent saying, "Great stairs for small dogs. It's well-made and pretty sturdy."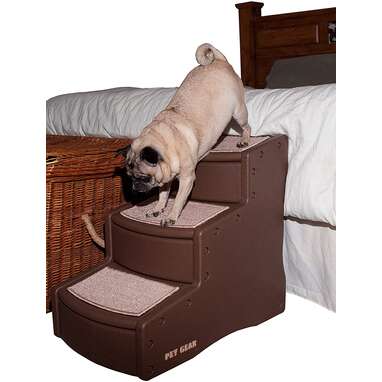 The Pet Gear Easy Step III is an awesome set of stairs for dogs both big and small. These steps are made with wider and deeper stair landings, each featuring a carpeted tread. "I have a 100-pound mastiff mix and these stairs are GREAT for him!" one five-star reviewer wrote. "I was very concerned with these stairs being sturdy enough for such a large dog, but no worries, they are great! They don't look bad in a room either. Very happy with this purchase!"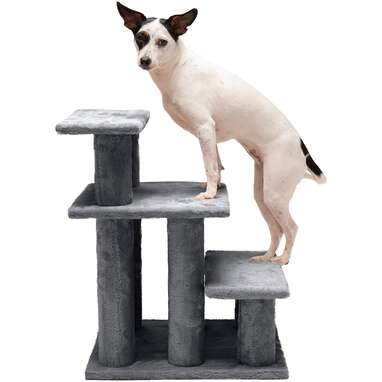 The faux-fur-covered steps from Furhaven are designed to provide aid to pups with achy, stiff joints, and come in both three-step and four-step models. The three-step model can also be easily converted to a two-step unit, which can help your dog's mobility in other areas of the home.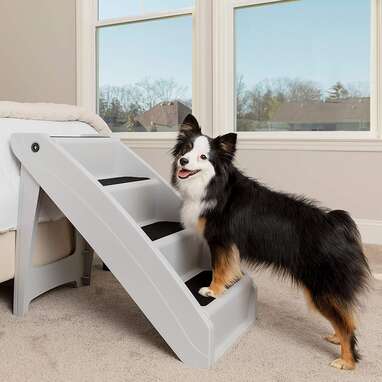 Your dog will feel safe and secure using these steps thanks to the PetSafe CozyUp steps' carpeted stair treads, high sides and rubber feet that grip the ground. Available in both gray and tan, these steps have over 26,000 five-star reviews, with one pet parent writing, "Very easy to use. Lightweight but very durable. The dogs took to it right away."
With over 8,400 five-star reviews on Amazon, dog parents say the folding steps from Best Pet Supplies have helped their pups tremendously. One wrote, "My 55-pound 13-year-old pit bull loves them! It gives her the independence to get on the bed whenever she wants to. They are soft on her arthritic legs too." These steps come with two, three or four stairs, and the top half folds down so you can store them when not in use.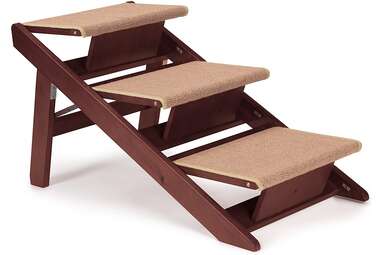 Pet Studio Pine's convertible ramp turns from steps to a ramp in a matter of seconds, so they can age gracefully with your dog. "My 13-year-old Cardigan cannot jump on or off the couch anymore, even though he still tries!" one pet parent wrote. "This is the best ramp I have found. He willingly goes up and down … Very easy to assemble and change between ramp and steps!"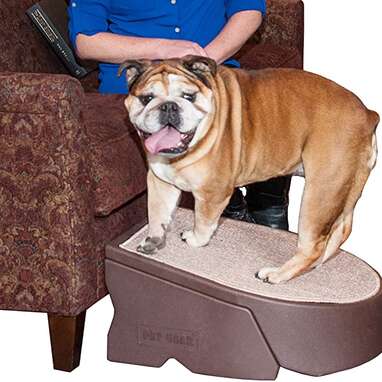 The "stramp" (stair and ramp duo) from Pet Gear is the perfect solution for a dog who needs that little extra something to help him get in the car, on the couch or in his favorite chair. It's an elevated, sloped step with a wide carpeted tread that is lightweight enough to move around the house or take with you in the car.
If steps aren't your dog's thing, try the PetSafe CozyUp ramp instead. It's fully carpeted and not too steep. "We've had this now [for] over a month," one pet parent wrote. "I can't say enough how much we are thankful for this. It is VERY sturdy, well-built and well-designed."