You Can Get Anti-Slip Socks For Your Dog
No more scrambling on those hardwood floors!
We independently pick all the products we recommend because we love them and think you will too. If you buy a product from a link on our site, we may earn a commission.
Long claws and dry paw pads can make it difficult for any dog to stand up or gain traction on hardwood and tile floors. But as your dog ages, and aches and pains set in, he may need all the help he can get when naptime is over and it's time to get up.
Luckily, anti-slip dog socks exist and will help give your dog a much-needed leg up when it comes to gaining traction on slippery surfaces. (And dog socks are great for pups who won't stop licking irritated paws, too!) Here are some of the best dog socks on Amazon.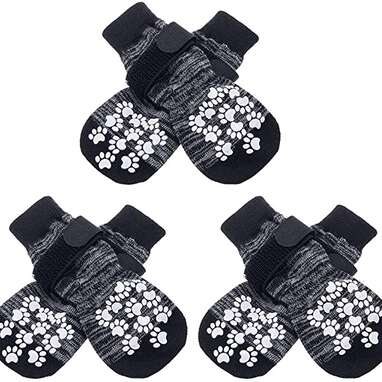 Available in sizes small, medium and large, the EXPAWLORER double-sided, anti-slip dog socks feature adorable paw print grips on both sides, and stay in place thanks to the Velcro straps that fit snugly around your dog's ankles. "These are so wonderful," one five-star pet parent wrote. "My senior dog wore them until her final day with us on Earth. I bought these for her when I noticed her feet kept sliding out when she was eating food from her bowl. These socks really helped stabilize her."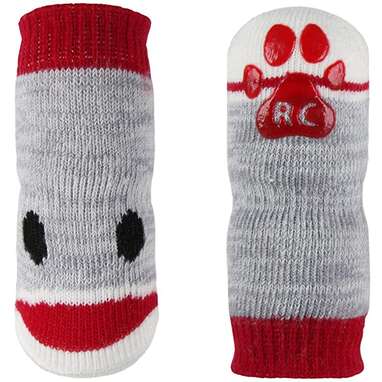 The RC Pet Products Pawks come in a variety of different prints, including this classic sock monkey design. Each sock has a red rubber grip on the bottom, and the thicker material helps cushion sensitive or sore paws.
PUPTEK's anti-slip dog socks on Amazon also feature a Velcro strap that helps keep the socks in place, as well as an adorable rainbow and sun design. The thick, soft fabric is comfy for your pup to walk on, and the double-sided grips make sure he can get up no matter how he or the sock is positioned.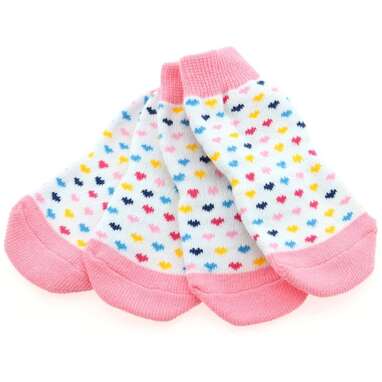 The DOGGIE DESIGN non-skid dog socks come in sizes ranging from XS to XL and come in a handful of fun prints. "Helps our dog not lick his paws," one pet parent wrote. "He usually figures out how to get out of them, but it does seem to help him forget his paws for a while."
The entire paw portion of these FouFou Dog socks is dipped in rubber, which means gaining traction will be a nonissue for your dog. These socks come in an extra-small size, so they're perfect for your small-breed dog.
The breathable cotton anti-skid socks from ZIFEIPET come with an adjustable strap and a paw-print-shaped grip to help your dog manage slippery floors with ease. "Fit was great," one pet parent wrote. "They helped my old Labrador walk on wood floors."
Available in sizes small, medium and large, the SCENEREAL dog socks feature a double-sided grip and detachable Velcro straps, and one print reads "I Love Dog." And because the elasticity of these socks is so high-quality, they stay put and provide an excellent cushion for sore feet.