These Dog Shower Curtains Will Liven Up Any Bathroom
Show your shower some dog-themed love.
We independently pick all the products we recommend because we love them and think you will too. If you buy a product from a link on our site, we may earn a commission.
Why settle for some boring shower curtain when you can get one that shows off just how much you love dogs?
The Dodo found some of the most fun and stylish dog shower curtains out there that will take your bathroom from basic to beautiful. From colorful illustrated patterns to more subtle dog-themed designs, there's something on this list to fit whatever aesthetic you currently have in your bathroom.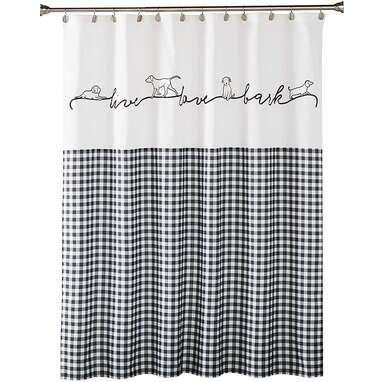 Perhaps the best thing about the "Live, Laugh, Bark" plaid shower curtain by SLK HOME by Saturday Knight Ltd. is that you can get bath towels, hand towels, rugs and soap dispensers to match. Your entire bathroom can be farmhouse-dog-themed, which may be one of the best aesthetic themes there is.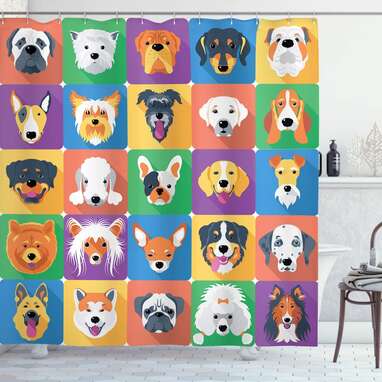 Looking for something to brighten up your space? This colorful shower curtain on Amazon from Ambesonne will do just that. It features a lineup of happy-looking illustrated dogs, each set in their own colorblock. "I really wanted to energize the bathroom a bit after years of very boring shower curtains," one shopper wrote. "This did the trick!"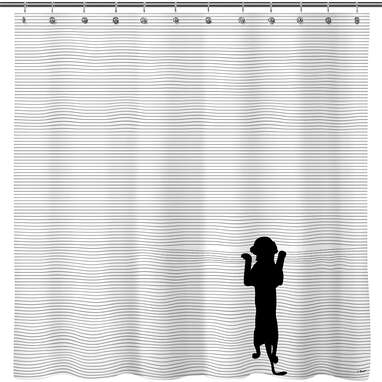 Who's that little pup taking a peek into the bath? This adorable shower curtain from Sunlit is a basic stripe pattern until you get to the bottom, where the silhouette of a puppy is peeking through the lines. This shower curtain is machine washable, so you can keep it for years to come.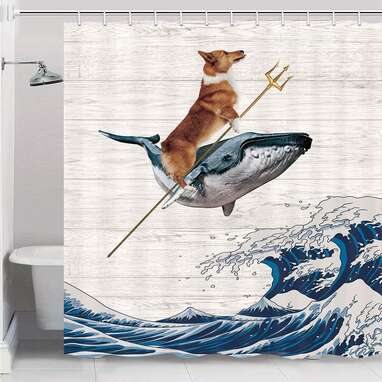 Did you know that corgis actually rule over the ocean? It's true according to this funny shower curtain from JAWO. "If you were to wander into my bathroom, you may get the impression that I'm a crazy corgi lady ... and you would be 100 percent correct," one five-star reviewer wrote about this curtain from Amazon. "Actually bought this to surprise my partner and give him a chuckle and planned to replace it with the old curtain, but this is pretty nice quality and it's been hanging up for a few weeks now ... Makes me smile every time I see it!"
This machine-washable dog shower curtain from Knitline features a bold black-and-white illustration of dogs (and cats!) that will make a fun statement in any bathroom. The fabric it's made from is also waterproof and mold-proof and can even be ironed on a low heat setting.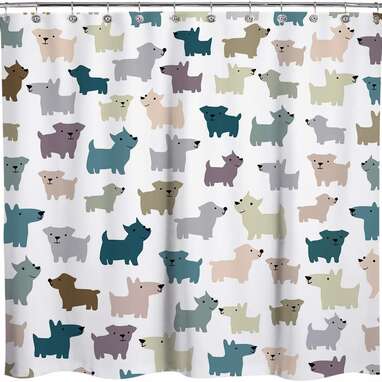 Like all Sunlit shower curtains, this multicolored dog-printed one is made with high-quality, water-resistant fabric rather than PVC, so the colors stay sharp and you can keep it for years after you buy it. The print is a whimsical array of neutral-toned dogs, all of whom are smiling back at you.
This dog shower curtain from Ambesonne features all kinds of dog breeds from dalmatians and Chihuahuas to rottweilers and pit bulls. "The image is sharp, bright and realistic," one five-star reviewer wrote about it. "The curtain is soft, light and hangs neatly. There seems to be white back-lining that repels the water, so no need for a separate stinky, sticky liner. Just tuck it in the tub. Also no ugly grommets!"
Life is a day at the beach when you start your mornings off showering behind this adorable dachshund curtain from YINLAN on Amazon. These dogs have their drinks and their sunglasses and are ready to soak in some rays.