The Best Dog Puzzle Toys On Amazon
Test your dog's IQ 🤓
We independently pick all the products we recommend because we love them and think you will too. If you buy a product from a link on our site, we may earn a commission.
If your dog has seemingly grown bored with his toys, it's time to issue him a new challenge. Dog puzzles are fun, interactive toys that reward your pup for his smarts and hard work.
Not only do puzzle toys boost your dog's IQ, but they can also be used to slow down his eating, resulting in less bloating, gas and vomiting.
From sliding doors to secret hatches to levers and rope pulls, these dog puzzle toys on Amazon will challenge your pup and cure his boredom. Here are the best ones pet parents can't stop raving about.
The Nina Ottosson dog puzzle games from Outward Hound are some of the best interactive dog games on Amazon. There are various leveled games to choose from, from a simple wobbly treat-dispensing ball to a slider treat-unlocking game. Over 34,000 five-star reviewers say that Nina Ottosson's games have driven their dogs wild (in a good way).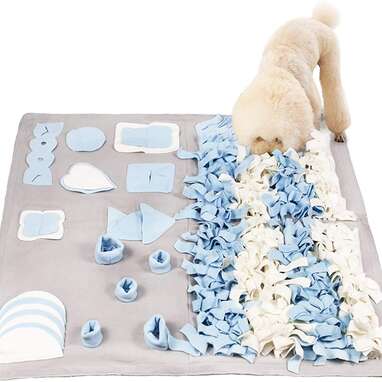 Sprinkle your dog's favorite treats or kibble throughout the felt tassels, flaps and cups on the STELLAIRE snuffle mat puzzle toy and let him get to work. Using his sense of smell, your dog will locate all the missing kibble and stay busy for minutes (if not hours!). "I normally wait a few days to write a review, but this came in the mail today and it is perfect!" one five-star reviewer wrote. "My doggo went blind last year and lost interest in playing with toys … Super happy with this." And once your dog is done playing, you can throw the entire mat in the wash.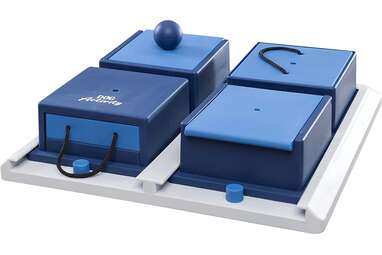 Using his nose and paws, your dog will slide, bump and lift drawers to reveal treats in the TRIXIE Poker Box game. And like all TRIXIE puzzle games, this one has rubber feet so your dog will be able to master challenges without pushing the thing all over the house.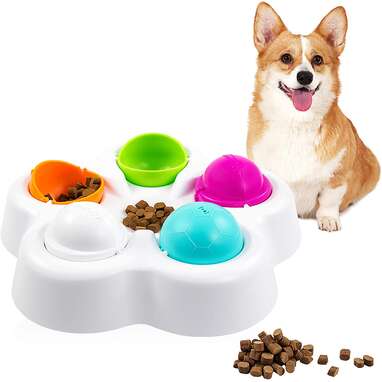 The balls inside the LESES dog puzzle toy on Amazon move around when your dog paws at them or hits them with his nose. Eventually, the balls will open up to reveal tasty treats.
The Fun Feeder wobble bowl from Outward Hound is basically a dog version of those maze games you used to get in Happy Meals. Let your dog wiggle and wobble his treats through the maze inside the feeder and reward himself after a job well done. "The wobble bowl is so fun for my puppy," one pet parent wrote. "It slows him down while eating, and it makes it kind of a game (keeps him busy!!!). He loves it!"
If your pup loves tipping things over, this is the game for him. Fill the "test tubes" of the TRIXIE Mad Scientist game with his favorite treats or kibble and challenge him to tip them over to get all the goodies out.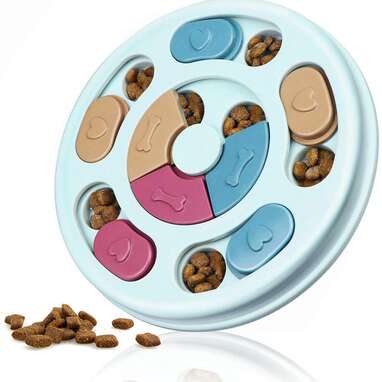 Hide treats or kibble pieces under the sliding doors of the Joansan dog puzzle toy on Amazon and let your dog try to uncover them all. This is a great beginner puzzle game and can fit enough kibble in it to act as a slow feeder, too.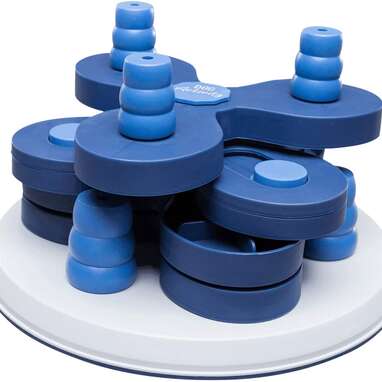 Can your dog figure out how to turn the flower petals and open the treat trays in the TRIXIE Flower Tower puzzle? You can up the ante by placing the cone stoppers in various spots to make gaining access to the treats more difficult for your dog.
Behind each sliding tile in the My Intelligent Pets SUDOKU game is a treat waiting to be found. Your dog will have to push the tiles with his nose to reveal the treats, and things get a lot harder when only a few treats remain.
The Tennis Maze Craze puzzle toy in the Outward Hound Squeaker Ballz line challenges your dog to figure out which tunnel lets the tennis ball out of its shell. It comes with a squeaker on top to get your pup interested, and once he knows there's a tennis ball inside, he'll do all he can to dislodge it from the maze.
Your dog will have to flip levels, push sliding doors and knock down cones to get to the treats hidden inside the TRIXIE flip board game. Over 13,100 pet parents love this dog puzzle toy from Amazon, with one saying, "I got this for my 4-month-old puppy for when she's at work with me. She loves to chew and toss this around on the concrete floor, and there's no issues. It's very sturdy. She loves this puzzle board."