We independently pick all the products we recommend because we love them and think you will too. If you buy a product from a link on our site, we may earn a commission.
It's a fact of life for dog parents: If you have a dog, you have to have a ton of poop bags ready to go.
But if weak, poor-quality bags have let you down and left you with a bigger mess than the one you began with, it may be time to rethink the whole poop bag situation. Luckily, there are a handful of pet-parent-approved options on Amazon that may just change your opinion of poop bags altogether.
From biodegradable and compostable options, to fan-favorite bags from Amazon Basics, here are the seven best dog poop bags on Amazon, according to real pet-parent reviews.

Over 8,900 dog parents love the biodegradable Greener Walker poop bags because they're good for the planet and actually work. "We use these bags to clean up after our collie and they are a great size," one five-star reviewer wrote. "AND … They are COMPOSTABLE!! When we have them in our small bin for a few days, you can even tell that the 'plastic' film is beginning to dissolve and break down." These bags are made from a corn starch blend instead of plastic, and the leak-proof bags come in a recycled paper box.
The Give A Sh!t compostable dog poop bags are made with cornstarch, BPAT (biodegradable and compostable polymer) and edible glycerin, making them an awesome choice for families who feel a little guilty about using plastic every time their dog has to go. Over 2,300 pet parents love these poop bags, with one writing, "Finally!!! No more battling to open up the bags. Clean-up is as easy as 1-2-3. Best of all, our Boston terrier is happy, and he approves [of] their efficiency and [the fact that] they are environmentally friendly. There is nothing I could think of disliking except I wish I had found them sooner!!!"
You can pick up a box of 270 unscented or lavender-scented poop bags from Earth Rated for just under $12, and over 106,700 pet parents say that in doing so, you'll be giving yourself and your pup a five-star experience. Earth Rated bags are 100 percent leak-proof, odor-proof and easy to tear apart to use. Plus, Earth Rated's packaging and the inner rolls are made with recycled paper.
"The Amazon bags are my favorite," one pet parent wrote about the Amazon Basics unscented black poop bags. "[The color] helps to conceal the contents and they come packaged in a nice frustration-free box. More importantly, they feel thicker than [other] brands." You can grab a box of 900 bags for under $20, and you'll receive a plastic dispenser with your purchase.
Pet parents also love the scented version of the Amazon Basics poop bags, which come in four different scents — lavender, talcum powder, Brazilian mango and cucumber. Like the standard unscented bags, the scented pack also comes with a clip-on dispenser.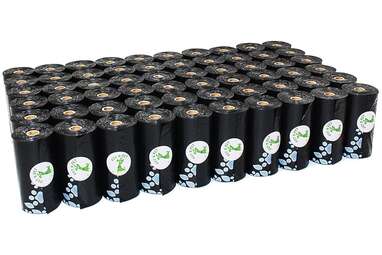 The earth-friendly bags from Pet N Poop break down over time yet still offer a 100 percent leak-proof guarantee. And over 19,900 pet parents love them, with one writing, "They are thick enough to do the job without shredding, while thin enough to not feel wasteful and be easy to tie shut."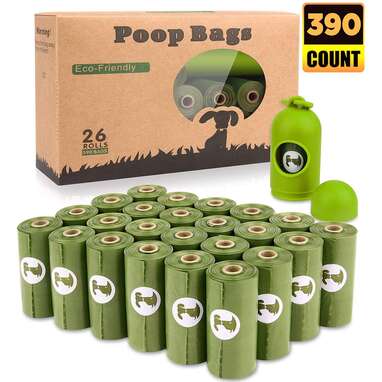 Grab 390 BOTEWO dog poop bags for under $17 and rest easy knowing that you chose a bag that will break down over time. The packaging for these dog poop bags on Amazon is made with recycled, plant-based materials and the bags themselves are made with high-quality, vegetable-based ingredients, like cornstarch, cassava and other renewable resources.