Dog Pools That Will Help Your Pup Beat The Summer Heat
Pup pool party 🐶💦
Summer is here, and that means all the outside fun is underway: BBQs, backyard games and — you guessed it — your dog soaking up those rays with the rest of the family!
But just like with humans, too much sun and heat can lead to a bad day for your pup.
That's where dog pools come in! These pools are small enough to fit into almost any backyard or deck, and they're easy to set up with just enough water to let your dog cool off from all that running around chasing his favorite ball.
(Plus you can always jump in to cool yourself off, too — we won't judge!)
The best dog pools are made with claw-resistant material that won't pop, have foldable sides so they're easy to set up, and feature a drain valve for mess-free cleanup (or are small enough that you can toss the water out yourself).
What to consider before buying your dog a pool
Before clicking "add to cart," there are a few things you want to check to make sure your dog will have the best pool experience.
Material
Sure, you can set up a standard blow-up kiddie pool for your pup, but thanks to his claws, it's not going to last long. Dog pools are specifically designed with hard sides and bottoms so that their claws won't penetrate and pop holes. This means you can buy one pool and pull it out summer after summer.
Design
Thanks to the hard sides on dog pools, many of them fold up compactly for easy storage. There's no deflating necessary. When buying a dog pool, make sure the listing notes that the pool has rigid, collapsible sides and can be easily folded up and stored away at the end of the season. When it's time to pull the pool out again next summer, all you have to do is expand the sides and you're good to fill!
Size
Parents with bigger dogs are going to want to pay attention to the size of the pool they're looking at. Most pools will comfortably fit small- and medium-sized dogs but barely give big dogs any space to move around. If you have a large pup, make sure you're buying a pool that's suited for his size.
Drain
A high-quality dog pool will have a built-in drainage cap at the bottom edge of the pool. These caps allow you to easily drain the water from your pool either into your yard or into a sewage drain if you hook up a hose (this helps you avoid muddy paw prints!). Some of these pools are much too big to try to flip to drain the water, so these caps make that process so much easier. If your pool is small, however, you should have no problems tossing the water out yourself, no drainage hole necessary.
Splash pad vs. pool
Something else you may want to consider is if your dog would much prefer a splash pad over a dog pool. Super active dogs who love to run through sprinklers will probably fall hard for a splash pad, which features water fountains that shoot from various holes in the pad. And older dogs who have a harder time climbing in and out of pools may find it easier to interact with the water from a splash pad. Of, if your dog is more laid back and loves lounging, then he may love hanging out in a shallow dog pool. Retriever trypes may also love pools if they love playing fetch in the water!
Shape
Most dog pools are round, but there are a few rectangular pools out there that are perfect for more narrow yards. These rectangular pools take a few more steps to set up compared to their circular counterparts, but they can feature drainage holes and claw-resistant, heavy-duty material.
The best dog pools you can buy this summer
Here are some of the best pools we found based on customer reviews and ratings.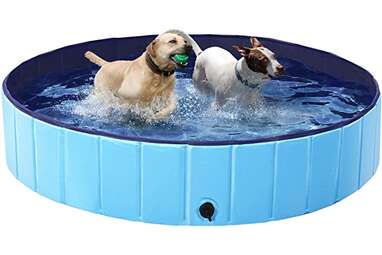 Amazon
Available in four sizes ranging from 39 inches up to 63 inches wide, many different-sized dogs can enjoy the Yaheetech foldable dog pool. It has over 4,600 five-star reviews on Amazon, with pet parents saying it's incredibly sturdy and the sides are nice and thick; it's easy to set up, fill up and drain; and, most importantly, their dogs love it.
The Jasonwell Foldable Dog Pool on Amazon comes in sizes up to a whopping XXXL, which measures 71 inches across. This means it's perfect for big pups who need to cool down. Over 23,400 pet parents say that this pool is a must for large dogs, and one reviewer said that it's also great for older dogs, too, because the sides are low enough for them to easily get in and out of.
Amazon
For small dogs (or even water-loving cats!) who may be overwhelmed by larger pools, the portable tote from LILYS PET is a perfect cool-down option. Its diameter measures 18 inches across and can only be filled 9 inches deep, so your little pup can have a quick dip. It also doubles as a bathtub and has storage for shampoo, combs and other bath time essentials. And because it's so small, you can easily toss out the water without needing a drainage hole.
This top-rated sprinkler pool from Peteast is perfect for the dog who doesn't want to stop running around in order to cool down. Your pup will be free to fly right through this sprinkler pad — or try to catch the water in his mouth — and you won't have to worry about him popping the pool or slipping on the pad. It's made with claw-resistant, thickened, textured PVC material. It has over 1,800 five-star reviews on Amazon and comes in five different sizes.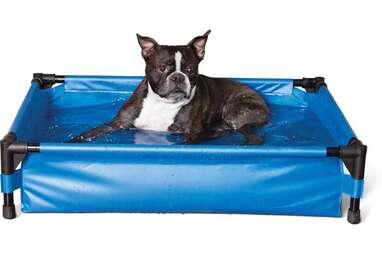 Made from durable vinyl, the K&H Pet Products rectangular dog pool comes in medium, large and extra-large sizes, with the extra-large pool being able to hold up to 45 gallons of water. There's a drain plug at one end, which makes for easy cleanup, and the interlocking metal frame can be assembled and disassembled in just a few minutes.
Your pup will love his new pool so much you'll have a hard time calling him in for supper. And while he's distracted, you might just have to sneak in a dip yourself, too!
We independently pick all the products we recommend because we love them and think you will too. If you buy a product from a link on our site, we may earn a commission.