The 6 Best Dog Pool Floats For A Truly Epic Summer
Floating all summer long! ☀️
Your dog likes cooling off in the pool just as much as you do. The only problem is that it's not exactly easy for him to grab hold of a pool noodle and float away.
But that problem is officially solved — there are actually pool floats out there made especially for dogs, and we rounded up the best dog pool floats pet parents swear by.
Each of these dog pool floats are made especially with pups in mind. The best dog pool floats are durable, nail-proof and built to become your dog's new favorite thing.
The 6 best dog pool floats
These are some of our favorite dog pool floats that are made for dogs — and are also really fun (and cute!) to have.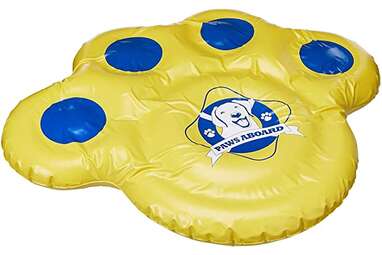 Amazon
The Paws Aboard dog pool float comes in three sizes — small, large and extra-large — with each one made of puncture-resistant vinyl. The raft stays a bit squishy, and therefore more stable, thanks to a small hole purposely punctured in the top of the raft. "Our dog isn't a huge fan of getting into the water so I wanted to get a float we could use during our lake visits," one five-star reviewer wrote. "This dog float was perfect! So far, no holes and we used it five days in a row at the lake."
FUNBOY
Engineered with your dog in mind, this colorful and fun dog-specific pool float will make your pup the life of the pool party. And if you want to get in on the action, they also make a human version so you can match!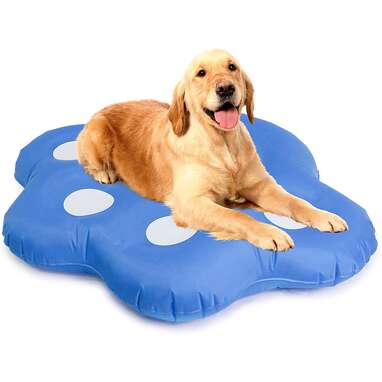 Amazon
Crafted from heavy-duty, puncture-resistant vinyl, the Milliard dog pool float is built to last. It can float up to 220 pounds and is wide enough for multiple pups to share. It also doubles as a floating bar with five cup holders on the flipside of the raft. "My spoiled puppy is only 10 pounds and this is like a floating island for him," one pet parent wrote. "Plenty of room to relax and enjoy floating in the pool."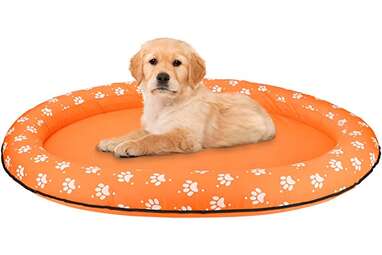 Amazon
Despite the name, there's no mystery as to whether or not your dog will love this pool float from Mystery. It fits dogs up to 66 pounds and is made with durable nylon fabric that can be folded up after deflation and easily stored. "Very sturdy and big enough for Labs," one pet parent wrote.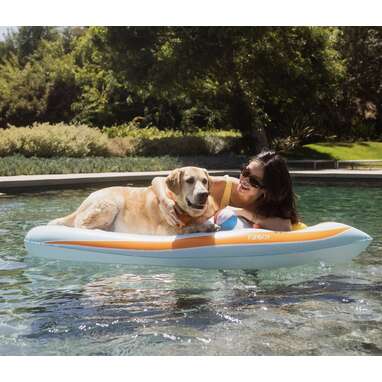 FUNBOY
Is your pup a little on the bougie side? Get her her very own yacht to float around in and you'll have the most pampered pup in the neighborhood. You can also get the human-sized version for yourself and snap the *best* insta post of the season.
Amazon
This float comes in two different sizes, with the large supporting pups over 65 pounds. It's also built with spring technology so that it opens up quickly for easy setup. It's also roomy enough if you "TOO fun! Love it. Good material as after 2 weeks he has yet to destroy it in any fashion :) Oh and my preteen son can fit on it with him as well," one pet parent wrote.
A pool party is already the perfect way to celebrate the summer, and now this dog pool floats will make it even more exciting for your pup to join you!
We independently pick all the products we recommend because we love them and think you will too. If you buy a product from a link on our site, we may earn a commission.