The Best Dog Paw Balms For Dry, Cracked Pads
Say bye to cracked, chapped feet 🐾
Just like when we get chapped lips and hands, our dogs can experience dry, cracked paws. Rough pads can not only be irritatingly itchy for your pup, but they can actually be painful to walk on.
Luckily, there are a variety of different dog paw balms that can soothe and nourish dry and damaged paws, and some can even prevent further damage from happening with continued use.
The best dog paw balms should be made with all-natural waxes and oils with minimal fragrance and be quick-drying to prevent your dog from licking it off.
What to look for when shopping for a dog paw balm
Here are a few considerations to keep in mind while on the hunt for the best dog paw balm for your pup.
It's made with dog-friendly, natural ingredients
Oils and waxes used in paw balms need to be all-natural, since some synthetic ingredients can be irritating to dogs' skin. Ingredients like olive, coconut and jojoba oils; beeswax; oatmeal; shea butter; and more are dog friendly and nourishing. If your dog has a nut, soy or gluten allergy, though, look for balms that are free from ingredients that may cause further skin irritation.
Ingredients also need to be safe enough to be ingested, too (aka "food grade"), because it's inevitable your dog will try to lick his paws once you've applied the balm. Some balms will even sport the USDA Certified Organic label, which means these ingredients were sourced from ethical farmers who don't use genetic engineering, synthetic fertilizers, antibiotics, hormones or other chemicals during the growing process.
It's a quick-drying formula
To prevent your pup from licking all the balm you just applied off his paws, opt for a formula that states it's quick-drying. This means the nourishing ingredients sink into the skin before your dog has a chance to lick them all off.
It can be used for noses, too
Because these balms are all made with natural, safe ingredients, they can technically all be used for paws, noses and elbows. But balms for paws and noses should have a minimal fragrance so it doesn't irritate your dog — remember that our dogs' sense of smell is at least 10,000 times more powerful than ours is, so a heavily fragranced product might make your dog really frustrated (especially when it's right on his nose!).
It can provide further protection
Some paw balms have waxes that, over time and with regular use, create a breathable barrier between your dogs' paws and the ground, which is great news for dogs who go adventuring with their parents. This means that your dogs' paw pads will stay nourished and in better condition for longer periods of time and won't be as affected by hot pavement, freezing snow, sharp gravel and other environmental factors. Think of these balms as invisible socks for your pup!
It's in your price range
Finally, look for a balm that's within your price range. Most come in containers that hold about 2 ounces of product, and prices hover around $15 to $20 but can be more depending on the size of container you purchase. If your dog is large or needs a lot of balm, you may want to opt for a cheaper formula that comes in a larger container, and vice versa for smaller dogs or dogs who have less-chapped paws.
Best dog paw balms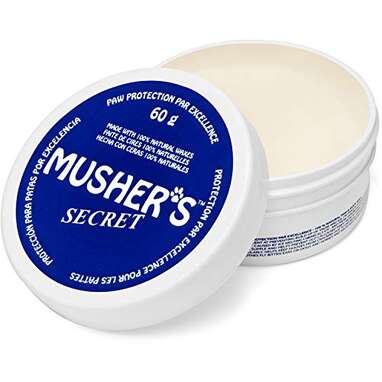 Musher's Secret Dog Paw Wax has been a favorite of many dog parents (including many Dodo dog parents) for years because it consistently delivers nourishment and protection to dry, cracked paw pads. It's made with 100 percent food-safe waxes and oils to provide instant relief while building a protective barrier against the elements. Plus, Musher's Secret is free from gluten, soy and nuts, so it's allergy friendly and is completely non-GMO. It's easy to apply — either use your fingers or dip your pup's paw directly into the tin — and soaks in quickly to deeply moisturize and help keep paws crack-free.
Natural Dog Company's Paw Soother stick contains super-nourishing vitamin E, mango butter, coconut oil, sunflower oil and carnauba wax and can be used to moisturize paw pads and elbows and provide future protection from the elements while delivering instant relief. The butters and oils soothe irritated and itchy paws, and over 25,600 pet parents say that the Paw Soother is a must-have — just distract your pup for about 10 minutes after application to let the product soak in.
For under $10, Hempz Petz Protective Paw Balm is a great value product that features hemp seed oil, coconut oil and olive oil to nourish and soften dry, rough pads. This creamy dog paw balm also includes shea butter and fast-absorbing carnauba wax — you don't need to apply much to have your pup reap the rewards of this ultra-moisturizing dog paw balm.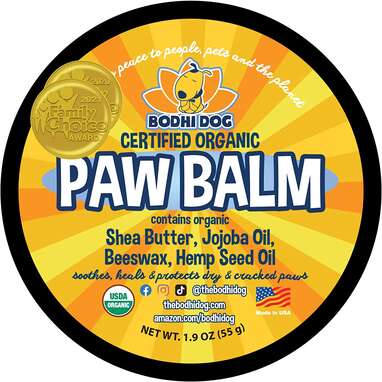 Bodhi's organic dog paw balm won the 2020 Family Choice Awards thanks to its incredible mixture of 100 percent USDA-certified organic shea butter, jojoba oil, beeswax, hemp seed oil and candela extract that relieves sore paw pads while restoring them to their soft and pliable state, making walking so much more enjoyable for your pup.
Your dog will feel like he's walking on brand-new feet after you introduce a paw balm into his grooming routine! Outdoor adventures have never been more fun.
We independently pick all the products we recommend because we love them and think you will too. If you buy a product from a link on our site, we may earn a commission.