Dog Pajamas You Need For Your Holiday Photos
Cozy and useful!
We independently pick all the products we recommend because we love them and think you will too. If you buy a product from a link on our site, we may earn a commission.
Dog pajamas aren't just cute and cuddly — they're actually really useful for dogs with persistent skin issues or for pups who may be healing from an operation. Having that extra layer can deter a dog from chewing or licking while keeping him toasty warm.
And some pet parents who have tried one of the many top-rated dog pajamas on Amazon have found that, similar to a ThunderShirt, a snug-fitting jumpsuit can even lessen their dogs' anxiety.
With so many pros to dog pajamas, here are the best (and cutest) ones you can try.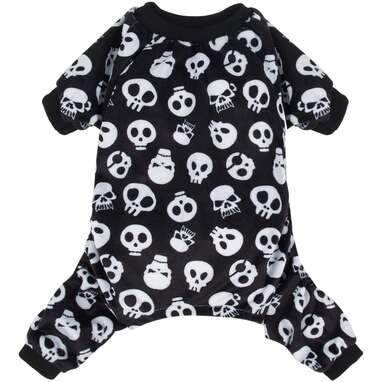 Choose from patterns like skulls, ghosts, bats, mummies, vampire fangs and even black cats when you grab a Halloween-themed jumpsuit from CuteBone. These pj's come in sizes from extra-small up through 2XL, and each jumpsuit is made from ultra-soft polyester fabric that your dog will love cuddling up in.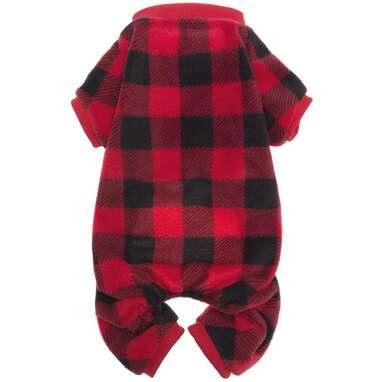 This set of red plaid pet pajamas from SCENEREAL is made with lightweight fleece that will keep your dog nice and toasty without limiting his movement like some thicker dog clothes do. These pj's are machine washable and come in sizes ranging from extra-small through extra-large.
This set of CuteBone dog pajamas on Amazon comes in two different fantastical unicorn prints. "I highly recommend this onesie/pajama," one five-star reviewer wrote. "Not only is the pattern very cute, but it was made well. The fabric used is very soft and does retain warmth."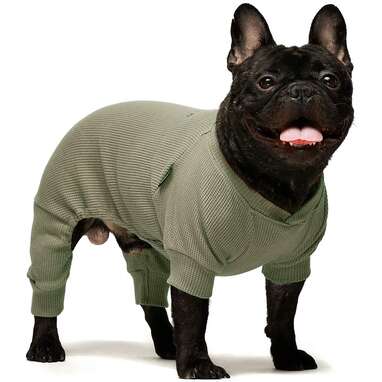 Available in sage green, light pink, navy and cream, these waffle-knit jumpsuits from Fitwarm are super basic and give your dog a thin layer of extra warmth when he needs it. The cotton fabric is breathable and perfect for pups with sensitive skin, and over 1,000 pet parents say this set of pajamas is worthy of a five-star rating.
Your pup will be ready to blast off into orbit when he steps into CuteBone's space-patterned pj's. Choose from a variety of fun prints that feature rockets and planets, clouds and moons, drowsy stars, and sleepy crescents.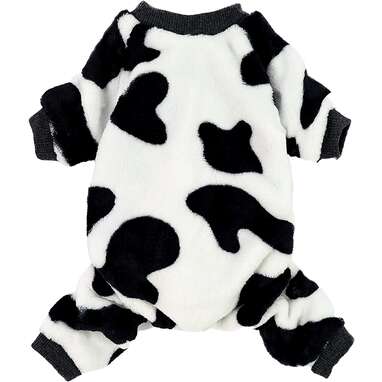 Small dogs who need all the extra warmth they can get will love this thick, velvety set of cow-printed pajamas from Fitwarm. "I never imagined I would be one of 'those' pet owners who would dress up their dog, and especially not in pajamas!" one pet parent wrote. "We have our first small dog ever, a Boston terrier we have nicknamed 'Chili Dog' because she is always COLD … I finally gave in and ordered 'dog pajamas.' Sigh … OK, I have to admit … they are so ADORABLE!"
These cotton dog pajamas from KYEESE are lightweight enough to be worn in every season of the year. They're super stretchy, easy to take on and off and great for dogs with sensitive skin.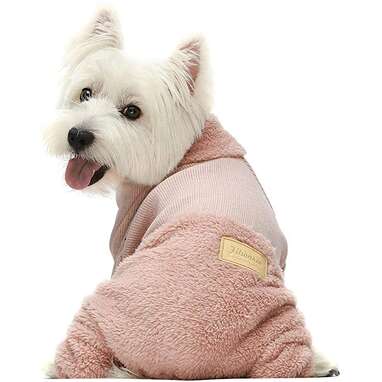 "This is the first time I've found something that fits her perfectly!" one pet parent wrote about the Fitwarm turtleneck jumpsuit. "She's getting old, and the cold is affecting her more now. It's so nice to finally have something that keeps her warm that I don't have to sew to get the right fit." And the cozy, plush fabric, with extra around the neck, ensures your chilly dog will stay warm all winter long.
There are pajamas out there for big dogs, too! This set from Miaododo fits larger breeds and covers the entire stomach (save for the area needed to use the bathroom), and zips up the back for easy dressing.
Made to perfectly fit several sizes of pit bulls, the Tooth & Honey dog pajamas on Amazon will not only keep your pittie warm, but the snug fit can also relieve any anxiety he might have. And as one pet parent wrote in their review, these pajamas helped her community get to know their pit bull without negative stereotypes attached.