We independently pick all the products we recommend because we love them and think you will too. If you buy a product from a link on our site, we may earn a commission.
Though some pet parents prefer to leave nail clipping to the professionals, trips to the vet or groomer can be expensive and stressful for your dog. So, if you're building up the courage to clip his nails at home, Amazon has so many great dog nail clipper options that are stress-free to use.
(And if you need a little more support before becoming your dog's full-time pedicurist, The Dodo has a few quick tips you can implement when it's time to start cutting.)
Here are the best dog nail clippers on Amazon.
These Boshel dog nail clippers are incredibly easy to use with their ergonomic design and thick 3.5-millimeter stainless steel blades that give you a clean cut every time. They have over 27,300 five-star reviews, with one pet parent writing, "I am a first-time user. It took me a month to work up the courage to do it. These clippers worked beautifully. I was so relieved."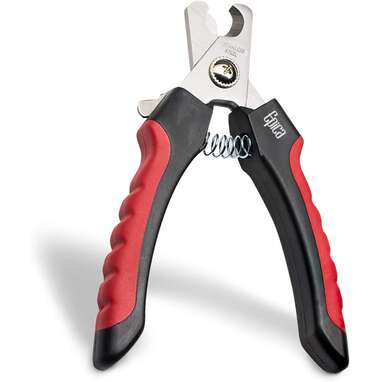 Another great clipper option for first-time users is this pair from Epica. These heavy-duty spring-activated clippers, paired with a non-slip grip, make clipping simple. And the included safety guard ensures that you don't clip more than you need to.
These guillotine-style dog clippers from Resco USA are great for both small and big dogs. "I have five ginormous Akitas, and it works very well on their thick nails, and no 'crunch' noise like the other styles," one five-star pet parent wrote in their review, titled "Works great on big dogs!!!" "The crunch noise always makes my goons jump. These are nice and quiet and just work smoothly."
If you think a grinder may work better for you and your dog, this nail grinder from GHG has an overall 4.8-star rating. It comes with both clippers and the rechargeable grinder so you can give your dog a perfect pedicure at home. The grinder is fairly quiet and comes with an LED light for better visibility.
The Casfuy nail grinder on Amazon comes with three grinding ports that suit a variety of different-sized dogs, and two speeds that run with low vibration, meaning dogs won't get freaked out when you trim. And this grinder is USB-chargeable.
The Dremel brand has its own dog nail grinder — the 7300-PT cordless grinder that has over 19,500 five-star reviews on Amazon. "I would recommend this product any day of the week," one pet parent wrote. "Not just because it works so wonderfully, but because my dog seems 100000 percent more comfortable, and that means the world to me." It's easy to use, with two speed settings, and is lightweight and low-stress for both you and your dog.
If the worst should happen and you hit the quick the first time you attempt to clip your dog's nails, it's good to have a styptic powder on hand to quickly stop the bleeding. This one from DOGSWELL is a favorite among pet parents because it's easy to apply (just dip the affected nail into the powder) and it stops the bleeding instantly.