Dog people know what makes other dog people tick. And these pup-themed gifts from Amazon are exactly the kinds of things all dog lovers can appreciate.
The Dodo found the best-rated gifts for dog lovers on Amazon that are great for birthdays, holidays and random thinking-of-you moments to show your fellow dog parents some love. And no, you won't be shamed for buying one (or all) of the below items for yourself. They're just
that
good.
Available in six colors and in sizes up to a 5XL, this "I'm Only Talking To My Dog Today" T-shirt is as soft as it is snarky. "I am a guide dog user, and this shirt is so fitting on some days it's not even funny," one dog parent joked. "Well, yeah, it kind of is LOL."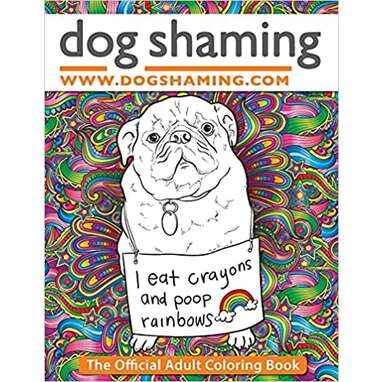 The hilarious meme website has gone analog with the "world's first OFFICIAL Dog Shaming adult coloring book." Inside, you get 35 ready-to-color illustrations of naughty pups wearing their iconic signs of shame. "Simply sit back, relax and choose the naughty rascal that connects with you the most," the coloring book's description says. "Then color in the loveable pup with your choice of color pencil, pen, marker and/or crayon."
The 2021 "Pooping Pooches" calendar is the perfect joke gift for the pup parent in your life with a great sense of humor. Each month in the calendar showcases "yet another beautiful pooch answering nature's call," as the calendar's Amazon description reads. Plus, for every calendar purchased, $1 will be donated to the Maui Humane Society.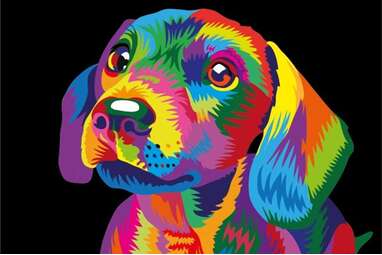 This paint-by-numbers set isn't just for kids. The colorful end result is a fun piece of pop art ready to be hung on your wall. "Turned out great and kept me busy!" one dog parent wrote. "Took about 4-5 hours to finish! I'll be ordering more paint by numbers!"
It's a universal fact about living with a dog: Everything tastes better with dog hair in it — including your morning cup of coffee. This mug is almost too relatable, as one pet parent wrote: "We have a rescue dog who sheds quite a bit whether we would like it or not. I always complain about dog hair everywhere around the house, which is what makes the mug even more cute."
The only difficult decision you'll have to make about buying this dish towel is which hilarious dog design to go with. Do you choose "I'll be watching you," "Dog hair, don't care," or "My dog and I talk about you?" Yeah, you'll probably just want to go with all three. "Great! And accurate," one five-star dog parent wrote.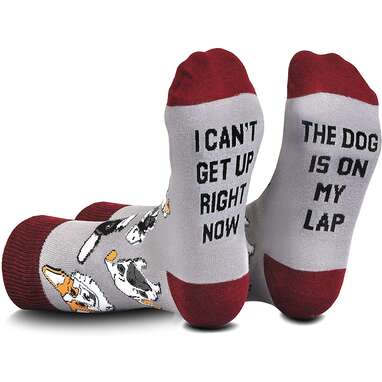 Read the socks, people. Not only do these novelty socks have dog portraits printed on them, but the bottoms of the soles read, "I can't get up right now. The dog is on my lap." Sorry to anyone who needs anything from the person wearing these — the dog is snoozing, so it's an automatic no-go.
Mad Libs, the best (and funniest) game to take with you on road trips, has a four-legged-friends edition. "With 21 'fill-in-the-blank' stories about Labradors, Pomeranians, poodles and more, this book is an incredible activity for both pups and their people," the description reads, and 4,300 agree that "Dog Ate My Mad Libs" is "an amazing NOUN ... I just can't VERB enough of the hilarious stories inside," as one five-star customer joked.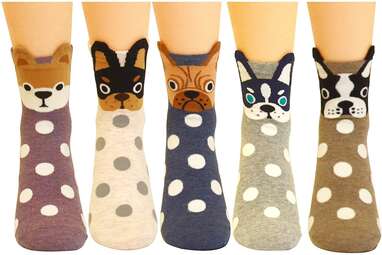 For under $10 you can grab your dog-loving pal five pairs of cute dog socks from Jeasona. Each pair features a sweet puppy face and polka dots in a variety of colors. "When received they were PERFECT for the dog lovers in my life," one customer wrote. "We own a grooming business and the gifts will certainly be admired and loved."
The Alex and Ani expandable bangle with the "Paw Prints of Love" charm is a great gift for people who collect pieces from the brand and/or pet parents who simply love a good accessory. The bangle comes in both gold and silver and features a simple crystal-and-metal paw print charm. "I have quite a few of these Alex and Ani bracelets in the gold and the silver. This by far is the cutest!" a five-star reviewer wrote. "Great for a dog lover!"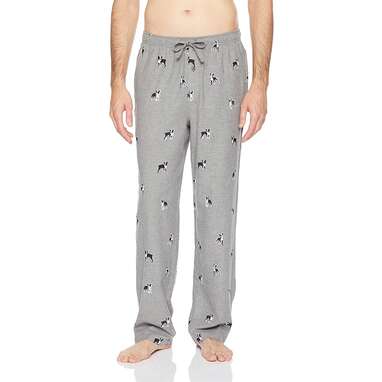 The Amazon Essentials men's pajama pants come in a variety of cute prints, including this adorable Boston terrier number. The print is subtle but great for any dog lover who likes to stay comfy. "I can't believe how comfortable they are," one customer wrote. "They're breathable, soft and warm."
This super sweet customizable charm necklace comes with an engraved portrait of your pup with their name stamped along the bottom. And the photos in the review section show the quality that goes into crafting each charm. "Wow. Just order, you guys," one dog parent wrote with their set of pictures. "I really didn't expect much for $20, but I am overjoyed with the work they have done."