The Best (And Cutest) Life Jackets That You Need This Summer
Even the best doggy paddlers need a little help.
We independently pick all the products we recommend because we love them and think you will too. If you buy a product from a link on our site, we may earn a commission.
Even if you think your pup is a strong swimmer, it's a good idea to get him a life jacket — especially if you and your family spend a lot of time on boats or swimming in unpredictable areas, like the ocean.
Fortunately, thousands of water-loving pups have tested out some of Amazon's best dog life jackets, and their parents' favorites are below. This summer is about to be the safest (and most fun) one for you and your BFF yet.
Outward Hound sells three styles of dog life jackets — one standard, one for warmth and one in a sporty style with breathable mesh. Each life jacket features double rescue handles on top (so you can easily scoop him out of the water) and multiple buckles that keep your pup securely inside his jacket, and they're made with high-visibility fabrics so you'll never lose track of your dog when he goes in for a swim.
The quick-drying life jacket from ASENKU not only features an adorable shark fin on the tail end of the jacket, but it also comes with a sturdy rescue handle and a link for his leash. "The life jacket must be very comfortable for her … because she never fights to have it put on," one pet parent wrote, "and once she is done swimming, [she] will play while wearing it as if she wasn't wearing it."
This new take on the classic Vivaglory dog life jacket is a more comfortable, less bulky design that helps your dog stay in a more natural position while swimming. These jackets come in five different sizes and in a wide selection of different neon colors for visibility. "This life jacket is amazing," one five-star reviewer wrote. "This life jacket fit him perfectly … This jacket provides the perfect amount of support to keep his head at a comfortable level above the water. By the end of the day, he was running in and out of the water and swimming laps just to show off. I could not be happier with this purchase."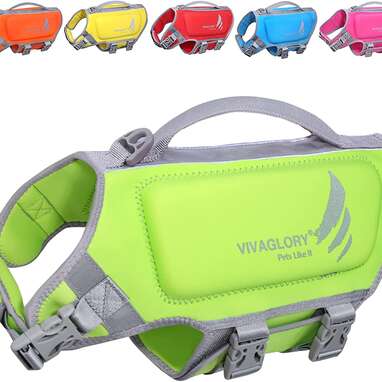 Made out of buoyant neoprene fabric, sandwiching together extra layers of built-in floatation, this life jacket from Vivaglory gives your dog that added buoyant boost while out on the water. And not only does this jacket come in an array of neon colors, but the gray trim is actually reflective — perfect for evening swimming.
Available in a handful of cutesy, bright prints, the HAOCOO dog life jacket on Amazon is fast-drying and made with materials that allow for proper drainage so your pup won't be weighed down when he comes out of the water. It has over 2,100 five-star reviews on Amazon, with many pet parents saying that the sizing options are excellent and accurate.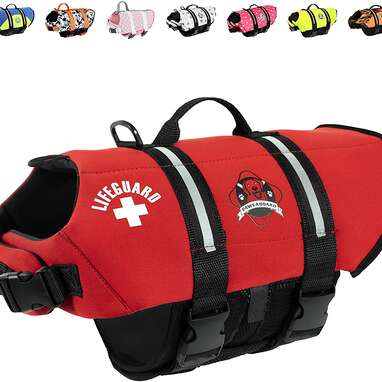 Thanks to the mesh section where the Paws Aboard dog life jacket secures under your pup's belly, your dog can get a custom fit without having to put up with any discomfort of overlapping foam pieces. "It has a wrap-around flap under the belly, which is meshed to let water and air flow," one pet parent explained. "The buckles are easy to snap in, and the top of the jacket has a handle to lift my dog out of the water. There is also a nylon loop near the back neck to attach a leash to … a big improvement from a different jacket I had before."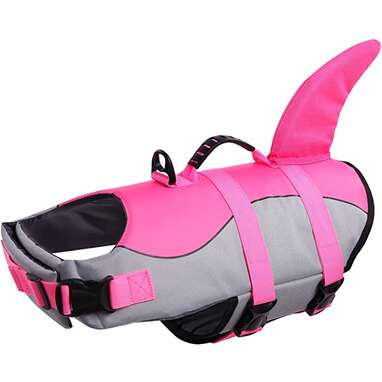 Queenmore also has a shark fin life jacket that's earned over 2,100 five-star reviews on Amazon. It's fitted with quick-release buckles and a rubber-coated rescue handle to ensure peak safety. "Omg y'all, this not only works properly, but [it's] funny as hell!" one pet parent wrote. "He loves his life vest because of the handle. He doesn't like being picked up, but knows when he needs help. So he would just float and wait for us to pick him up by the handle … Not to mention he got a lot of attention for how funny the vest was."
The extra padded bit at the front of the Vivaglory life jacket helps your dog's head stay safely above water while he swims. This is ideal for breeds like French bulldogs and pugs with shorter necks and smooshed snouts — but the extra padding can be beneficial for all dogs, especially those who are a bit wary of the water.
The only thing cuter than the shark fin dog life jacket above is this mermaid dog life jacket from KOESON. This design features all the basics, like a rescue handle, secure buckle system and breathable fabric — but it also comes with an adorable tail off the back. You can grab the mermaid style in both pink and teal.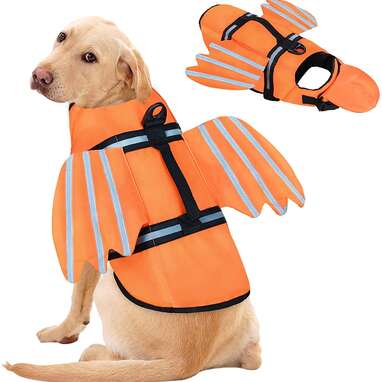 Just like how little kids learn to swim with floaties, your pup can learn to swim with wings thanks to the Malier dog life jacket on Amazon. This jacket comes with extra padding up front as well as two padded wings on either side to aid with visibility and buoyancy. "We purchased this last-minute just to have something," one puppy parent wrote. "Not only did he look adorable in it, but it worked great. It has a clip in the front like his harness."