The Best Dog Life Jackets To Keep Your Pup Safe
Useful AND super cute 😍🦈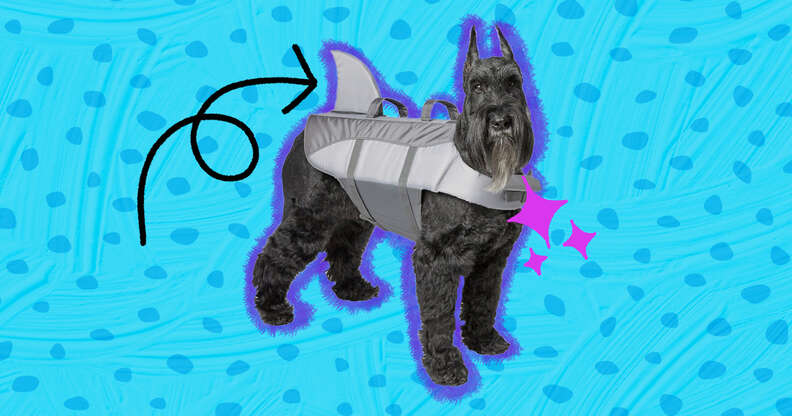 Chewy
Chewy
While many dogs are good swimmers, they'll get just as tired as we do if they're hanging out in the water for a long time.
So whether you're relaxing by the pool, boating or swimming at the beach, it's important to keep your dog as safe as possible — which means giving him the same floatation device you'd use for yourself or your kids: a life jacket!
The best life jackets have buoyant padding and a top handle and come in bright colors or have reflective accents. The life jacket you choose should also have adjustable straps so you can make sure it fits securely on your pup.
We made a list of highly rated options to help you find the best dog life jacket for your pup.
What to look for in a dog life jacket
When picking out a life jacket for your dog, there are a few things you consider to make sure you get one that fits your pup comfortably while also keeping him afloat.
Sizing — Make sure the life jacket fits properly so it won't slip off or make your dog uncomfortable. To get the right size, measure and weigh your pup, and look at the sizing guidelines for the life jacket. Most life jackets have measuring instructions and recommend measuring around your dog's chest (some suggest measuring your dog's neck, too). Be sure to try it on your dog before using it for swimming so you can be sure it fits him.
Materials — You should pick a life jacket with buoyant and durable materials, like neoprene or Ripstop. If you take your pup in colder waters, consider getting a jacket with insulation to keep him warm. On the other hand, for swimming in hot temps, look for breathable material.
Design — Some attributes to look for include a top handle, D-ring and bright colors or reflective accents. Also think about whether you want a life jacket or vest for your dog. Life jackets usually have more padding and are better for swimming in deep water (like the ocean), while life vests are thinner and are good for swimming in the pool or just playing in the water.
Consider what you want to use the dog life jacket for, too. Some life jackets are insulated for cold water, while others will help keep your pup cool in the heat. If you want to do more than just swimming with your dog, like kayaking, look for a life jacket that's made for active dogs and water activities.
Best dog life jackets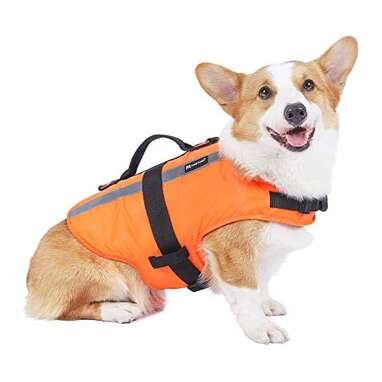 We chose this life jacket as the best overall because it has two top handles to easily grab your pup and a front float to keep your dog's head above water while he swims, making it great for both beginners and experienced swimmers. You'll get the perfect fit for your dog with the adjustable straps, and it comes in bright colors, like orange and pink, with reflective accents for visibility and swimming in any condition. Ripstop material makes this life jacket durable and buoyant without restricting your dog's movements while he's on land.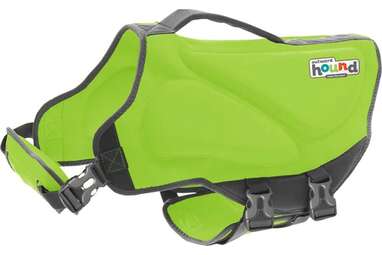 Your dog will stay warm and comfy in this dog life jacket that's insulated, making it great for cold waters. While many life jackets have a neoprene lining, this life jacket has side panels that are made entirely out of neoprene, making it the best option for keeping your pup warm. There are multiple sizes and bright colors to choose from, and it has adjustable straps. Plus, it has reflective accents so you can easily spot your dog and a top handle to pull him out of the water.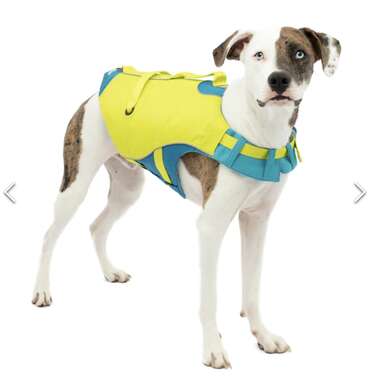 This life jacket has adjustable neck and belly straps and comes in multiple sizes. You can choose from two bright colors — red and yellow — with reflective accents. The athletic cut makes it easy to move around in — and your active pup will most likely be doing lots of that. It's made of Ripstop material that's durable and will hold up when your pup's running around. The life jacket has a neoprene lining and two top handles. Plus, there are two leash D-ring attachments that are useful for when you're hiking or camping, so your pup can go from the water to the trail without changing (and one even doubles as a bottle opener).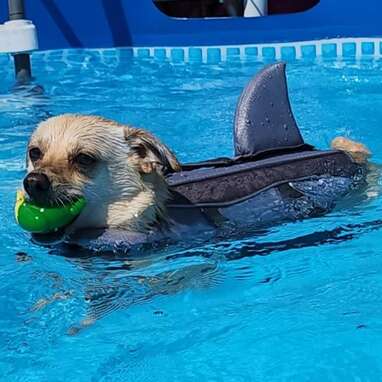 Your pup will look like the cutest shark around in this life jacket. The fin can even be removed, so you get two life jackets in one. It has foam panels for buoyancy and a front panel to support your dog's head. There are two belly straps and one neck strap that are adjustable, and it comes in five sizes. There's a top handle (larger sizes have two handles) and a D-ring to attach a leash. The reflective accents help you spot your pup in the water.
This life vest comes in three bright colors with a top handle for you to easily grab onto. It's lined with padded foam to help your dog float, and the outside has breathable mesh to keep him cool. Plus, there's a D-ring to attach a leash. This vest comes in multiple sizes so you'll be able to find one that fits your pup.
Water safety tips for dogs
Along with putting a life jacket on your dog, there are some other steps you should take to keep him safe in the water.
Your pup might not naturally be a great swimmer, so teach him to swim if needed.
Teach your dog how to get in and out of the water.
Never let your dog swim alone. You should always supervise him while in the water.
Keep an eye on how much water your dog is swallowing so he doesn't drink too much since salt water can be dangerous for dogs (pool water is less harmful for dogs, but your pup still shouldn't drink a lot of it).
Don't take your dog swimming if there's anything dangerous in the water, and don't let him eat things in the water, like seaweed.
You and your pup will have the best time swimming this summer with these dog life jackets. Just be sure to follow the above tips for a safe and fun time.
We independently pick all the products we recommend because we love them and think you will too. If you buy a product from a link on our site, we may earn a commission.