Dog Leg Warmers Exist, And They're Perfect For Winter
Leg warmers are so retro!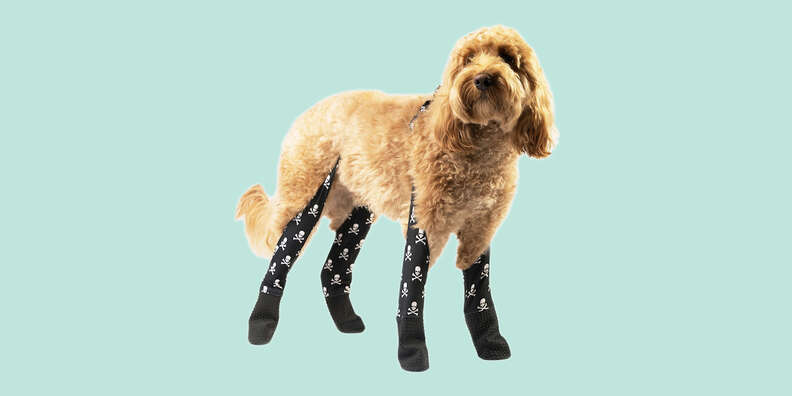 Leg warmers always seem to be coming back in style, but did you ever expect your dog to get in on the fad?
Well, guess what. Dog leg warmers (as well as dog leggings, believe it or not) actually exist, and there are surprisingly a TON of options to choose from!
So if your dog is super into '80s accessories — and also being a little bit cozier on those winter walks — you're in for a treat.
We rounded up a bunch of the most ridiculously fun leg warmers for your pup.
The best dog leg warmers to keep your pet cozy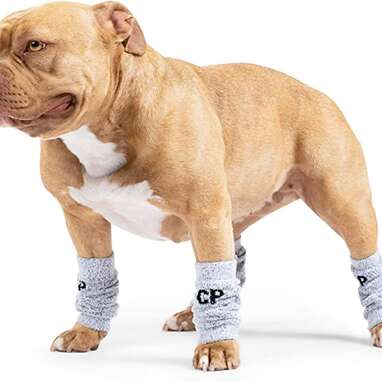 Your pup will look like he hopped straight out of an aerobics video from the 1980s in these leg warmers. They're simple and stylish while offering extra protection in the cold.
These leg warmers are leggings and booties all in one, which can help keep your dog's paws protected when he's outside. These have drawstring openings so you can adjust them to fit your pup perfectly.

They come in a ton of fun designs and we even tried them on our own pups. (Spoiler: We loved them so much that we gave them our official Paw of Approval.)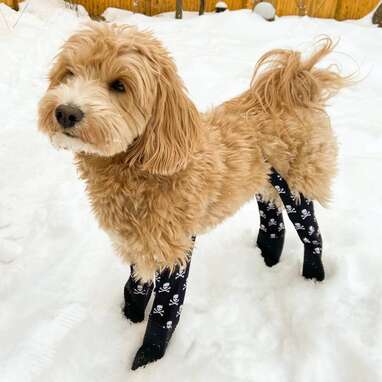 These are like the Adjustable Fit Boot Leggings but a little simpler. Instead of drawstring openings, the legs are wide and smooth so it's easy to get your pup's legs in and out. There's also a detachable connector you can use to loop these leg warmers to your bestie's harness or collar for a more secure fit.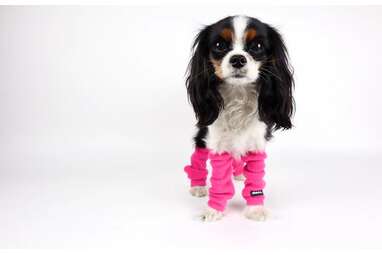 This four-pack has so many styles and sizes that you'll be able to find a set for any (small) dog. Sizes range from XS to XL — which can fit pups 2–3 pounds to 18–25 pounds — and come in 10 different designs, including solid colors and fun patterns.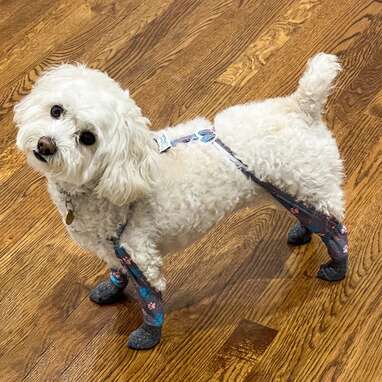 If your pup tends to slip and slide across your floor, these are the leg warmers for him. They have grippy silicon socks at the end so your dog doesn't have to clomp around in big, bulky boots indoors. Plus, they come attached to an adjustable chest strap so they'll always stay on.
In fact, these leg warmers are literally made for this puffy dog coat. Just attach them to the coat, and you've got yourself a puppy snowsuit that'll make it easy for him to brave those winter walks.
Dog leg warmers aren't just a cute fashion trend — they're great for keeping your pup nice and toasty, and some even provide traction when the weather gets messy.
We independently pick all the products we recommend because we love them and think you will too. If you buy a product from a link on our site, we may earn a commission. Links are updated when possible, but note that deals can expire and all prices are subject to change.
Crazy Dog Hats You'll Obsess Over