There Are A Surprising Number Of Dog-Themed Lamps On Amazon
There's one for any style.
We independently pick all the products we recommend because we love them and think you will too. If you buy a product from a link on our site, we may earn a commission.
Whether you're in need of a new night light or looking for a table lamp to place next to the couch, there are a handful of adorable dog-themed lamps you should check out if you're obsessed with dog things.
Offering a variety of both cutesy and traditional styles, these dog lamps may inspire you to start an entirely new collection — if you're not careful, you'll be known as the "dog lamp person" before the year is out. But that's not really a bad thing, is it?
This battery-powered night light from LumiPet lasts for 12 hours on a single charge and displays a rainbow of beautiful LED colors. The sturdy silicone base can travel with you and is designed to be hugged, and parents can set an automatic turnoff feature for when their kiddos have drifted off to dreamland.
The adorable little dog lamp from C L Cooper Life is the perfect bedtime companion for anxious kids. It's soft enough to be cuddled, and kids can adjust the brightness by tapping the dog's nose. "I love this night light!" one five-star reviewer wrote. "My daughter got super attached to it the second we gave it to her."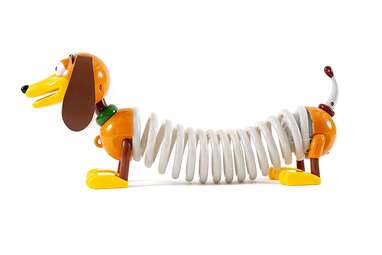 Slinky from "Toy Story" just got a major upgrade. The loveable character has been crafted into a 12-inch-long battery-powered night light. His coils light up to show five different light patterns that will give your "Toy Story" collection a fun, disco-like spin.
This super-chic French bulldog lamp from Catalina Lighting is the perfect bedside table lamp because it's small enough to fit in tighter spaces but provides enough light for late-night reading. "This lamp is absolutely adorable!" one five-star reviewer wrote. "It looks as expected and will be a perfect addition to our son's room … We have a 5-month-old Frenchton puppy, so this is a way to add her to our decor while still matching our very simple and modern decor."
This modern-looking dog lamp from HROOME is a fun take on the classic swivel desk lamp. Both the head and the legs can be adjusted to any height and direction, and the touch control top allows you to dim the light with a simple tap on the wood case.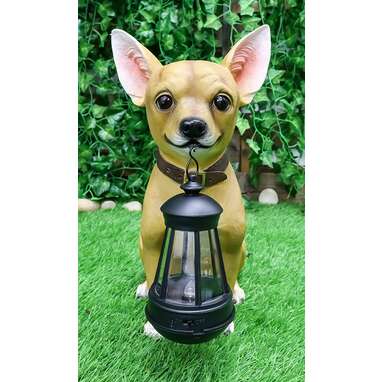 How cute is this Chihuahua solar path light from Ebros Gift on Amazon? This little guy holds a solar-powered LED lantern in his mouth that will help guide the way to your front door. The light automatically comes on in the absence of sunlight, and over 180 customers say that it's not only an adorable dog lamp, but it's made to last, too.
Two dogs are always better than one, especially when they're made out of gorgeous Tiffany-style stained glass. This dog lamp from Bieye on Amazon is handcrafted and is the ultimate statement piece for any dog lover's living room. "Beautiful," one five-star reviewer wrote. "We have two Jack Russells and this is perfect!"