These Are The Dog Frisbees Pet Parents Can't Stop Buying
Fetch has never been more fun 💫
We independently pick all the products we recommend because we love them and think you will too. If you buy a product from a link on our site, we may earn a commission.
Frisbees provide your pup with hours of fetching fun. They can travel for yards, are lightweight and easy to catch and can withstand chewing. However, traditional plastic frisbees can be hard on your dog's mouth and cause gum irritation.
Fortunately, there are frisbees out there that are designed specifically for dogs, and they're just as fun (if not more so) than classic frisbees. The Dodo found the top 10 best dog frisbees on Amazon that are both pet-parent- and dog-approved.
If you're not great at throwing traditional plastic or rubber frisbees, the Hyper Pet Flippy Flopper is a good alternative. It's lightweight and made primarily of fabric, so it catches the smallest of breezes and can travel despite a poor throw. With over 4,400 five-star reviews, the Flippy Flopper is a fave among pet parents.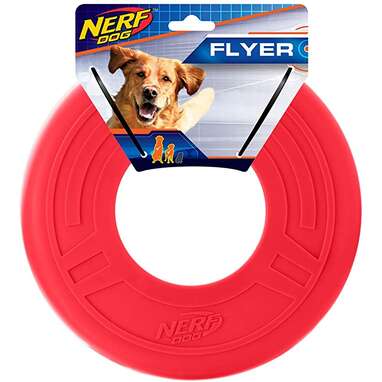 The Nerf company also makes a lightweight ring-style frisbee that dogs and pet parents can't get enough of. Made with weather-resistant, durable material, your dog will have hours of fun with this flyer. "Of ALL the toys that I have ever gotten her, THIS is the only one that she has gone absolutely crazy over," one pet parent wrote. "It's lasted, and she hasn't been able to tear it up! Good, thick quality and flies well."
Designed for long-distance flight, the ChuckIt! Paraflight features a multilayer nylon fabric center and soft rubber edges that are gentle on teeth and gums. Plus, the Paraflight floats on water, making it the perfect toy to bring to the beach. Over 7,100 pet parents say this one is a win.
Over 9,600 dog parents have rated the KONG Flyer toy five stars, with one parent saying that the KONG Flyer "is the only frisbee that has held up" with their two dogs. "Braap will catch frisbees 24/7 if allowed. But when we make him quit, he and [his] little sister will play tug of war or run along side-by-side with it. We have tried dozens of others before finding these. They are great flyers, perfect material (not too hard for pup's mouth) and durable."
You can grab the Booda Tail-Spin Flyer in a 7-inch, 10-inch or 12-inch diameter, and thanks to the toy's contrasting high-visibility colors, your dog can easily track it while it's flying through the air. The rubber tubing around the exterior of the flyer is coated in soft, gum-safe rubber and the waterproof interior fabric can actually hold water for a mid-game refreshment.
The super-durable Orka frisbee toy is made with a thick rubber that holds up to even the most aggressive chewers. "[My labradoodle] destroys his toys," one pet parent wrote. "Have had this for MONTHS now … other than a little warpage, it's still about 98 percent intact. THAT is amazing." This toy is big-dog-approved.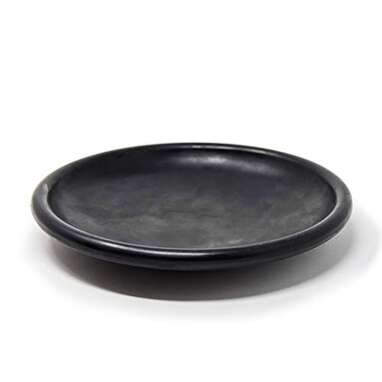 The Monster K9 dog frisbee on Amazon is made with a virtually indestructible rubber that's designed to last for years, no matter how hard your dog likes to play. This frisbee is best for big dogs, and according to over 1,500 pet parents, it lives up to its name.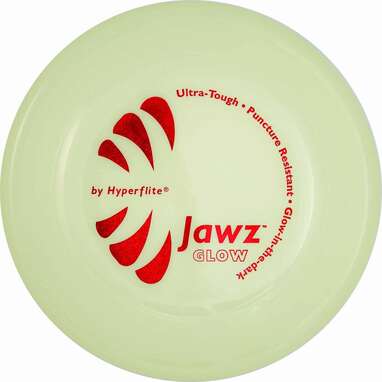 If you're hunting for a classic frisbee with a little extra pizazz, the Jaws Disc from Hyperflite is the toy for you. It's puncture-resistant and glows in the dark, and is designed with state-of-the-art aerodynamics. It can get beat up and chomped on, but will still fly with ease.
The Zogoflex Zisc from West Paw is a floatable frisbee toy that's soft to the touch, but flies as well as a classic plastic frisbee. And the best part is that this toy is dishwasher-safe, so you can keep it clean and germ-free — and when your dog is done playing with it for good, the Zogoflex Zisc is actually recyclable!
Planet Dog's Orbee Tuff Zoom Flyer has a minty flavor to it, so it actually freshens your dog's breath while he plays. It has a weighted center and flexible outer rim, so it flies great, but is also safe for your dog's teeth and gums.