8 Best Dog Foods For Weight Loss
So he can be healthy again 💖
We independently pick all the products we recommend because we love them and think you will too. If you buy a product from a link on our site, we may earn a commission.
You might've noticed that your dog's gained some weight recently (It happens!), so you're probably wondering if you should switch up his food to get him down to a healthier size.
There are so many brands on the market that say their food will promote weight loss, but which diet dog foods actually work?
The Dodo spoke with Dr. Zach Marteney, a veterinarian and medical director at Meadowlands Veterinary Hospital in New Jersey, to find the very best dog food for weight loss.
How to find the best dog food for weight loss
The best dog food for weight loss is one that's low in calories. "Changing to a lower-calorie food may help," Dr. Marteney told The Dodo.
Low-calorie choices may be available over the counter, but there are other dog food formulas made specifically for weight loss that'll require a prescription from your veterinarian.
"There are even prescription foods for weight loss that are helpful," Dr. Marteney said. "I've used one for my dog in the past with great results."
It's important to pay attention to which foods come widely recommended by vets because that'll help keep your pup healthy on his weight loss journey.
"There are many great brands of pet food available, but in general I prefer larger brands as they tend to have higher-quality ingredients with more consistent formulation, and their quality control is much better than smaller brands'," Dr. Marteney said.
Dr. Marteney loves brands like:
Purina Pro Plan (which is what Dr. Marteney feeds his own dog)
Hill's Science Diet
Royal Canin
Blue Buffalo
Best diet dog food
The Dodo rounded up some great weight loss dog foods from those brands. Just make sure you always talk to your vet before switching up your pup's diet.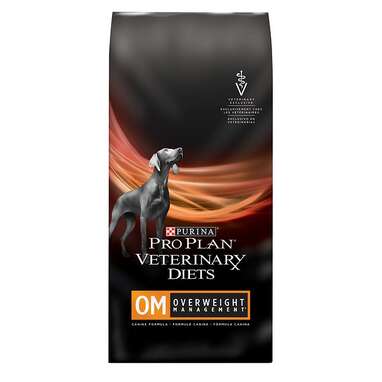 Description: This formula is specifically made for overweight dogs and comes from the brand Dr. Marteney trusts feeding to his own pup. It's supposed to help your pup ditch his excess weight without losing any muscle mass in the process. You'll need a prescription for this one.
If your dog's not into dry food, this is the wet food equivalent of the above option. It's high in protein, low in fat and full of fiber, so your pup can stay full and build muscle at the same time.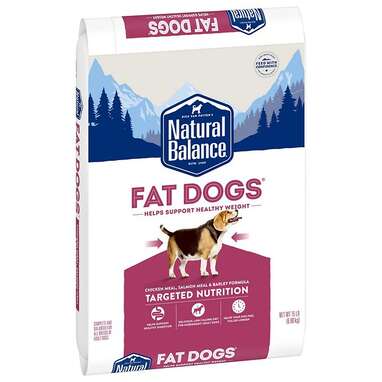 You won't need a prescription for this low-calorie food. The formula is made with salmon and chicken, which will help your dog build lean muscle. And even though it's a reduced-calorie option, this dry food's supposed to keep your dog full between meals.
This food is formulated with things like lysine and carnitine to boost your dog's metabolism, which will help him burn calories. It's also full of fiber to keep your pup full. (You can probably tell from the name that this option requires a prescription from your vet.)
Here's a non-prescription option made with real chicken, fruits and veggies. It has a moderate amount of calories to help your dog maintain a healthy weight.
It comes in a wet option (in case that's what your dog prefers) that contains just as many nutrients as the dry version.
This prescription dry food utilizes a high-protein formula so your dog can build muscle easily. It's also loaded with fiber to keep him feeling full between meals.
And this canned version will do all the things its dry food counterpart does, which is great for dogs who aren't big on kibble.
How to choose the right dog food
Choosing the right dog food can be a bit of trial and error because it means weeding out any possible sensitivities your pup might have.
"You may find that if you give him a chicken-based diet, he gets itchy or develops ear infections, or if you feed him beef, he develops diarrhea," Dr. Marteney said. "You may have to try three or four diets before you find one that he can eat long term."
As far as grain-free diets, you should steer clear of them unless your dog is truly sensitive or allergic to grains.
"I recommend against grain-free diets for nearly all dogs — whole grains bring a lot to the table in terms of nutrition, and a specific type of heart disease called dilated cardiomyopathy has been associated with grain-free diets," Dr. Marteney said.
And once you find a dog food that works, stick to it.
"It's best to use the cruise-control method of feeding," Dr. Marteney said. "Find a food that works and just keep using it."
How much food do I feed my dog?
When trying to figure out how much food to feed your dog, it's going to depend on two things: your individual pup and the specific food you're feeding him.
"On the back of the bag or can there will be a chart that tells you how much to feed based on body weight," Dr. Marteney said. "This is a good place to start, but I think about it the same way I think about a 2,000 calorie recommendation on human food packaging: If I'm eating that much and I'm gaining too much weight, I need to cut back a little, and if I'm getting too thin, I probably need to increase my calorie intake."
There you have it! If your dog's gotten a bit overweight, now you know what food to get him, how to pick the right option and how much to feed him.