The Best Dog Food For Weight Loss
So your dog can be healthy again 💖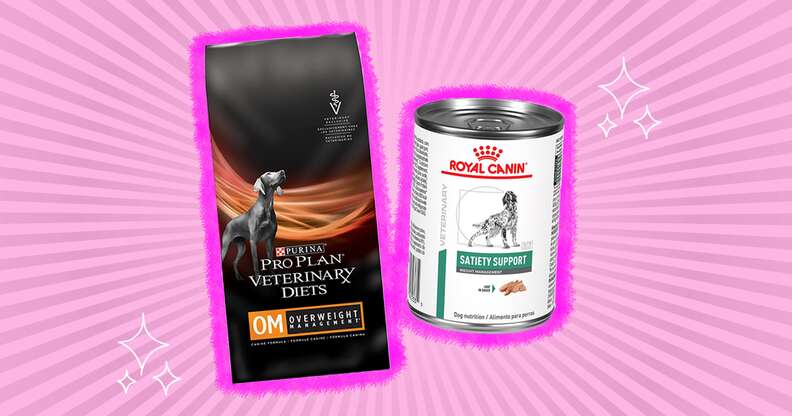 You might've noticed that your dog's gained a bit of weight recently, and you're starting to get concerned.
Is it time to put your dog on a diet, and if so, what's the best dog food for weight loss?
The good news is that switching to a diet dog food is most likely only necessary if your dog's obese. We spoke to three vets, who explained how you can tell if your dog is obese and why it's important to curb those unhealthy habits that cause your pup to gain weight.
Benefits of a weight-loss dog food
The biggest benefit of a dog food specifically geared toward weight loss is that it'll be lower in calories, which will likely help obese dogs shed pounds.
However, "low-fat foods, [which are also low in caloric density], may not necessarily help your dog lose weight," Dr. Corinne Wigfall, a vet with SpiritDog Training, told The Dodo.
"You need to look at overall calorie requirements for your dog per day (ask a veterinarian!) and then work out how many grams or ounces that equates to in food in total," Dr. Wigfall continued. Even though your dog's overweight, his breed may still need more calories than a diet dog food can offer him.
In fact, you may not necessarily need to purchase specialty weight-loss food at all. "Before switching to low-fat dog food, I recommend using an adult dog formula but ensuring to measure the appropriate amount of food at each meal and limiting treats to less than 10 percent of the daily caloric need," veterinarian Dr. Michelle Burch from Paramount Pet Health told The Dodo.
But again, consult your veterinarian to get a more tailored opinion.
How to find the best diet dog food
The best dog food for weight loss is one that's low in calories. "Changing to a lower-calorie food may help," Dr. Zach Marteney, a veterinarian and medical director at Meadowlands Veterinary Hospital in New Jersey, told The Dodo.
Low-calorie choices may be available over the counter, but there are other dog food formulas made specifically for weight loss that'll require a prescription from your veterinarian.
"There are even prescription foods for weight loss that are helpful," Dr. Marteney said. "I've used one for my dog in the past with great results."
It's important to pay attention to which foods come widely recommended by vets because that'll help keep your pup healthy on his weight loss journey.
"There are many great brands of pet food available, but in general I prefer larger brands as they tend to have higher-quality ingredients with more consistent formulation, and their quality control is much better than smaller brands'," Dr. Marteney said.
Dr. Marteney loves brands like:
Purina Pro Plan (which is what Dr. Marteney feeds his own dog)
Hill's Science Diet
Royal Canin
Blue Buffalo
"I recommend discussing with your veterinarian the best dog food choice for your pet when choosing a low-fat diet to ensure all nutritional needs are met," Dr. Burch said.
Best dog food for weight loss
We rounded up some great weight-loss dog foods that are low in calories and from brands recommended by vets because of their high-quality ingredients and control standards. Just make sure you always talk to your vet before switching up your pup's diet.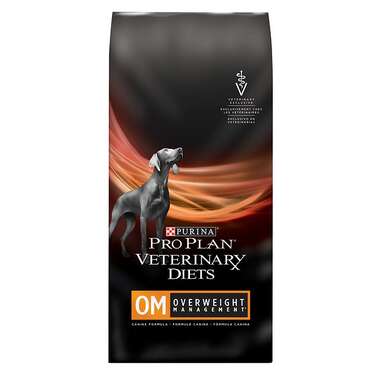 This formula, which comes from the brand Dr. Marteney trusts feeding to his own pup, is low in fat and low in calories, yet packed with protein to help dogs maintain muscle mass. This weight-loss food requires a prescription, so talk to your vet ahead of time before purchasing. (You can also pick it up in a wet formula, too.)
The "Fat Dogs" formula from Natural Balance is packed with salmon and chicken, which are high in protein and great for muscles, but low in fat and calories. And even though it's a reduced-calorie option, this dry food's supposed to keep your dog full between meals.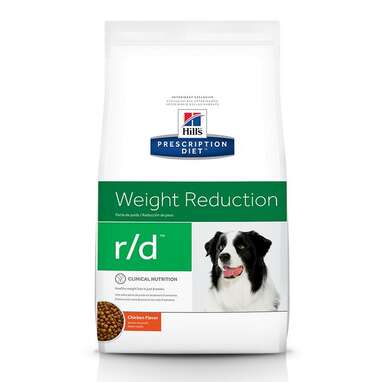 This food, which can only be purchased with a prescription from your vet, is formulated with things like lysine and carnitine to boost your dog's metabolism, which will help him burn calories. It also has lots of fiber to keep your pup full. And it's still packed with all the nutrients needed to keep your pup's immune system in peak condition.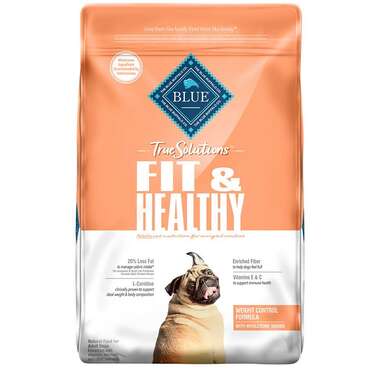 Blue Buffalo's non-prescription Fit & Healthy formula is made with real chicken, fruits and veggies. It has a moderate amount of calories to help your dog maintain a healthy weight, but contains enough fiber to help your dog feel full after eating. It also is enriched with vitamins E and C as well as L-carnitine to support a healthy weight.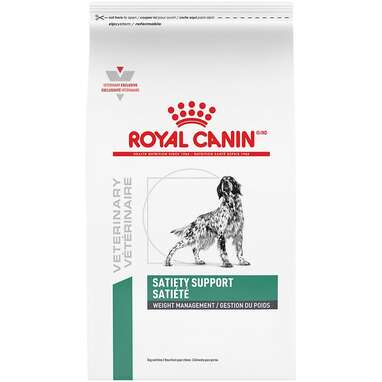 This prescription dry food from Royal Canin utilizes a high-protein formula so your dog can build muscle easily while maintaining a healthy weight. It's also loaded with fiber to keep him feeling full between meals, which will keep him from begging and focusing on food.
How to choose the right dog food
Choosing the right dog food can be a bit of trial and error because it means weeding out any possible sensitivities your pup might have.
"You may find that if you give him a chicken-based diet, he gets itchy or develops ear infections, or if you feed him beef, he develops diarrhea," Dr. Marteney said. "You may have to try three or four diets before you find one that he can eat long term."
As far as grain-free diets, you should steer clear of them unless your dog is truly sensitive or allergic to grains.
"I recommend against grain-free diets for nearly all dogs — whole grains bring a lot to the table in terms of nutrition, and a specific type of heart disease called dilated cardiomyopathy has been associated with grain-free diets," Dr. Marteney said.
And once you find a dog food that works, stick to it.
"It's best to use the cruise-control method of feeding," Dr. Marteney said. "Find a food that works and just keep using it."
How much food do I feed my dog?
When trying to figure out how much food to feed your dog, it's going to depend on two things: your individual pup and the specific food you're feeding him.
"On the back of the bag or can there will be a chart that tells you how much to feed based on body weight," Dr. Marteney said. "This is a good place to start, but I think about it the same way I think about a 2,000 calorie recommendation on human food packaging: If I'm eating that much and I'm gaining too much weight, I need to cut back a little, and if I'm getting too thin, I probably need to increase my calorie intake."
Consulting your vet on the amount of food you should be giving your dog, no matter if it's diet dog food or regular food, will ensure you're helping your dog's weight loss rather than hindering it.
Other ways to help your overweight dog
If your dog's either obese or slightly overweight, there are many different things you can do to get him back down to a healthy (and more comfortable) size besides feeding a weight-loss dog food.
Here are a few ways to help your pup drop his extra pounds:
Increase his daily exercise. "Ideally [with] daily walks," Dr. Wigfall said. Hydrotherapy may also be helpful for very obese dogs with joint issues or older dogs.
Increase play and use of toys inside.
Nix treats. "Use their daily kibble portion as a treat for good behavior," Dr. Wigfall said. "Your dog cannot tell the difference and will still get the same chemical release from the reward of a biscuit of their regular food as they do from a store-bought treat."
Don't feed him human food. "Human food contains significantly more calories than pet food, so even a small portion of food can equal many calories," Dr. Wigfall said.
Feed your dog based on his target weight, and reduce that target weight slowly so as not to underfeed him. This means you should set an achievable target weight first (5 or 10 pounds less than his actual weight), and then adjust the target as he continues to drop pounds.
Ask your vet about joining a weight-loss program if they offer one. "These involve monthly weight checks, diet plans and exercise goals," Dr. Wigfall said. "They are usually free to attend, and often there is a lot of competition to find the 'biggest loser.'"
Keeping your dog at a healthy weight will ensure he lives a long and happy life with you, and with plenty of playtime, exercise and healthy food, those extra pounds will disappear in no time.
We independently pick all the products we recommend because we love them and think you will too. If you buy a product from a link on our site, we may earn a commission. Links are updated when possible, but note that deals can expire and all prices are subject to change.