The Best Dog Ear Cleaners On Amazon
Because no dog should put up with itchy, stinky ears 🐶
The dreaded doggy ear issues — you can probably smell there's a problem before you see it.
Though not all dogs need their ears cleaned, some pups experience frequent ear infections and discomfort caused by dirty ears. If your vet has recommended you regularly clean your dog's ears to keep infection and itch at bay, there are so many great dog ear cleaner brands available on Amazon, all at an affordable price, to choose from.
The Dodo compiled a list of the highest-rated and most-loved ear cleaners from the site so that you can begin the journey of banishing bacteria and ending your dog's ear itch for good.
PetMD promises their Tris Flush is so gentle that stinging and allergic reactions caused by routine ear cleaning will be a thing of the past. The key ingredient in the flush is ketoconazole, which effectively cleans and wards off further microbial growth. "Soon after we got it, we tried it in the ears of two of our dogs, and just after two uses, they both have relief," one dog parent wrote. "We highly recommend this to everyone who has a dog with very itchy ears!!"
With a scent of cucumber and melon, your pup's ears will smell as fresh as they feel. The 4-in-1 formula cleans, dries, deodorizes and neutralizes ears to soothe itch and prevent bad actors from coming back and ruining your dog's day. "Not only does it smell pleasant, it also really gets the job done with cleaning the wax and dirt out of the pup's ears," one happy dog parent wrote.
This non-irritating cleanser fights off bacteria and microbes with gentle, yet effective, salicylic acid and benzoic acid. It's made for dogs with sensitive skin and uses pH-balancing properties to soothe and stop infection. A five-star reviewer said that the PetHonesty cleanser "worked better than expensive antibiotics."
Lively Pets' alcohol-free, ultra-otic cleanser is anti-fungal and promises to kill infection-causing bacteria while soothing and hydrating healing sore spots. It can also be used to treat and flush out pesky, itchy ear mites.
The Virbac EPIOTIC Advanced cleaner uses neutral pH to restore the balance in your dog's ear canal. It breaks down and removes buildup in chronically infected ears, and pet parents say it's a great solution to use regularly for pups with unrelenting ear infections.
This all-natural ear wash is free from pharmaceuticals, synthetic chemicals, hydrocortisone (steroids), solvents or antibiotics, meaning it's awesome for dogs with sensitive ears. Over 6,500 pet parents have given EcoEars a five-star rating, with one person writing, "I have had perfect results with this product. This really cleans the gunk out of the ears like NOTHING I have ever used!"
"I love love love this ear cleaner!" one five-star reviewer wrote about the Nutrivet Ear Cleanse. "It smells lovely, does a great job at breaking up bad wax and is gentle enough for puppies. It's the only brand I will ever use again." It dissolves wax, removes dirt and contains the perfect ratio of gentle and effective ingredients.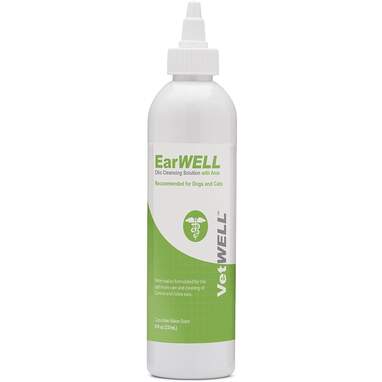 VetWELL's otic cleansing solution is veterinarian-formulated to remove dirt and wax buildup while drying out the ear canal. It's safe enough to be used twice daily in the ears of dogs with exceptionally dirty ears, or it can be used once or twice weekly to ward off infection. Nearly 5,000 people have rated this cleanser five stars.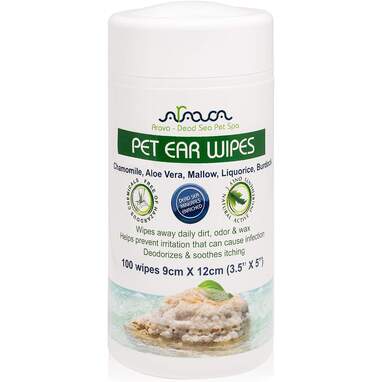 The Arava ear wipes are packed with all-natural cleansing agents and nourishing ingredients including chamomile, aloe vera, mallow, liquorice, burdock and vitamins E, D and B5. And pet parents say that their dogs actually enjoy having their ears cleaned with these wipes — "At first he could smell them and was leery, but as soon as it went into his ear, his body relaxed and [he] sat there letting me clean his ears twice!" one person wrote.
These advanced wipes from PetMD help reduce infection with antimicrobial properties that both clean and dry your dog's ear canal. These wipes stop yeast growth in its tracks and eliminate itch when used regularly. "It works well and he doesn't even mind getting it done," one five-star reviewer wrote.
VetWELL's EarWELL wipes are similarly soaked in a soothing aloe and eucalyptus formula that heals present infection while preventing further gunk buildup. This formula is also alcohol-free, so there's no stinging. "They make his ear hygiene maintenance a breeze," one golden retriever parent wrote.
The best-loved ear wipes on Amazon, with over 18,000 five-star reviews, are the PetMD aloe vera and eucalyptus ear wipes. The alcohol-free formula gently cleanses, deodorizes and relieves itch and discomfort. "These were so nice for [our golden retriever's] ears!" one happy pet parent wrote. "Not only do they smell fresh and soothing, but they really cleaned her ear very well and I could tell that she felt so much better after I [cleaned] them."