The 7 Best-Rated Dog DNA Tests On Amazon
Find out who your pup ACTUALLY is 🕵️
We independently pick all the products we recommend because we love them and think you will too. If you buy a product from a link on our site, we may earn a commission.
If you've ever wondered who your dog really is, that is, what his genetic makeup may look like, at-home DNA testing has progressed to the point where now you can find out easily with a simple swab of his cheek.
There are a handful of reliable dog DNA tests on Amazon available for pet parents who want to know more about their mixed-breed dog, including kits that even give you insight into potential health concerns based on your pup's genetic makeup. And based on the glowing reviews of the below kits, you're about to be one step closer to better understanding your dog inside and out.
The Embark DNA test on Amazon not only screens for over 350 breeds, but also checks your dog's DNA for over 190 potential breed-related health conditions, including MDR1 drug sensitivity, glaucoma, degenerative myelopathy and dilated cardiomyopathy, which are among the most common adult-onset diseases in pups. (It's also been tested by The Dodo team, who loved it.) The Embark test has an overall 4.8-star rating with over 6,600 five-star reviews, with one dog parent writing, "This is a great kit! I have a dog who is supposed to be a purebred Chihuahua but looks nothing like a Chihuahua. So we [swabbed] his mouth (very easy!) and sent his DNA sample in. The report said he was indeed 100 percent Chihuahua! Also it tested him for genetic health problems he may be prone to. The test was dead on because it said the only health issue he carried genetically was a certain eye issue … which he does have! It also gave us a bunch of additional info on his health and breed ancestry. Fascinating stuff!"
If finding out your dog's breed is all you're interested in, the Embark breed identification kit is the way to go. It narrows down your pup's genetic makeup by scanning for over 350 dog breeds, and even provides a lineage tree to show you what breed your pup's parents, grandparents and so on most likely were. You can also connect with other people on the Embark app who may be parents of your dog's cousins. "I love knowing all the breeds that went into the creation of my dog," one five-star reviewer wrote. "She was a rescue so there was no telling what all was mixed in. She was simply "Australian Cattle Dog" but come to find out she has a German shepherd way back in her history. Sure explains the size of her ears!"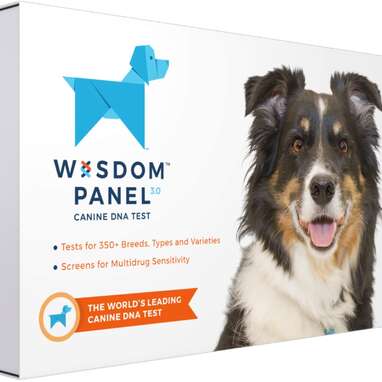 The Wisdom Panel 3.0 dog DNA test is one of the most loved among pet parents who are itching to find out the genetic makeup of their pups. This test will identify your dog's breed(s) as well as provide a basic genetic health panel, including potentially life-saving drug sensitivities. This test has been rated five stars by over 13,100 dog parents, with one writing, "Very surprised by the results. We weren't surprised to see that 25 percent of her DNA was [from] different breed groups. What we were surprised by was the 25 percent Staffordshire terrier … The rest of the breeds were interesting, but totally made sense. My hunch was wrong, but I'm not that upset haha! Our pup is beautiful and unique and it is so interesting to know a bit about what she came from!"
The Essential kit from Wisdom Panel is a pared-down version of the brand's 3.0 kit and is great for those pet parents who just want the basics. It identifies your dog's breed from 350 possibilities, as well as gives you a rundown of over 35 specific traits of those breeds that could be present in your pup, like hair length, weight and coat color. It also scans for over 25 medical complications, including drug sensitivities. "The test was so thorough! Because I rescued this pup, I was really curious what breed she really is," one pup parent wrote. "We were told she was part Italian greyhound/terrier mix. Not one cell of the Italian greyhound … two different terriers and 50 percent Doberman pinscher. There are a total of 10 dogs in her!"
The premium version of the Wisdom Panel dog DNA test gives pet parents a comprehensive breakdown of their pup's health. It scans for over 200 medical conditions as well as drug sensitivities. You can even schedule a call with a Wisdom Panel-approved veterinarian who will help you break down your dog's DNA results. "The results came faster than expected, loved that it showed a possible family tree, showed any health issues my dog may have and what they looked for," one of the over 500 five-star reviewers wrote. "I received email updates with the status each time it changed. Would definitely recommend using. If we ever get another dog I will use this product again!"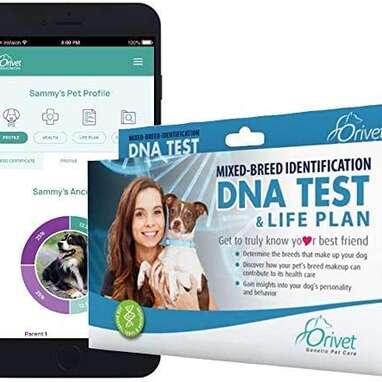 After the Orivet DNA test identifies your dog's genetic makeup, the app will give you a personalized wellness plan that takes your pup's genetics, age, weight, gender and geographic location into mind. "I was very pleased with the breed and genetic results for my new rescue pup," one dog parent wrote. "I don't have needless worry now over pre-existing genetic disorders or diseases. The breed typing also helped me to understand her intelligence and wonderful disposition."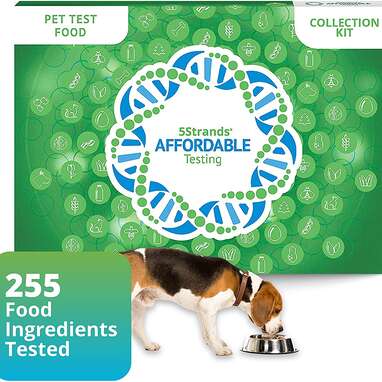 If determining breed isn't your main concern, but rather finding any potential food allergies, you can test your dog's DNA with the 5Strands kit from Amazon, which scans for 255 ingredients to see which foods may not be meshing well with your pup's genetic makeup. The kit uses a hair sample to identify foods your pet is ingesting or enzymes they may be lacking to help you begin eliminating inflammatory foods from their diet. "We were completely wrong [about] our dog's allergies and sensitivities," one pet parent wrote. "We now have her on better food and her hair is grown back! She no longer shakes her head or itches. We have told all our friends with furry babies to get this simple, easy to use test. We are so happy this helped ours!" (Just make sure you're working with your vet too, as this test isn't a replacement for medical advice!)