These Top-Rated Dog Crates Will Keep Your Pup So Safe And Comfy
Best copilot ever ❤️
Before you hop in the car for your next road trip with your partner in crime, you may want to invest in a secure crate for the car to keep your pup safer.
But it can be a bit overwhelming trying to find the right one. To help you out, The Dodo rounded up 10 of the best-rated dog car crates and booster seats. They all have stellar reviews from pet parents, so you can have some peace of mind knowing that your four-legged friend is in for the safest ride of their life. Buckle up, turn up the road trip playlist and check out the best of the best dog crates for cars below.
Install the SWIHELP car seat either in the passenger seat or back seat of your car and give your pup a fun, safe car ride experience. It's part crate, part booster seat, part nest for your dog to hang out in while road-tripping. "I couldn't have asked for a better carrier for the car. Probably one of the best purchases I've made for my dog and for me," one pet parent wrote. "Extremely easy to put on and take off of the car seat, and the perfect size for my dog as well."
This doggy car seat from Petsfit secures easily with a two-strap system — a safety belt straps around the headrest of the back seat, and another safety buckle clicks into the back seat belt anchor. "I bought this booster seat for my daughter's dachshund mix," one five-star reviewer wrote. "He was a terrible traveler and often got carsick. This seat made him high enough to see out the window. He is much happier and now enjoys going for a drive."
Your pup will not only look absolutely adorable while hanging out in this booster seat, but they'll be safe and secure as well. It comes with two safety straps, and can be buckled in with the seat belt. In fact, it's so secure that one pet parent wrote it actually saved their pup during a collision. "On our road trip, I had his seat secured to the front passenger seat as usual, and he had just dozed off when we were in a high-speed collision," they wrote. "Thank heavens he was in the booster! The booster seat stayed attached to the seat back … [and] it kept him from being thrown around the car and hurt."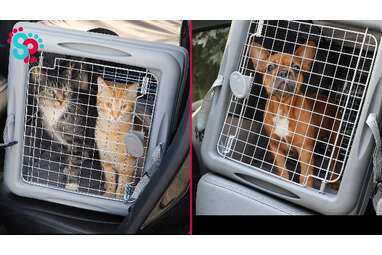 With a fully-mesh side and sturdy gates at either end, this long pop-open kennel from Sport Pet is a spacious crate for the back seat. Safety loops attach to the headrests, and when you're done traveling, the kennel stores completely flat in its own bag.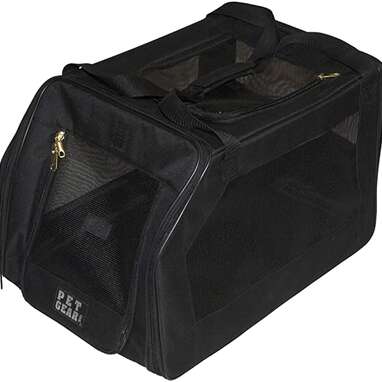 This soft-sided dog crate was designed to perfectly fit in the front seat of your car. Your small dog will feel safe and secure while traveling, and you'll be able to easily get him in and out through the zippered top opening. Plus, with two sturdy handles, it's easy to carry your pup around outside the car.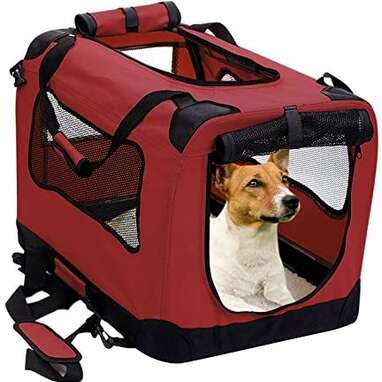 "This is the perfect size for the back seat and trips," one five-star pet parent said of the 2PET foldable dog crate for smaller dogs. It's a foldable, soft-sided, mesh-paneled dog crate that doubles as a pet carrier for trips to the vet or general traveling. "Oh, one more thing: SEAT BELT! This was easy for me to thread through a spot in the back and the top handles to secure with the seat belt in the back seat."
Your big dog will love this portable dog crate because it's roomy and cave-like, and can go anywhere with him. "We originally got this crate to take camping with us so our new adopted fur baby would be comfortable and have her own space," one pet parent wrote. "We used it in the car and that went well." It can be easily folded down for storage purposes and comes with a washable fleece bed for added comfort.
This double mesh-sided kennel comes with two compartments, making it awesome for multi-pet families who love to travel. Each kennel features built-in straps that can be attached to car seats for safe traveling and can come apart with a single zip if only one pet needs to go for a ride. "The quality of this product is CRAZY GOOD!" one five-star reviewer wrote. "Comes with furry pads for the floor too … There are straps on the back of the enclosure that allow you to secure it to the seat with seat belts or other types of straps using the child seat anchors. Easy to install and remove the product from the car, even when it is configured as one unit."
Turn your back seat or trunk into a dog haven. This seat cover from Doggie World secures to back seat headrests and offers waterproofed protection for your upholstery. If you need more security for your pup, you can turn the cover into a hammock-style soft crate by looping the second set of safety straps over the front seat headrests, too.
For your big dog, this easy-to-install barrier turns the whole trunk space into a travel crate. It's extendable and sturdy, and can fit a variety of different car models. "I could not be happier with this dog barrier," one of the 1,900 five-star reviewers wrote. "I have a 90-pound pit bull that always gets so excited for car rides he's bouncing all over the place and always trying to get in the front seat … No more having to put my arm across the seat while driving to keep him from barging through. It kept him safely contained in the back seat and, for once, it was a nice ride for both of us."