Dog Crates That Will Actually Make Your Living Room Look Better
They're worth the splurge 🛋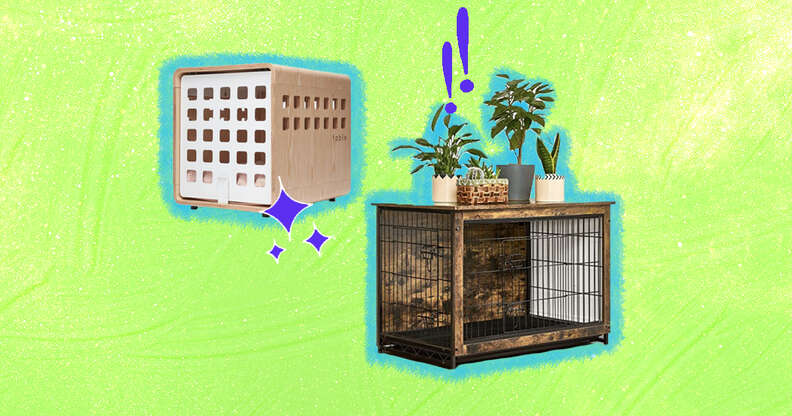 We independently pick all the products we recommend because we love them and think you will too. If you buy a product from a link on our site, we may earn a commission.
Dog crates are a great way for your pup to have his own space, but a big metal one can stick out like a sore thumb in the middle of your living room.
So if you hate the look of your dog's crate, a furniture-style crate that matches the rest of your decor — and is also nice and comfy for your pup — might be the best option.
If you don't mind splurging a little to treat your pup (and yourself, too!), here are some crates that won't actually clash with everything else in your home.
What to look for when buying a furniture-style dog crate
Before you ditch the metal crate to get a fancier one, here are some things to consider:
Size — Look for a crate that's big enough to comfortably fit your dog. He should be able to fully lie down, stand up and turn around inside of it. If you have a puppy, you should take into account how big he'll get when he's fully grown so you don't have to buy a whole new crate when he gets bigger.
Material — If your dog's a heavy chewer or scratcher (or is teething), you should consider getting a crate that has metal bars. A furniture-style crate also may not be the best option if your dog hasn't been crate trained yet because he might like to chew on it.
Ventilation — This probably goes without saying, but your dog should be able to breathe in his crate, so it'll need plenty of ventilation.
Your dog's personality — Dog crate furniture is best for dogs who enjoy being in their crates and don't mind being in an enclosed space. If your pup likes an open area to be able to see what's going on, he might prefer a regular wire crate.
Style — Since you're getting the crate to blend in with your furniture, you'll probably want one that matches your decor.
Best dog crate furniture
Here are some of the best furniture-style dog crates that are durable, stylish and comfortable for your pup.
This dog crate is perfect if you have a pup who likes to chew, but you still want a cute dog crate. It's made of wood with metal bars that'll be sturdy enough to hold up to chewing while still looking nice. It comes in two sizes with a removable tray at the bottom that slides out to clean up messes, and there are two doors to let your pup easily get in and out. One Amazon reviewer said, "We have gotten so many compliments on our 'table' as well! It is sturdy and beautiful."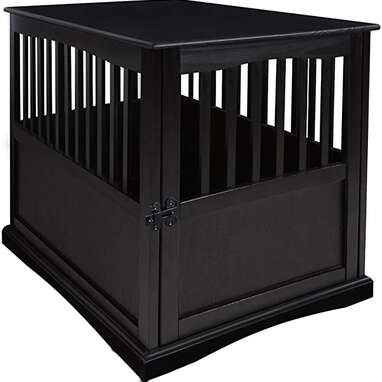 This crate will look great with traditional-style decor. It's made of durable wood that'll last for a long time and fits dogs up to around 40 pounds. The crate also has a lockable door to keep your pup safe. One Amazon reviewer said, "I bought [the crate] for practical purposes, but I have received many compliments on how nice [it looks] in the living room. Frequently guests are surprised to notice that [it is] actually [a] dog [kennel]."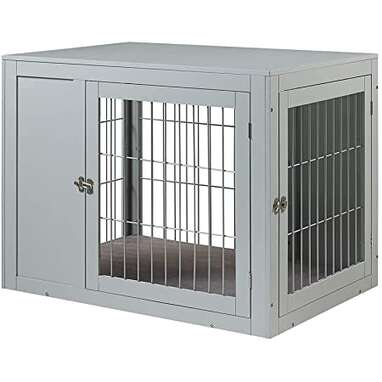 This dog crate comes with a cushion inside, so your pup will be extra comfy. It's made of wood with metal bars and has two doors for your dog to come and go. It's the perfect size for medium and large dogs and comes in two colors, gray and walnut. One Amazon reviewer said, "The quality is lovely. It really looks more like a piece of furniture rather than a dog crate."
No one will even realize this is a dog crate because it's so stylish. It's made of bent wood, and you can choose from a white metal or clear acrylic gate. It comes in two sizes for small- and medium-sized dogs.
If you want a bigger dog crate, try this credenza-style one that's made of wood with a metal frame on the inside. It has double locks and two mats to keep your pup safe and comfortable inside. Plus, you can remove the top to give him some extra room, and the crate is foldable if you need some extra room, too. One Chewy reviewer said, "Definitely would recommend if you're trying to get rid of the regular-looking crate to give your home a more appealing appearance."