The 5 Best Dog Cooling Vests On Amazon
To keep your pup looking *and* feeling cool ☀️
We independently pick all the products we recommend because we love them and think you will too. If you buy a product from a link on our site, we may earn a commission.
High temperatures and summer sun can spell trouble for any dog who gets overheated easily. If you're the parent of a pup who runs hot and doesn't do well in warm weather, a dog cooling vest may make summertime a lot more tolerable for her.
To help you out, The Dodo compiled a list of the best cooling vests available on Amazon. These innovative vests use moisture to keep your pup cool, and you can even store them in the fridge to give your dog an extra boost of wearable air conditioning. And as one pet parent wrote in their review, their dog is now "cool as a cucumber," even in the height of summer, thanks to her cooling vest.
This dog cooling vest from DOGZSTUFF is made with a heat-absorbing microfiber that wicks warmth away from your pup's core when wet. It's comfortable and breathable, and even offers UV protection. "I was a little skeptical … but it really works, and kept my little guy comfy on a recent road trip during a heatwave," one pet parent wrote. "While putting it on him at one point when he was panting, he closed his eyes, which I took to mean, 'Ahh ... thank you, relief!'"
Simply soak the Smartelf dog cooling vest from Amazon in cold water for one to three minutes, wring it out and put it on your pup for instant warm weather relief. It's made with high-quality, breathable PVA that reflects the sun rather than absorbs heat, keeping your dog as cool as possible. "This vest was a lifesaver!!" one five-star reviewer wrote. "Our dog has an autoimmune disease that affects his skin. He was constantly itching his neck and back and would get it infected, and his wound never healed. This vest was great. It's breathable, lightweight but [thick enough] to keep him from getting to his wound … Plus we can use it for what it was meant to be — a cooling vest!!"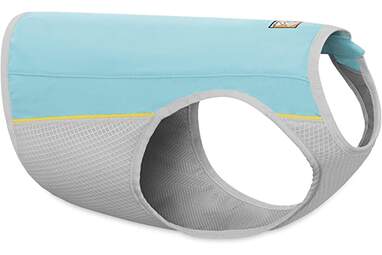 When the temperature rises, the layered technology of the RUFFWEAR Jet Stream vest will keep your dog cool and comfortable. It uses the wet-and-wring method to deliver instant cooling action, while the reflective outer layer diverts the sun's rays and facilitates evaporation. The middle layer of the vest holds excess water that will be released and evaporated over a longer period of time for maximum cooling throughout the day.
As if the icy wave print on the vest didn't give it away, the Coppthinktu breathable cooling shirt can lower your pup's temperature in a matter of seconds. Soak the shirt in cold water and wring it out thoroughly before putting it on your dog — and for extra cooling action, Coppthinkto recommends storing their cooling dog jacket in the refrigerator before wear.
Available in sizes 2XS to 2XL, the SGODA dog cooling vest on Amazon has three layers of cooling fabric that work together to keep your dog comfortable in the summer heat. It slips on easily and secures up the back with a zipper, and even comes with two D rings that can clip to your pup's leash. "We've only done two walks with it so far, but it's already been fantastic," one five-star reviewer wrote. "I was completely skeptical that this would help … but it absolutely works. We just went on a 30-minute walk in 75 degree weather with a strong, warm sun, [and] she stayed cool as a cucumber."