We independently pick all the products we recommend because we love them and think you will too. If you buy a product from a link on our site, we may earn a commission.
Some dogs have trouble beating the heat, and if you live in a warm climate or don't have an air-conditioned house, your panting pup may have to work overtime to try to cool himself down.
Luckily, there are ways you can help besides just having cold water available. The Dodo happened upon a genius invention on Amazon — dog cooling mats — and they'll help your pup stop panting, cool down and chill out. You can also use them either inside or outside, wherever your dog likes to hang out during the summer.
Here are some of the best options, according to enthusiastic pet parent reviewers.
Available in sizes from small to extra-large, the Green Pet Shop's pressure-activated cooling mat uses gel technology to instantly cool down your dog without needing to refrigerate it beforehand. The gel "recharges" itself after 15 minutes of non-use, it's easy to transport and can be used both indoors and out. "Based upon reviews and not desiring a water-fillable cooling mat, I chose The Green Pet mat. I'm thrilled I did, and my pooch is also!" one pet parent wrote. "It didn't take him long to figure out the purpose of the mat. Within the first 24 hours, he deliberately laid upon it and rested three times. And it feels great under my bare feet, too!"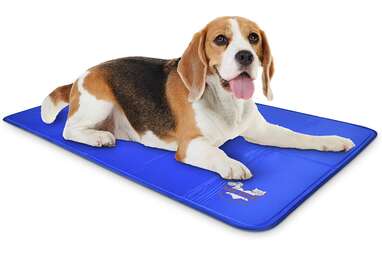 This solid gel dog cooling mat from Arf Pets is made with 100 percent nontoxic materials, and comes in a variety of different sizes. Like The Green Pet Shop's mat, this one also "recharges" and can provide your pup with up to three hours of cooling action. "We have a 4-month-old Bernese mountain dog pup who had begun sleeping in the master bath once he learned the tile floor was cooler overnight than his kennel," one five-star reviewer wrote. "We got this cooling pad to put in his kennel and now it is his favorite spot upstairs again. We can leave the bathroom door open and he chooses the cooling pad every time."
The Coleman cooling mat promises to stay up to 10 degrees cooler than room temperature to ensure your pet stays cool as a cucumber. It, too, uses gel technology to stay nice and chilly, and is the perfect size to place in crates or on dog beds. "The dogs love it, and we occasionally steal it," one pet parent joked.
The CoolerDog cooling mat on Amazon uses an insertable "FlexiFreeze" ice sheet, a waterbed cushion and thick insulation to keep your pup as cool as possible during the height of summer. It's pretty much a doggy ice pack he can chill out on. "The [cooling mat] is well designed and constructed: The three layers provide a nice cushion for our dog and the pad remains very cool for hours," one pet parent wrote. "We use the mat both at home and in our dog's car crate. I recommend buying an additional FlexiFreeze Ice Sheet so it can be replaced while the used one is put back in the freezer."
The incredible 80 percent nylon, 20 percent polyethylene cooling fabric that makes up this cooling blanket from PetFusion absorbs your dog's body heat and quickly releases it, keeping them oh-so-cool in the warmer months — the blanket is basically a superhighway for body heat, and it actually works. "WOW!! I was very hesitant to purchase this because I wasn't sure it would be cool. I mean COOL to the touch," one pet parent wrote. "After I unpacked it, of course, I had to lay on it to see what it felt like, and I couldn't believe it. It was very soft and cool, not to mention that it is a very well-made blanket … It gives my dog relief and helps her sleep!!"
The All For Paws Chill Out cooling mat on Amazon is stuffed with a breathable filling and covered with a mesh, zip-close topper. The entire pad can be soaked in cold water for added coolness, and the lightweight material makes it an awesome pad to bring along to the pool or to the beach to keep your pup comfortable all day.