The Best Dog Coloring Books For Kids And Adults
Sooo relaxing 🧘‍♂️
We independently pick all the products we recommend because we love them and think you will too. If you buy a product from a link on our site, we may earn a commission.
It's time to unwind by coloring within the lines. Coloring books have always been a favorite childhood activity for many, but more recently, adult coloring books have become a huge trend, too.
Now, both kids and adults can sit back and relax with a fun coloring project — and these dog-themed coloring books for kids and adults are a great way for everyone to take their minds off whatever is bugging them and hang out with some colorful pups for an hour or two.
These are the best dog coloring books for kids and adults.
For Kids
The 48 images in the "Rescue Dogs" coloring book are based on real rescue dogs who have been saved, rehabilitated and loved by 12 rescue organizations across the United States. The dogs in this book are easy for kids to fill in yet detailed enough to keep them entertained for hours.
Great for beginner colorers, "The Too Cute Coloring Book" is packed with simple puppy illustrations that are educational and fun to color in. Your kid will be able to learn what certain dog breeds look like while trying their best to stay inside the lines.
This kids' coloring book from Valerie Deneen contains word searches, dot-to-dot puzzles, mazes and, of course, coloring. "My granddaughter called and said that she loves this book," one five-star reviewer wrote. "Trying to find things she will like while quarantined. She loves dogs, so this was a hit."
As the name suggests, this coloring book for kids is filled with 100 blank dog cartoons to color in. It features doodled versions of real dog breeds, so you and your child can get to know the different kinds of dogs while you play.
For kids who have mastered the art of coloring, this detailed coloring book from Art Therapy Coloring is a great transition into more intricate work. This book is filled with all sorts of animal images, including patterned dogs.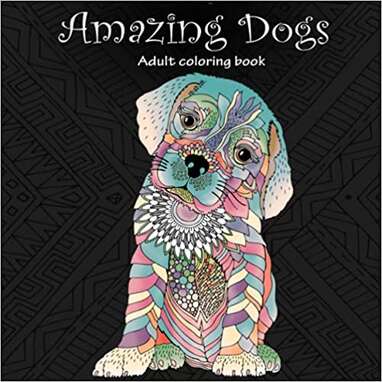 This adult coloring book by Tali Carmi and Blush Design features over 30 decked-out dog designs for you to color in. Each pup is decorated with rich line art, so you can really get engrossed with filling in all the tiny sections, and the single-sided images mean you don't have to worry about bleeding through to the next design.
Get lost in these incredibly detailed dog illustrations by Amanda Neel and Happy Coloring. This book's loaded with complex designs printed on single-sided pages, so feel free to get wild with the color.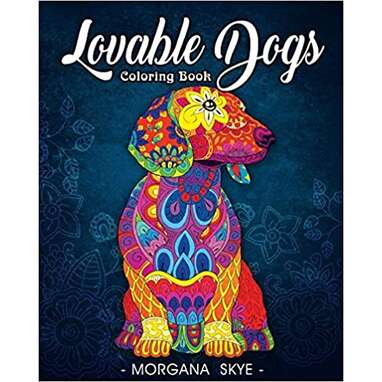 "Great for artists or beginners," one five-star reviewer wrote about the "Lovable Dogs" coloring book on Amazon. "Especially in a pandemic where stress can build up due to lack of normal [life] experiences, these have been so much fun and a true pleasurable distraction." With 31 mandala-inspired dog illustrations, you can keep yourself in the moment for hours.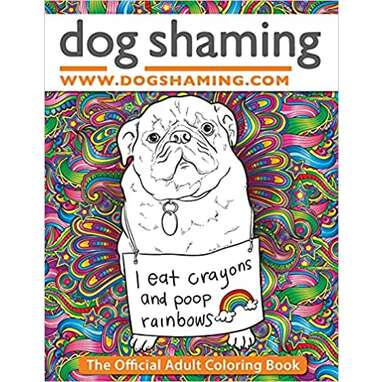 From the official "Dog Shaming" website comes this hilarious adult coloring book filled to the brim with naughty pups who have been called out by their parents. "Bought this as a gift for a fellow dog lover, and I'm a little sad I didn't keep it for myself!" one five-star reviewer wrote. "The pages are good quality and hilarious — I may order one to keep for myself for after long days at work. I haven't colored in a long time, but I bet this would keep my attention."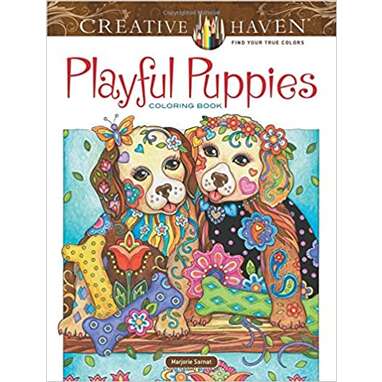 Packed with 31 dog images to color in, "Playful Puppies" is for people who can't get enough of adorable dogs. In each scene, detailed pups are dressed up, playing pretend and in more cute scenarios that will pull you in and make you smile.
Each page of "Dog Butt" features an adorable and hilarious illustration of a pup showing off their behind. And in the background, colorers will stay in the zone by working on the swirling mandala patterns that fill up the page. It'll be hard not to laugh when working on these images.