We independently pick all the products we recommend because we love them and think you will too. If you buy a product from a link on our site, we may earn a commission.
If your dog has better style than you do — or you're just looking to freshen up your dog's wardrobe, The Dodo has compiled a list of dog clothes that are super cute, functional and, of course, runway ready.
These top-rated clothing items are definitely worth checking out, according to fellow pet parents who have nothing but nice things to say about them.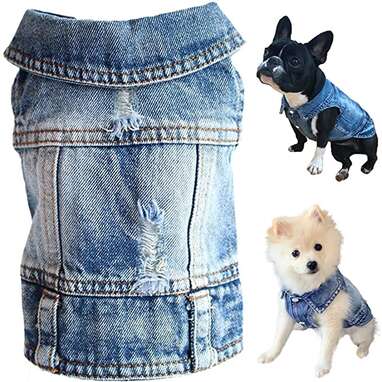 If your little guy thinks he's tough stuff, get him this denim vest from Strangefly. It comes in two different styles (one with fraying and one without), and makes your pup look that much cooler. "This little jean vest is soooo adorable!" one five-star reviewer wrote. "She seems to like wearing it too. Too, too cute!!!"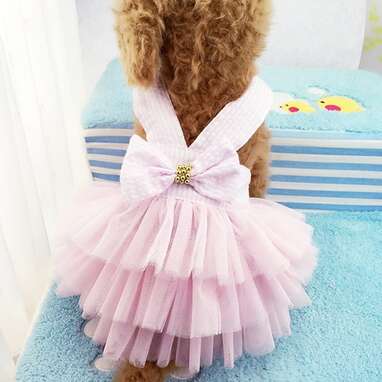 Available in both pink and blue styles, this tulle princess dress is a dream come true. It comes in five different sizes (all of which fit smaller breeds), and dog parents can't get over how adorable this piece of dog clothing is. "My baby girl looks like a princess!" one pet parent wrote. "Small size fit perfectly on her (3-pound Chihuahua). Super comfy on her too, she doesn't try to take it off, which is great!"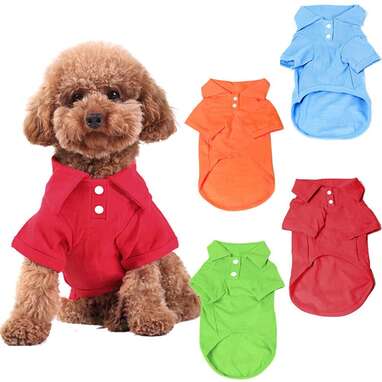 There's something so cute about a dog in a button-down collared shirt. This pack of four from KINGMAS includes a red, orange, blue and green button-down-style dog shirt, all made from a durable, breathable synthetic material. "Doesn't trap too much fur, and [it's] very easy to wash," one five-star reviewer said of the shirts. "Doesn't stain, doesn't lose color and doesn't shrink/stretch."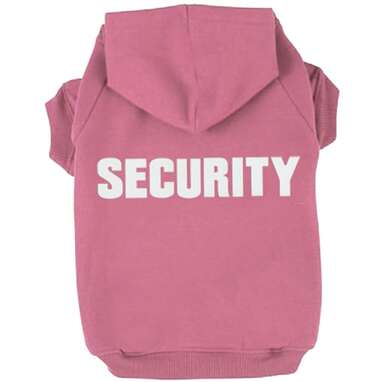 If he's a dog with a job (or just a dog who thinks he has a job), get him one of these security hoodies from BINGPET. The hoodie comes in four colors and six sizes, and over 4,500 dog parents have rated the hoodie five stars. "This hoodie is good quality and I think the price is very reasonable," one Doberman parent wrote. "My dog starts shivering if the temps dip below 70 so we will get a lot of use out of this!"
The JECIKELON sweater comes in a wide variety of different colors, and is easy to wash and dry. The fleece interior keeps your pup toasty, and the smallest size is perfect for tiny puppies who need a little extra warmth. "This is a nice warm sweater," one pet parent wrote. "Buddy is only 4 months old [and] he weighs 2 pounds … [an] XXS fits well, with a little growing room. This fabric won't shrink."
The Fitwarm plaid hoodie comes in both orange and red and is the perfect fall staple for your pup's wardrobe. It's made from 100 percent cotton and features soft ribbing that isn't too tight, yet keeps the hoodie in place all day. "Love this. My favorite hoodie my dog owns," one five-star reviewer wrote. "So soft and nice quality."
These quirky shirts from HYLYUN come in a pack of six, so your pup can wear a new one nearly every day of the week. They come in four different sizes and are made from a soft cotton-polyester blend that's both washable and comfy. "I absolutely love these tiny shirts. The XS fit my teacup Chihuahua perfectly," one dog parent wrote. "They are really soft and help keep him warm, while the tanks are nice for warmer days."
These denim overalls from SLD are a hit among parents of small dogs. They come in four different washes and styles and fit seven sizes of small-breed dogs. "Make my baby boy look like a country boy," one pet parent wrote. "I love it!!! It's really light for spring and fall seasons or a cool evening in the summer. Can't get over how cute it is."
These super simple, yet super warm, pullovers from Gooby are made with a premium fleece material that will keep your pup nice and toasty during chilly winter days. Plus, the pullovers come in sizes up to 6XL, so even bigger dogs can get in on the fun. "Can't attest to durability as we just got it, but this vest is great for our vizsla!" one five-star reviewer wrote. "He's a tall pointer and weighs 63 pounds. I got a 3XL. Fit is perfect. The stretch is awesome for getting it on and off and he seems really comfy in it."
It's a shirt. It's a dress. It's super comfy and super cute. This dog dress from Kyeese is machine washable and features a soft top with tulle bottom, both decorated with pink bows. "My Pom is a little diva and LOVES wearing clothes," one pet parent said. "She literally starts jumping up and down when I get an outfit out for her. The detail is amazing and it's very high quality compared to other outfits we've purchased from other companies."
These pajamas from TONY HOBY are basically baby clothes for your pup. They come with snap fasteners for easy removal, and cover your dog's entire body to keep him as warm as possible. "This outfit is wonderful," one five-star dog parent said. "The first thing I noticed was how soft and stretchy it is. It fits her very well. There's also ample opening for her to not soil or wet the garment."
This pack of two shirts from Fitwarm is basic but oh-so fashionable dog clothes. You can grab them in several different styles and colors, as well as choose from six different sizes. The shirts are made from a breathable cotton fabric that works well with pups with sensitive skin. "I bought this set of doggy T-shirts after our groomer shaved all our pups' hair off unexpectedly," one pet parent wrote. "The quality of the material and the finishing of the shirt is really nice. The material has just enough stretch to it. I am very happy with the product."