We independently pick all the products we recommend because we love them and think you will too. If you buy a product from a link on our site, we may earn a commission.
As pet parents, we want to make sure our dogs are as safe as possible when in the car, which is why so many people have begun using dog car safety harnesses and seat belts during car travel.
But it's hard to know which model to go with. According to some pet parents who have left rave reviews online, these eight easy-to-install safety attachments have literally saved their pups' lives. And others say that, at the very least, the harnesses and belts have made car rides so much less chaotic.
The soft and breathable mesh safety harness from SlowTon comes in a variety of different colors, prints and patterns, as well as a handful of inclusive sizes (from 3XS to large). It also comes with an adjustable seat belt strap, with one side linking to the two D rings on the back of the harness and the other clicking into your car's back seat buckle. Over 8,000 pet parents love this duo, with one saying, "I love that there is a bit of elasticity in the buckle end of the strap, allowing ease of buckling/unbuckling — even when any of them gets a bit excited about getting out and pulls that strap taught."
The Kurgo Tru-Fit dog car safety harness has been crash tested and features a carabiner clip that secures to the shoulder and waist seat belts in the back seat of your car before also attaching to the back attachment on the harness. "We were unfortunately T-boned by a car going very fast through a stop sign. My dog was in the back seat, buckled into the middle buckle," one pet parent wrote. "Had she not been buckled in … she could've been seriously physically hurt and mentally traumatized. Instead, she was 100 percent fine and just as excited to go on the next car ride as ever."
Pawaboo's dog safety car harness can be secured to your car's back seat one of two ways. First, you can clip the seat belt latch into the existing buckle like the other models — or, you can fit your car's seat belt through the provided loop on the Pawaboo safety strap and click it in place. Over 6,400 pet parents love this combo, with one parent writing, "What I love about this harness is it's not bulky, it doesn't rub him anywhere and he seems comfortable in it. He wears it every single day, sometimes for the majority of the day. It dries quickly when it gets wet too, which is a plus! … I feel secure knowing if we have an accident that he won't fly [through] the windshield, and it's comforting to know he can't jump out the windows when they are rolled down. Plus, it keeps him contained to the back seat, which is safer for so many reasons!"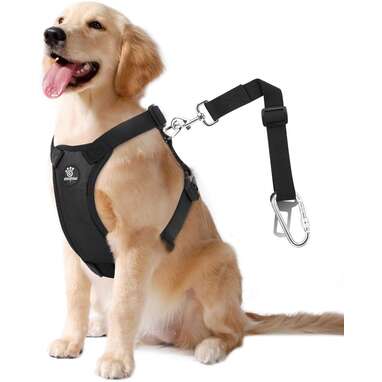 The lightweight mesh VavoPaw dog car safety harness connects to a strap that has both a seat belt buckle connector and a carabiner so it can connect to both the back seat buckles and seat belt straps for added security. "I'm pretty impressed with this purchase," one five-star reviewer wrote. "I like that it comes with a detachable strap that has a clip for a seatbelt and a carabiner that seems VERY secure. I think this was a good purchase!"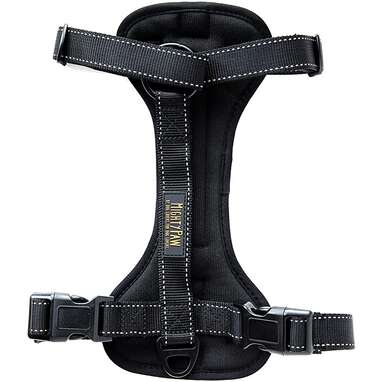 The Mighty Paw dog harness and seat belt is a durable combo that features metal hardware and weatherproof strapping. The harness itself provides minimal yet effective coverage and is padded for your pup's comfort. And unlike other seat belt straps, the Mighty Paw strap connects to the latch bars in the back seat like a standard child's car seat.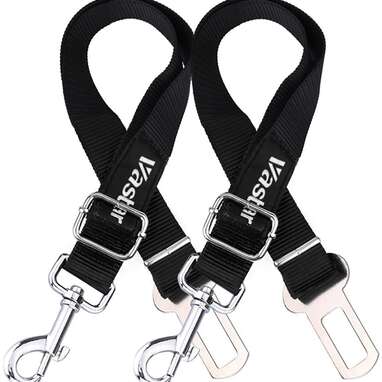 Have a harness but need a great seat belt? This model from Vastar is adjustable up to 32 inches and securely clips into your car's seat belt buckles. "My car was totaled when a car going 45 mph in the opposite direction crossed lanes and hit us. My dog was wearing her seat belt, and the police and EMTs were shocked that she was OK and didn't fly through the windshield on impact," one pet parent wrote. "My dog was injury-free. I just purchased a new set for my new car, and I would recommend these without question to any dog owner!"
These safety belts from BWOGUE attach to your dog's existing harness and securely hook onto the headrest of your car's back seat. Both parts of the strap are completely adjustable, so it can be used in any vehicle and you can customize your dog's range of motion. Over 9,900 pet parents have rated these safety belts five stars, with one saying, "Very useful. Works better for my dog because the attachment to the car is up high. Less chance to tangle up in it."
If you already own a harness and leash that you and your dog love, you can adapt your standard flat leash into a dog seat belt using the leash lock. This little accessory wraps around your existing leash, providing a secure anchor you can clip into your back seat belt buckle. "This clip is genius," one five-star reviewer wrote. "Truly the easiest way to secure your dog to their travel harness. I tuck the extra part of the leash in the crack of the seat so it's out of the way."