The Best Dog Breeds For First-Time Owners
The answer may surprise you 🤯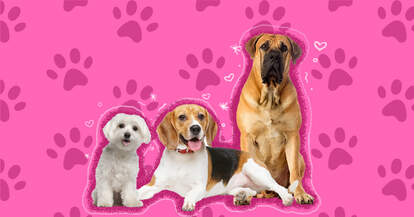 You're finally ready to adopt your first-ever dog, and you're so stoked.
But since this is an unfamiliar experience for you, you might be wondering if there are certain dog breeds that are best for newbies.
The Dodo spoke with Mikayla Park, director of adoptions and education at Wags & Walks in Los Angeles, who explained why breed isn't everything.
Which dog breeds are best for first-time owners?
The short answer? All of them!
"In my experience, personality transcends breed," Park told The Dodo.
Some breeds can be more likely to have certain traits than others, but that's not a guarantee.
So, instead of making generalizations about which dog is best for new pet parents based on breed, it's far more crucial to pay attention to what an individual dog is actually like when it comes to his behaviors, wants, needs and physical characteristics.
"[Breed] isn't the be-all, end-all," Park said. "I would stay open to possibilities, and also prepare yourself to put in the work!"
What's most important for first-time dog owners is to view your potential pup as an individual.
That way, you'll be able to figure out if that specific dog is a good fit for you (which is super important regardless of breed).
Things more important than a dog's breed
Whether you're a seasoned pet parent or a first-timer, you should take on only what you know you can handle, or are willing to adapt to.
So, instead of making a blanket decision about which breed of dog to adopt, here are some other things that you should be focusing on.
Size
Becoming a dog owner can already be so overwhelming (in an exciting way), since it'll be your first time caring for a pup in a full-time capacity.
Since a bigger dog could mean more work, it's important to decide whether or not you're up for a little extra adjustment.
"I would say that a smaller breed is going to be a little easier, generally speaking, than getting an 80-pound mastiff as your first dog," Park explained. "That I will admit."
But that doesn't mean you should automatically write off a bigger pup. Just make sure you're ready to provide the right care for a big ol' chonk if you do fall in love with one.
"A larger dog is a larger responsibility because they can do more harm, in a number of ways," Park explained. "They're going to certainly do a lot more damage to a couch than a 7-pound Chihuahua."
For example, a big breed is going to be stronger and probably pull harder on a leash.
"There is more work to be done when a dog is closer to your own weight because it's more to manage," Park said. "And, if there are behavioral issues, that's going to look a lot different than a mini poodle who you can pick up."
Just because it's more work, that doesn't mean having a big dog is impossible for a first-time dog owner to handle.
It's all about knowing what's right for you and what you're willing to do to give your new dog the best life possible.
Personality
Training a dog can be tricky, even for pet parents who've had plenty of practice.
So if you're new to having a pup of your own, you might want to look for a pup whose personality will make the training process a bit easier on you both.
"I would say it's certainly easier if the dog has a willingness to please because it'll be easier to work with them," Park explained. "Look for a dog that is food, toy [or] affection motivated because that is a wonderful teaching tool."
Plus, you need to think about your own personality, too.
If you love being a couch potato, a high-energy dog might not be a great match. If you aren't home most of the day, it might not be the best idea to get a dog who isn't housebroken, since potty training requires a ton of in-person attention (and pee breaks).
"This is another place where your relationship with your adoption counselor is going to come in very key, because they will be able to help guide you to a dog who will be able to work with you at your level," Park said.
Asking questions at the adoption center is a great way to figure out which dog would be perfect for you as a first-time owner.
You should also consider adopting an adult dog who was trained well in their previous home, instead of a puppy or untrained dog who will need to learn everything from scratch.
How first-time owners can prepare for any dog breed
There are certain things you can do to prepare for bringing your first dog home that'll be a huge help when caring for any breed.
"Be proactive," Park said. "Read books, watch YouTube videos [and] talk to your dog-parent friends. You need to learn as much as you can about caring for a dog, and from as many different sources as you can."
Any breed can be the best breed for first-time dog owners, as long as you're properly prepped.
"As a professional in the field, I can tell you that 99 [percent] of the time it's not about the dog. It's about the human," Park explained. "It's about commitment, and the learning curve you can handle, and about being honest about the time and the bandwidth you have available for your new pup."
And remember — once you do bring your new dog home, make sure to give him some
time to decompress
.
We independently pick all the products we recommend because we love them and think you will too. If you buy a product from a link on our site, we may earn a commission.