The 11 Best Dog Boots On Amazon
Stop chapped and cracked paws in their tracks 👟
At first thought, dog boots might seem kind of funny. But if you think about it more, dog boots just make sense.
Having your dog wear booties not only stops chapped, cracked paw pads in their tracks (literally), but shoes can help her gain traction on slippery floors, lessen the chance of injury when walking on rough terrain and even stop your dog from leaving claw marks on hardwood.
So, if you're in the market for a great new pair of dog boots for one reason or another, check out the highest-rated boots currently on Amazon. Your dog will thank you for saving her paws from discomfort.
Made from a four-way stretch fabric and featuring a heavy-duty non-slip sole, the FEETCITY booties are both comfortable and durable — perfect for hiking trips, walks in the woods and camping. Plus, they're dog approved. One customer wrote, "These fit perfectly and my pup just started walking in them like she's worn shoes all her life."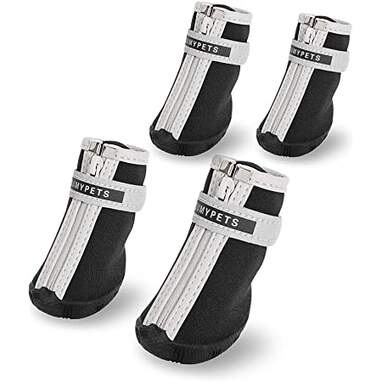 These shoes are small, but they are mighty — exactly like your tiny dog. The QUMY rain and snow boots both zip close and have a Velcro reflective strap for nighttime walks. They feature sturdy rubber soles for trekking through weather, and are made from water-resistant fabric that will keep your dog's paws dry and warm.
Made to fit dogs in the 5- to 24-pound range, the TEOZZO winter boots are lined in soft fleece and easy to adjust with a toggle strap. They're water resistant and have a flexible anti-slip pad, making them the perfect house slipper for your chilly pup.
Active dogs will love these lightweight neoprene booties from All Weather. They come with two adjustable and reflective Velcro straps and are thin enough to not inhibit movement, yet strong enough to protect paws from the elements. One five-star customer especially loved that "the sole is thinner than the other boots, and flexible, which makes it easy for him to walk in but still thick enough to protect his paws."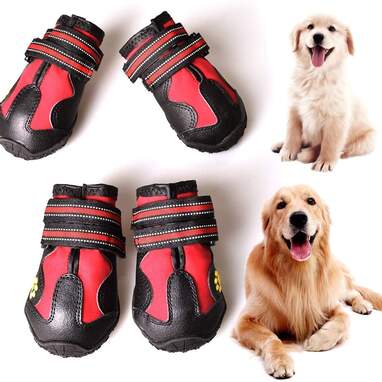 "These are by far the best shoes I have purchased," one customer who left a five-star review on the CovertSafe Dog Boots listing wrote. "Moreover, the price is unbeatable!" They specifically love the double Velcro straps, which help the booties stay put, and the durable fabric has held up throughout several uses. And there's definitely a cute factor at play with the paw print embroidered patch.
Great for the spring and summer seasons, Bark Brite's neoprene booties are super breathable and lightweight. The rubber sole keeps your pup's paws from coming in contact with hot sand or asphalt, and, as one happy customer wrote, they're also great indoors: "Our dog is 11, and we have tile and hardwood floors that she slides around on. These shoes have helped her tremendously."
Featuring an extra-extended design that cushions your dog's ankles, the EXPAWLORER boots are also skid-resistant and waterproof. Each boot is also capped with an anti-collision rubber piece that protects your pup's toes when out and about.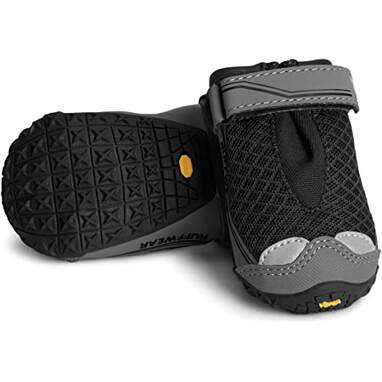 As the name suggests, these boots mean business. Their grippy vibram outsole is meant to tackle all terrains, and the simple design makes putting them on super easy. Most people who left five stars said the same thing — after all other booties slid off their dogs' feet, the Grip Trex model stayed on and fit perfectly.
The QUMY waterproof boots come with an extended strap and split design that makes getting these boots on your dog a breeze. Plus, the straps are reflective to keep dogs safe during nighttime adventuring. They come in four different designs and have an overall 4-star rating.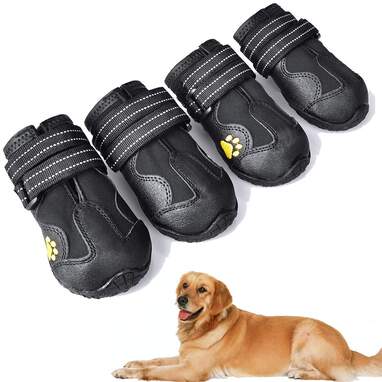 Available in a variety of sizes for breeds 14 to 95 pounds, the XSY&G boots are made from breathable waterproof fabric and leather and feature a non-slip rubber sole, making these boots ideal for hiking and walking on all types of uneven terrain. One of the 3,000 five-star customers wrote that these boots "have been a lifesaver" for their pup, who chronically licks her sensitive paws. They continued, "10 out of 10 would definitely recommend! Plus they always look so, so cute in them."
Mushers Secret wax is a great alternative if your dog just isn't having it when it comes to footwear (and it's a favorite of our Dodo office pups). It's made with natural waxes and oils that condition and protect your pup's paws throughout all seasons, acting as an invisible shield between their pads and the elements.